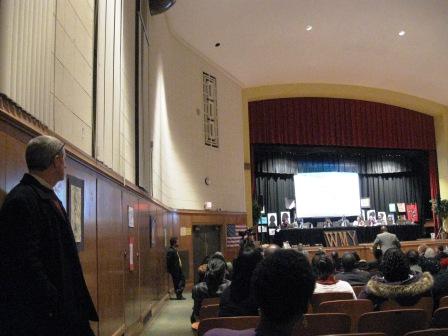 A number of folks spoke with passion tonight to save the schools in their community at Whitney Young Academy in the Harvard-Lee neighborhood. Pleas were heard for the following schools: Ginn Academy at Spellacy, Tremont Montessori, John Landis, East High, Empire, Gracemont, John Raper and Mound Schools.
Let's hope the Plain Dealer listened and will convey the suspicions and distrust hundreds of residents, parents, and the community evidenced tonight for this so-called "Transformation Plan."
A special mention to all the folks who endured the apathy factor tonight to speak at this board meeting--including Council representatives: Polensek, Cimperman, Miller, Pruitt, and, especially, Councilman Jeff Johnson--I can see now why Roldo has your back.
And to the man whose name I could not catch, but who spelled out the fraud loud and clear--You are a SAINT.