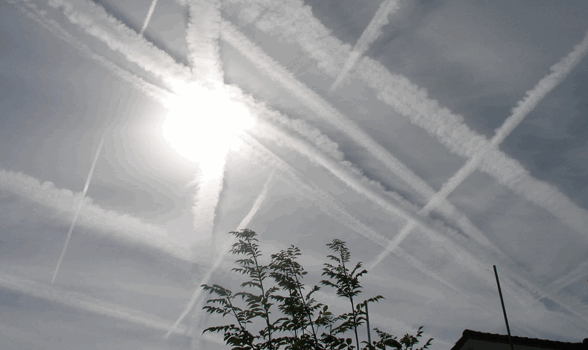 http://www.cosmicgnostic.com/node/1429    [2] --snip--- In what may be the first governmental acknowledgement of its kind, a public official from Cleveland, Ohio has referenced "chemtrails" in a bill put before congress.
The lies that flies in my skies of Charleston; Standing up to chemtrails
Every morning when I go to work I find myself looking around and observing my surroundings. Charleston's my hometown, though I've traveled and lived all around the USA. All this time in my 34 years of life I didn't see them until about 10 years ago. That's about when I started reading about chemtrails, but it wouldn't be until 2006 on a Halloween night that it would dawn on me that the danger and reality of this technology is not only right in all of our faces, but the fact that no one really talks about it is the scariest part. Here's some photos I've taken over the past 6 months or so.
By Cosmic Gnostic March 27, 2011
These are just a few of some pictures I've caught on my phone. You can see what I have up on my twitpic account here [3].
When I was a kid growing up around here I never really thought about them. It always seemed as if the sky was filled with an organic sky, but perhaps I just under a daze as most seem to be. But if you look up they're everywhere, practically everyday.
One evening, on Halloween of 2006 I remember going to the beach alone for some reason. My wife was doing something and I needed to kill some time. When I was a teenager we used to go out to Folly Beach at night and so I thought it might be nice to go to the beach on this evening. It was a clear night. Reletively decent temperature, and when I got to the beach I remember only seeing just a few streaks in the sky.
I sat down in the sand looking towards the moon and it wouldn't much time until I saw a sky completely filled with streaks from a plane just off shore. Then at that moment, from my understanding of chemtrails at the time, and see how they were spraying off the coast to keep concealed, I realized that this was real.
Most people in my state of South Carolina might only be aware of the term "chemtrails" possibly by the song by Beck, but the truth is this is one of the most Chemtrailed states of the nation that I've been in. There was a time when I traveled all over the country and I never really realized this problem, so I can see why it's not really talked about or when it is it's associated with being crazy. But truth is, is that chemtrails are very real and people (no matter where you are) need to seriousely openly talk about this. As far as I know, I'm the only one in Charleston who is talking about this, so it's got to start somewhere right?
Beck's "Chemtrails"
Still, even though this topic has been studied time and time again, when/or if at all the subject comes up people either completely deny it may be dangerous to human heath or that they don't care or aren't aware of the truth behind chemtrails. This is not good because this is an experiment being conducted on the citizens of the USA (and the world) and most people aren't aware of it. It's certainly not the first time this government has done such experiments on us and there's a lot of complexity as to why it's up there at all.
Plus, how can anyone truly want to see it? I want to see natural clouds dammit!
I have found a few hints at it here and there, but virtually no one has spoken about it in my home town. Though, here's an article going back in 1999;
Sad thing is, you don't even have to believe in the conspiritorial side of this. The proven health issues behind this spraying is deffinetly not good for humans or plants or animals. If people looked into this subject they might start to think about their reality, but then again that is one theory behind chemtrails...to keep people in control and oblivious.
I'm hoping people in my home town of Charleston begin to think about this issue and stand up against it. I know a lot of people are ignorant around here, but I do believe people want a healthy normal life. Yes, most people here are sheeple, where their beer drinking and watching football is all they care about. But still, I felt I needed to be one to say something.
I'm not really trying to write a blog here to prove to anyone about chemtrails. I understand that most who read this blog I would just be preaching to the choir. I'm more just wanting to bring this up, and stand at least as one person in this state who is sick of seeing it in my skies say something about this and perhaps inspire others to look into it. Below are some sources for people to look into and to learn from. This is not something that will go away unless people start standing up to this, and humbly so I am one who is standing up to it in South Carolina.
LEARN ABOUT CHEMTRAILS:
What in the world are they spraying (full documentary)
By now everyone has seen crisscrossing streaks of white clouds trailing behind jet aircraft, stretching from horizon to horizon, eventually turning the sky into a murky haze. Our innate intelligence tells us these are not mere vapor trails from jet engines, but no one yet has probed the questions: who is doing this and why. With the release of this video, all of that has changed. Here is the story of a rapidly developing industry called geo-engineering, driven by scientists, corporations, and governments intent on changing global climate, controlling the weather, and altering the chemical composition of soil and water — all supposedly for the betterment of mankind. Although officials insist that these programs are only in the discussion phase, evidence is abundant that they have been underway since about 1990 — and the effect has been devastating to crops, wildlife, and human health. We are being sprayed with toxic substances without our consent and, to add insult to injury, they are lying to us about it. Do not watch this documentary if you have high blood pressure.
US Bills do admit the use of "Chemtrails"
Congressman Dennis Kucinich (D) has submitted bill no. HR 2977 IH , which proposes a ban on the weaponization of space. One of the weapons systems listed in the bill is "chemtrails". The use of this term is significant because until now, all reported governmental inquiries into this issue have been dismissed or denied. Agencies such as the Air Force have routinely called reports of chemtrails "a hoax". Here is that bill; http://thomas.loc.gov/cgi-bin/query/z?c107:H.R.2977.IH: [5]
A ton of more links to look into this subject

Below is a sufficient list of links to get lost in covering a vast amount of sources on how awful this is. Links snagged by
Rense.com
---- are only a very few of those listed, more at link above [/end copy/]
http://www.abovetopsecret.com/forum/thread664987/pg4 [28]
---snip--- The more to question this the better.
I live by two airports and I will see a plane fly with a standard looking contrail, not long after, another of the same make will leave a long lasting contrail. Same altitude, same hour, same temps. Go figure.

Contrails are causing sky uglification, at the very least. There is more than condensation coming out the exhaust of these engines, And I would suggest that the exhaust is worse than what comes out of our coal plant stacks.
Coal plant = water vapor, carbon dioxide
Plane exhaust = water vapor, sulfur, carbon monoxide [29], nitrogen, hydrocarbons, nitrogen oxides, ozone, soot,+

I recall years ago there was an all out war on light contamination effecting the night skies.
I am seeing these nasty looking, air polluting, contrails all the time.
If I am not mistaken there are only few kinds of clouds on the chart.
Its time to add a new one.
-Chemocumulus
-3 - 10,000 ft
-Low or High layered cloud with long, Horizon to Horizon, Single or Cross Hatched-like structure
-resembling an extended contrail.
I went to this site to check cloud clasifications and there is a contrail that looks like my first one below in thier photo of Cirrostratus.
cloud classes site [30]
or

[// end copy] [31]
balance at link above, ruining our world, terrible, Betty