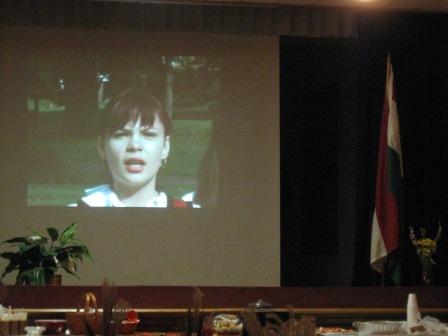 [1]
HEVEDER FOLK ENSEMBLE FROM TRANSYLVANIA
with dancers Hajdú Florian and Deffend Iren
"Music and dances from remote villages of Transylvania"
Concert and Dance Party - Táncház
Saturday, June 11, 2011 at 8:00 PM
St. Emeric's Church Hall
1860 West 22nd St. Cleveland OH 44113 (next to the WestSide Market Parking Lot)
Admission: $15 [Students $ 10]
For Information and Reservations:
call 216-281-8727 or email: mahovlich [at] core [dot] com
Magyarul: (440) 786-9093
The musicians of the Heveder Hungarian Folk Ensemble may be young, but they are carrying on a long tradition. And the music they play--straight from the villages of Transylvania and Hungary--is bringing that timeless tradition to a new audience this summer on their debut tour of North America. From the Hungarian populated city of Sepsiszentgyörgy (Sfântu Gheorghe) in eastern Transylvania, Heveder was founded in 2002. Since then, the group has become a perennial favorite at festivals and as dance musicians in Transylvania. Heveder has also frequently toured throughout Hungary, Romania and Western Europe. In 2008 and 2009, Heveder was featured on Hungarian television receiving awards for their performances. The group's first CD, "Eresszed, hodj menjem", "Let It Go", was released in 2009. Two of Hungary's most respected folk dancers and teachers, Hajdú Florian and Deffend Iren, will accompany the group on their tour offering a colorful authentic folklore program. The June 11 concert will be followed by a Táncház, a traditional dance party with live music by Heveder. The Concert Begins at 8 PM, doors open at 7:15 PM.

Heveder Ensemble

Levente Fazakas, violin & voice ~ Szabolcs Molnár, violin & voice
Albert Fazakas, viola (brácsa), cimbalom ~ Lászlo Szilágyi, viola (brácsa), accordion & voice
György Bajna, bass & percussive cello (utőgordon)
Hear the Heveder on Youtube at:
Heveder Band – Palatkai
http://www.youtube.com/watch?v=CFxryLRGTBk&feature=mfu_in_order&list=UL [3]
Heveder Band - Napom, napom...
http://www.youtube.com/watch?v=p-IWq8U_ifU&feature=mfu_in_order&list=UL [4]
Presented by INSIDE WORLD MUSIC
with the assistance of the Clevelandi Regös Csoport
1860 West 22nd St. Cleveland OH 44113
United States