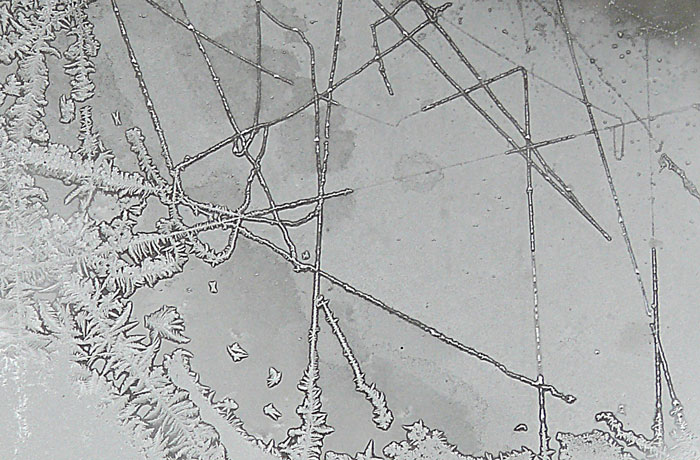 This dual style frost pattern formed on the inside of a storm window glass - the straight line frost was towards the center of the window and the "crystal" patterns are near the edge of the glass.
Clean water (distilled) when solidified generally presents a 6 lobed crystal - the lobes radiating at 60 degrees from one another - generated by the molecular structure of water.
But if you add the residue on the surface of the glass left from a glass cleaner or solvent - what is the molecular structure of the moisture on the glass then?
The straight line crystals on the right hand of the image intersect at very acute angles - much less than 60 degrees.
At the interface between the straight lines and the more "conventional" frost there are loops where the conventional does a turn and then goes off in the opposite direction in a straight line.
The straight lines have a pattern similarity to an aerial view of dirt roads in the Mojave Desert [1]. What's that similarity all about?
How is "contamination" of silica crystals used to make photo voltaic electrical generation?
How about the similarity to the header image today [2]?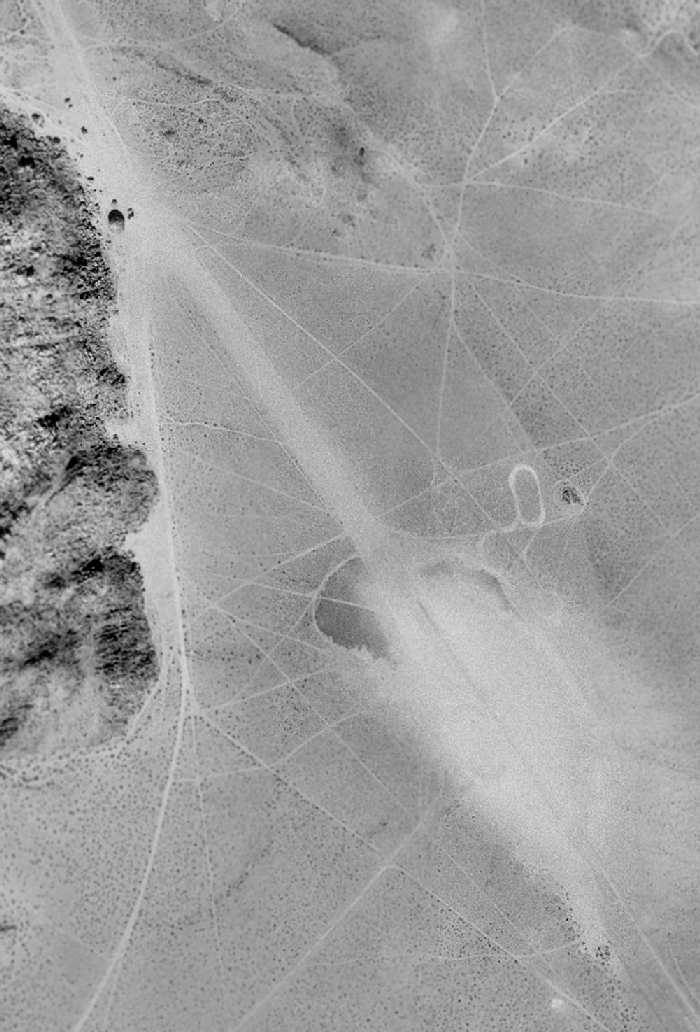 desert image coutesy http://members.tripod.com/airfields_freeman/CA/Airfields_CA_SanBernardino_SE.htm [3]
Links:
[1] http:// http://www.google.com/imgres?start=21&num=10&hl=en&newwindow=1&safe=off&biw=1366&bih=600&tbm=isch&tbnid=DITxidig4bzFEM:&imgrefurl=http://members.tripod.com/airfields_freeman/CA/Airfields_CA_SanBernardino_SE.htm&docid=75aI93vf_c_gcM&imgurl=http://members.tripod.com/airfields_freeman/CA/Seagle_CA_89.jpg&w=877&h=751&ei=nrwdT5aiG_Py2gXM0LGDDA&zoom=1&iact=hc&vpx=766&vpy=174&dur=191&hovh=208&hovw=243&tx=106&ty=85&sig=100844519598479015343&sqi=2&page=2&tbnh=134&tbnw=161&ndsp=28&ved=1t:429,r:4,s:21
[2] http://realneo.us/system/files/images/Mechanics2.jpg
[3] http://members.tripod.com/airfields_freeman/CA/Airfields_CA_SanBernardino_SE.htm
[4] http://realneo.us/system/files/frost-patterns-on-glassP1560551.jpg
[5] http://realneo.us/system/files/GiantRock_CA_95.jpg