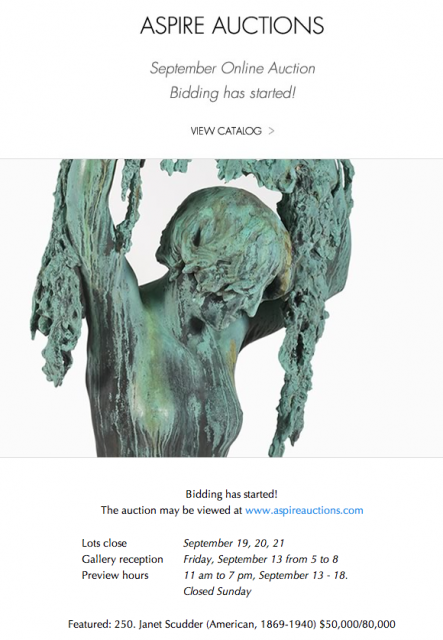 Bidding has started for the September fine art & antiques online auction. The gallery is open for auction preview today until 8 pm with a specail gallery party starting at 5pm. We'll be open agian on Saturday, 11-7, closed on Sunday, and again open for preview Monday, Tuesday and Wednsday 11-7. Lots will start to close on Thursday Sept. 19th. Please view the catalogue and online bidding at www.aspireauctions.com [2]. Call 216-231-5515 for assistance.
Aspire Auctions, Inc.
2310 Superior Ave. E. ste. 125 enter on 23rd.
Cleveland
,
OH
44114
United States
Links:
[1] http://realneo.us/content/screenshot2013-09-13at15402pmpng
[2] http://www.aspireauctions.com
[3] http://maps.google.com?q=41.509880+-81.675300+%282310+Superior+Ave.+E.+ste.+125+%2C+Cleveland%2C+OH%2C+44114%2C+us%29