Entity Number
1878881
Business Name
G & Z DEVELOPMENT, LLC
Filing Type
DOMESTIC LIMITED LIABILITY COMPANY
Status
Active
Original Filing Date
08/25/2009
Expiry Date
Incorporator Information
JOHN GARDNER
Filings
Filing Type Date of Filing Document Number/Image
ARTICLES OF ORGNZTN/DOM. PROFIT LIM.LIAB. CO.
08/25/2009
200923700930
AGENT RESIGNATION/LIMITED/LIABILITY/PARTNERS
10/24/2012
201229801191
Ken-Mar Tax... "Think outside the Block"
Ken Weinberg has over 20 years experience preparing taxes for individuals and owners of small businesses.
Ken-Mar Tax Services specializes in helping the small business owner develop a tax strategy that provides the basis for true growth, based on a long term wealth development plan.
Ken Weinberg is more than just a tax preparer, he is an Enrolled Agent [6]. An Enrolled Agent provides a depth of understanding in regard to the IRS tax code that goes farther than the average tax preparer. Held to high standards of training and performance, your Enrolled Agent is better prepared to save your hard earned dollars and minimize your annual tax burden.
This is one hell of a tax strategy:
G & Z Development, LLC - List of property owned, along with delinquent property taxes which were never paid since the property transferred to these deadbeats:
1)
PRIMARY OWNER G & Z DEVELOPMENT, LLC

PROPERTY ADDRESS 3770 Parkdale RD, Cleveland Hts, OH 44121

PARCEL NUMBER 683-04-054



Property transferred to G & Z Development LLC on 12/20/12.



NO property taxes ever paid since the deed transferred.

Property taxes owed $7942.71.
2)
PARCEL ID 722-04-109

OWNERS NAME G & Z DEVELOPMENT, LLC

ADDRESS 03538 CEDARBROOK RD Grantee(s) Grantor(s)



Property taxes owed $3927.33



3)
PRIMARY OWNER G & Z DEVELOPMENT, LLC

PROPERTY ADDRESS 984 Roanoke RD, Cleveland Hts, OH 44121 PARCEL NUMBER 682-13-038 Property transferred to these thieves on 12/20/12 and NO taxes paid since transfer. Property taxes owed $7842.69
4)
PRIMARY OWNER G & Z DEVELOPMENT, LLC

PROPERTY ADDRESS 3285 Tullamore RD, Cleveland Hts, OH 44118 PARCEL NUMBER 687-06-139 Transfer date December 20, 2012 NO property taxes paid since transfer. Taxes owed $8293.42
5)
PRIMARY OWNER G & Z DEVELOPMENT, LLC

PROPERTY ADDRESS 3770 Parkdale RD, Cleveland Hts, OH 44121PARCEL NUMBER 683-04-054 Transfer date 12/20/12 NO property taxes paid since transfer. Taxes owed $7942.71
6)
PRIMARY OWNER G & Z DEVELOPMENT LLC

PROPERTY ADDRESS 13121 Cedar RD, CLEVELAND Heights, OH 44118 PARCEL NUMBER 684-22-011 Transfer date 12/20/12 NO property taxes paid since transfer. Taxes owed $11,912.99
7)
PRIMARY OWNER G & Z DEVELOPMENT LLC

PROPERTY ADDRESS 3618 Silsby RD, University Hts, OH 44118 PARCEL NUMBER 722-11-008 Transfer date 12/20/12 NO property taxes paid since transfer. Taxes owed $10.039/81
8)
PRIMARY OWNER G & Z DEVELOPMENT LLC

PROPERTY ADDRESS 1560 E 248 ST, Euclid, OH 44117 PARCEL NUMBER 647-32-024 Transfer date 11/20/12 NO taxes paid since the transfer. Taxes owed $3051.21
9)
PRIMARY OWNER G & Z DEVELOPMENT, LLC

PROPERTY ADDRESS 3743 Northampton RD, Cleveland Hts, OH 44121 PARCEL NUMBER 682-12-005 Transfer date 11/20/12 NO taxes paid since transfer. Taxes owed $8237.13
10)
PRIMARY OWNER G & Z DEVELOPMENT, LLC

PROPERTY ADDRESS 3548 Nordway RD, Cleveland Hts, OH 44118 PARCEL NUMBER 687-15-083 Transfer date 10/22/12 NO taxes paid since transfer. Taxes owed $9416.29
11)
PRIMARY OWNER G & Z DEVELOPMENT, LLC
PROPERTY ADDRESS 394 Walworth AVE, Euclid, OH 44132 PARCEL NUMBER 644-12-092 Transfer date 8/13/12. NO taxes paid since the transfer. Taxes owed $5648.43
12)
PRIMARY OWNER G & Z DEVELOPMENT, LLC

PROPERTY ADDRESS 21350 Carol AVE, Euclid, OH 44119 PARCEL NUMBER 641-22-109 Transfer date 7/12/12. NO taxes ever paid since the transfer. Taxes owed $3546.70
13)
PRIMARY OWNER G & Z DEVELOPMENT, LLC

PROPERTY ADDRESS 3606 Tullamore RD, University Hts, OH 44118 Transfer date 11/17/11 Property taxes never paid since the transfer. Taxes owed $14,560.83
14)
PRIMARY OWNER G & Z DEVELOPMENT, LLC

PROPERTY ADDRESS 1477 E 248 ST, Euclid, OH 44117 Taxes never paid since transfer date. Taxes owed $1510.06
16)
PRIMARY OWNER G & Z DEVELOPMENT ,LLC

PROPERTY ADDRESS 20121 Champ RD, Euclid, OH 44117 Transfer date 12/16/11 Taxes owed $7841.41
17)
PRIMARY OWNER G & Z DEVELOPMENT LLC

PROPERTY ADDRESS 1575 Westdale RD, South Euclid, OH 44121 Transfer date 1/20/12 Taxes owed $17,476.11
18)
PRIMARY OWNER G & Z DEVELOPMENT, LLC

PROPERTY ADDRESS 9500 Garfield BLVD, Garfield Hts, OH 44125 PARCEL NUMBER 541-17-004 Transfer date 2/3/12 Taxes owed $6472.12
19)
History of delinquency, grass cutting fees, delinquent water bill,,,,,,,,,, PRIMARY OWNER G & Z DEVELOPMENT LLC

PROPERTY ADDRESS 878 Lecona DR, Cleveland Hts, OH 44121 Taxes owed $5380.71
20)
PRIMARY OWNER G & Z DEVELOPMENT, LLC

PROPERTY ADDRESS 25580 Chatworth DR, Euclid, OH 44117 Transfer date 6/6/12 Never paid taxes. Taxes owed $4051.35
21)
PRIMARY OWNER G & Z DEVELOPMENT, LLC

PROPERTY ADDRESS 23870 Devoe AVE, Euclid, OH 44123 Transfer date 6/21/12. No taxes paid Taxes owed $3943.11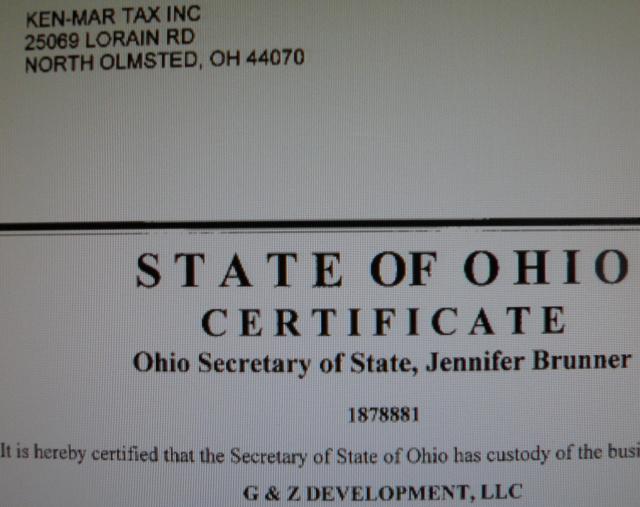 * My blogs expressing my Freedom of Speech Rights, especially on matters of public concern, are my opinion and not the opinion of my friends, family or employer*