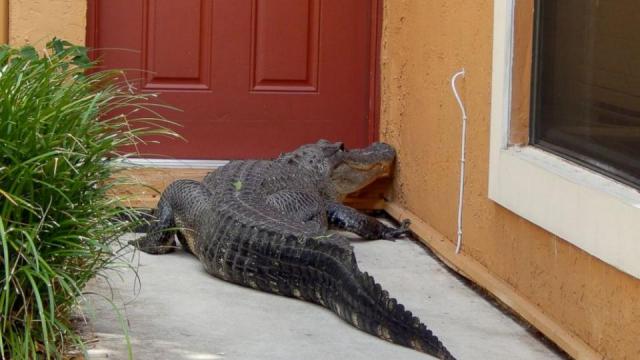 I'm always amazed at how resources to subdue an alligator, bear, mountain lion, python, etc, are always available- but if there's 1 unarmed black man lethal force is often the go-to method. All he has to do is move his arms or hands, and cops "fear for their lives". I am a black man, live around black men & women- never saw one more scary than an alligator. I'd rather there be a gang member in my yard than an alligator any day. How is it that black men are so scary to police? Or it it that police are trying to induce an environment of fear in the black community? Could that be the case? Anyway- good luck to the gator. Don't wear a hoodie if you're going to be walking around in those neighborhoods.
Reply
drewski 2 days ago
10
3
Miami Man and Dog Find Giant Alligator on Front Doorstep
It always pays off to be a good neighbor -- especially when there are gators roaming on your roadways.
A Miami man said he and his dog had a close call with an eight-foot alligator after it found its way to the front door of his apartment Wednesday afternoon.
Fernando Belmonte-Zbinden said he almost ran right into the gator walking his dog Maggie, a 110-pound great Pyrenees, but a watchful neighbor was close enough to warn him."
"If it wasn't for my neighbor shouting at us to get back in the house, we would have charged out of the house and run head-on into the alligator," Belmonte-Zbinden told ABC News.
Alligator Missing Top Half of Its Snout Spotted In Florida Lake [2]
Kids in Awe of Gator on Front Lawn in South Carolina [4]
When authorities arrived on scene, he said, the alligator was right outside Belmonte-Zbinden's front door in the Emerald Palms apartment complex off southwest 151st Street, not far from the Miami Zoo. A video taken by Belmonte-Zbinden shows trappers removing the animal.
"I had just returned from a meeting, walked in my front door, walked right back out with my dog, when all of a sudden I hear one of my neighbors frantically screaming, 'Get back in, get back in!'" Belmonte-Zbinden said.
"So I pull the dog back in and go into the front room that looks out on the lawn, and just see this giant gator walking by," Belmonte-Zbinden added. "So, of course, I got my camera and started snapping away -- photographs and taking videos."
Belmonte-Zbinden said that, strangely enough, this wasn't the first time he'd seen or photographed this gator, which he said has a distinguishable scar on its tail.
"A lot of people have seen this alligator," Belmonte-Zbinden told ABC News. "It's never bothered anyone. I photographed it last year over in the canal where I walk my dog. We all know it's the same one because it's missing one of the three scales on its tail in a crescent shape. So, it grew over a foot since I saw it."
Leave a comment...
https://gma.yahoo.com/miami-man-dog-giant-alligator-front-doorstep-170039548--abc-news-topstories.html#
Share [5]