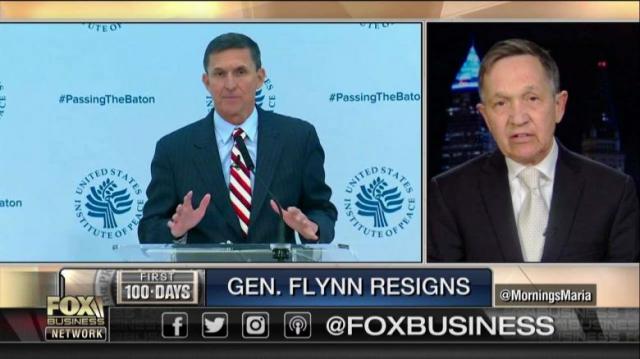 Former U.S. Rep. Dennis Kucinich (D-Ohio) was a guest Tuesday on "Mornings with Maria" discussing how the intelligence community is seeming to upend President Donald Trump in the wake of Michael Flynn's resignation [2] as national security adviser.
The former Democratic presidential candidate and Fox News contributor said the bigger issue here is that the phone conversations between Flynn and Russian Ambassador Sergey Kislyak were intercepted and leaked to the media [3].
"The American people have to know that there's a game going on inside the intelligence community where there are those who want to separate the U.S. from Russia in a way that would reignite the Cold War," Kucinich said. "That's what's at the bottom of all this. It's early in the morning, it's Valentine's Day, but wake up America!"
He said he believes money is a factor for those looking to cash in on any conflict between the U.S. and Russia.
"What's going on in the intelligence community with this president is unprecedented," he said. "They're making every effort to upend him. Who knows what the truth is anymore?"
Kucinich said Trump must get a hold of the intelligence community because he believes there is "definitely something going on" to undermine the president.
Later in the day, two U.S. officials told Fox News [4] that a Russian spy ship was spotted patrolling off the East Coast of Delaware, the first such patrol since Trump took office.
Watch the full interview with Kucinich above, and tell us your thoughts in the comments section.
http://insider.foxnews.com/2017/02/14/kucinich-intelligence-community-ga... [5]
http://realneo.us/content/anti-speciesism-quest-ministries-gofundme-plea... [7]
anti-speciesism - Quest, ministries - gofundme - please donate
http://www.gofundme.com/42dq3 [8]
or
PAYPAL
https://www.paypal.com/cgi-bin/webscr?cmd=_donations&business=7424SY7WQM6F4&lc=US&item_name=Quest%2c%20inc%2e&currency_code=USD& [9]