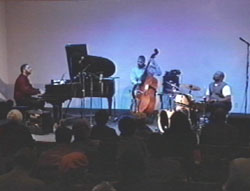 The Eric Gould Trio will do a Sunday afternoon concert at the East Cleveland Public Library. The event will be held at the Greg. L. Reese Performing Arts Center that is a part of the recently expanded library complex. The trio consists of Eric Gould on acoustic piano, Glenn Homes on acoustic bass, and Bill Ransom on Percussion.
As a wunderkind of the regional jazz community, Eric Gould is a multi-talented pianist, composer, and arranger. As a bandleader, he has shared the stage with some of jazz's brightest stars, opening for Earl Klugh, Azymuth, Larry Coryell, Wayne Shorter, and the New York Jazz All-Stars, and performing on television with Louie Bellson and James Moody.
Gould has composed music for various other ensembles as well. The Cleveland Chamber Symphony premiered his piece "Midnight Excursion" in 2003. In 1996 his piece for string quartet entitled "He Speaks in Shadows" was performed by the critically acclaimed Cavani String Quartet at Merkin Concert Hall in New York, at the Chamber Music America Festival in New York, and at the Britt Music Festival. His arrangement of the same piece for jazz quintet and orchestra was commissioned by the Canton Symphony Orchestra for a performance that took place in March, 2001.
For more information on Eric Gould, visit http://www.ericgouldmusic.com/ [1]. To listen to "Waltz-For-All" from his first CD On the Real, click here [2] or view the tracks on his website.
For more information about the East Cleveland Library and its series of free Jazz concerts, visit http://www.ecpl.lib.oh.us/jconcert.htm [3]
East Cleveland Public Library
14101 EUCLID AVENUE, EAST CLEVELAND, OHIO 44112 216-541-4128
East Cleveland
,
OH
United States