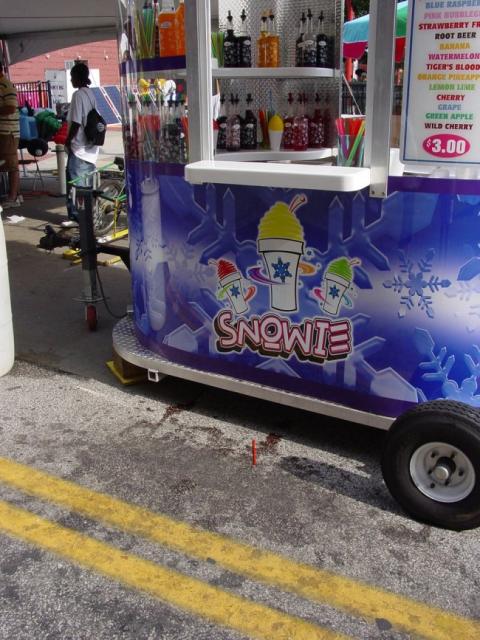 The sunday of IF06 my wife and I happened onto a number of situations that, from an environmental planning perspective could be learned from.
Snowie - This vendor applies high fructose corn syrup based sweeteners to ice for a totally nutritious and complete meal. Unfortunatly it looks like they should put their counter/window over complete secondary containment due to the nature of this release.
How much is too much pollution?
How much pollution is ok?
Is it worth talking about?
Snowie could be contributing to algae blooms and the acceleration of the Lake Erie Dead Zone. OoooooOO the dead zone. one of my favorite movies also... now currently being researched by the USGS, and the USEPA about 20 miles off shore.
For more information about Snowie brand nutritionals and their merchandising see :
http://www.snowie.com/apparel/ [1]
For more information about the Lake Erie Dead Zone see:
http://www.epa.gov/greatlakes/lakeerie/eriedeadzone.html [2]
http://www.cangeo.ca/Magazine/so03/Etcetera/ [3]
http://www.publicaffairs.noaa.gov/releases2005/apr05/noaa05-r508.html [4]
http://www.usatoday.com/news/science/2003-09-24-lake-erie_x.htm [5]
http://www.cwru.edu/pubaff/univcomm/vnr/spring02/deadzone/deadzone.html [6]
*oh wait... what ever you do, dont get literate on the internationally acclaimed dead zone just to our North. Why bother. It is not representitive of reality, nor is the dead zone of international acclaim the sole source of our drinking water.... or is it?