mandriva
fedora
ubuntu
debian
suse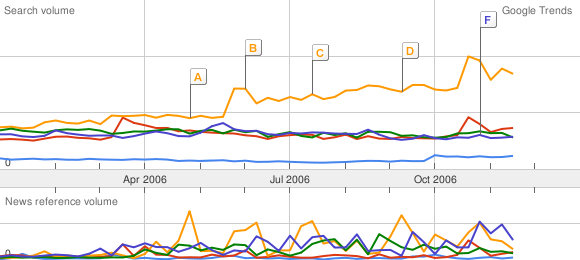 For the many people who read RealNEO you are, I am sure, aware that we use Linux not only on the servers, but also on the desktop. In the past there have been a couple distributions used, however in the second quarter of 2006 the Ubuntu distribution was loaded and we have not looked back.

Click here
to see a list of
Ubuntu
related posts on RealNEO.
While it is not really that big of deal which distribution, or distro, you use it is interesting to see what the trends are. The all and wonderful google has made checking out trends easy and informative. The image above comes from google [3]. If you are intested in seeing more trends, take it for a spin. It really is an amazing data tool that is free to use.
I will be the first to admit that Linux is not perfect on the desktop. There are sitll issues that make somethings difficult, however the pros far out wieght the cons (at least in my case).
If you have never tried Linux, or it's been a while, I highly suggest you give it a try. The nice thing for the casual user about the latest couple versions of Ubuntu is that when you boot from the CD it goes into a Live mode. These means you do not have to install or change anything on your computer.
Check out this video [4] posted on YouTube for a 21 minute video on getting and working with Ubuntu.