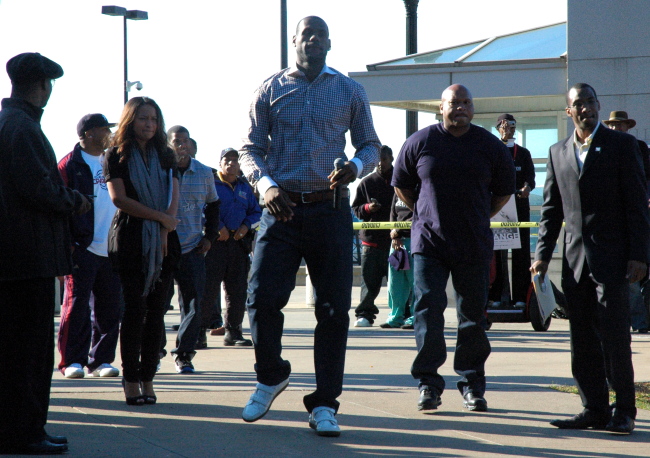 I happened to stumble across the Plain Dealer "Cheers and Jeers" feature, today [1], and was mildly amused by item #2 - "JEERS . . . to anyone with a yard sign still standing. It's been a long, long campaign. Everybody's had enough. Get them down. Candidates, the same goes for the billboards." The PD "Editors" have shown their tacky Republican colors in Day-Glow since they got their asses kicked November 4th, so I'm not surprised to see such petty venting there. I reply "CHEERS . . . to anyone with an Obama yard sign still standing". I still have my signs proudly displayed in my yard, and so do most of my neighbors in East Cleveland and on the East side, in general. Unlike the neo-Cons, who were too cowardly to show any support for their lame candidates, in the first place, and certainly don't want to be associated with them now, people who supported Obama are proud of that and will be forever.
I'm sure LeBron James still has his Obama signs up, and doesn't appreciate being "Jeered" for that, in the PD.
So it should really piss him off the PD also JEERS him directly and personally - and with contempt - for supporting Obama. They write:
"JEERS . . . to political activist LeBron James, who
is also a pro basketball player, for missing a historical lay-up. He
said he was asking people "in their 50s and 60s" how Barack Obama's
victory felt to them, "going through what they went through when they
were younger, and going through slavery times, going through
desegregation times." For the slavery question, he needed to be talking
with people in their 140s."
I believe, put another way, the PD Editors are calling LeBron James a stupid basketball player... saying "get back in your field... er, in line... errrr, on the court".
I picture a playground, and a skinny white kid yelling at a young James... "hey LeBron, you're so stupid you don't know anything about slavery"... and pow.
I wonder what happened to the last person who called LeBron James stupid.
The PD Editors need to know, 'cause they are in for a world of hurt. Perhaps LeBron's attorney Fred Nance may give them a clue.
Their insult of James first brings to mind Ralph Nader's "Uncle Tom [2]" reference to Obama, but even more so makes me think of PD Supremacist-in-Chief Kevin O'Brien's conclusion about Obama [3] - "His election should end the utter nonsense about this being a racist country. (It won't, of course, because "racism" will be such a convenient reason to dismiss any criticism of him.)"
I'd say the cluelessness of that comment pretty well proves there is one racist left... and the recent election exposed about 48% of the nation more.
What LeBron appears to have been saying makes complete sense to me, and I more than cheer him for being an activist for Obama - I celebrate him [4]!
And I don't even like basketball, nor do I depend on LeBron to sell my newspapers.