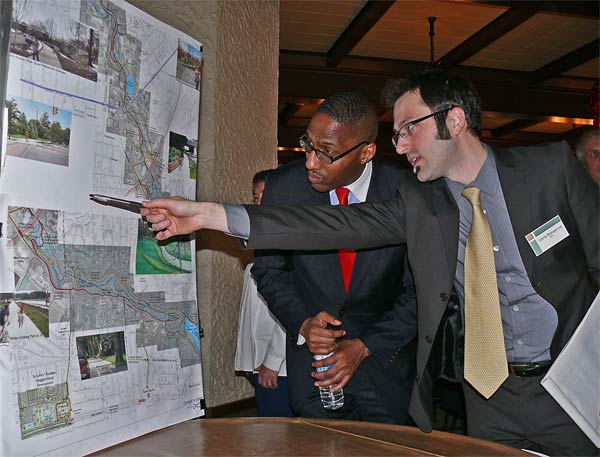 You would think that I was Mr. Reed's publicist - getting his photo everywhere - but I had no idea that Mr. Reed would be attending this meeting in the Cleveland Wards of Sabra Pierce Scott and Mamie Mitchell.
Ah hah I thought! Gerrymandering!
It didn't take Mr. Reed long to adapt to the new play book...
_____________________________________________________
And although I am not cynical about Zack, I am very cynical about UCI and their sincerity in involving the neighborhoods in planning.
Chris Ronayne and his aide Debbie Berry were helping run the event. Thinking of what Norm Roulet would say, I asked if there was a web site where the community discussion about the Doan Brook and RockefellerPark was hosted.
Each of the organizations involved, UCI, Parkworks, and the Landscape planners quickly said "YES" - on our websites.
I asked them if any of their websites were inter-active and allowed community discussion, and all three said "NO".
I suggested to the audience to take the discussion to Realneo – where it would be interactive and open.
So my belief is that this is another top down Cleveland "plan" - where the community is involved as "cover". The primary UCI objective was a 4 million fed fund for intersection improvement at the two traffic circles at 105 and the Parkway. This is the money that paid the consultants. The money which was to go to the Doan Brook as mitigation of the Hopkins runway extension was no where to be seen…that money has sort of vanished…
I was glad to see many Realneo regulars at the meeting including Sudhir, Kevin C, Tori M. Ray S. And I was glad to hear comments from neighbors that were very articulate, informed, and committed. Those neighbors should be running the show - not the "consultants" hired via UCI.

March 25, 2009
6:00-8:00 p.m.
Hitchcock Center for Women
1227 Ansel Road (north of Superior)
University Circle Inc.
and ParkWorks invite friends and neighbors to a community meeting to discuss recent planning efforts for Rockefeller Park. The Rockefeller Park Strategic Plan- the result of a two-year long effort involving numerous stakeholder groups- envisions a revitalized park with enhanced connections to adjoining neighborhoods and the institutions of University Circle, as well as other recreational and ecological improvements.
The meeting is being hosted by City Council members Sabra Pierce Scott, Kevin Conwell, TJ Dow, and Mamie Mitchell in partnership with University Circle Inc., ParkWorks, Famicos Foundation, Glenville Development Corporation, and St. Clair Superior Development Corporation.
Free parking is available on-site. RTA route #3 stops at Superior Avenue and Ansel Road. Visit
www.rideRTA.com
for additional transit information.