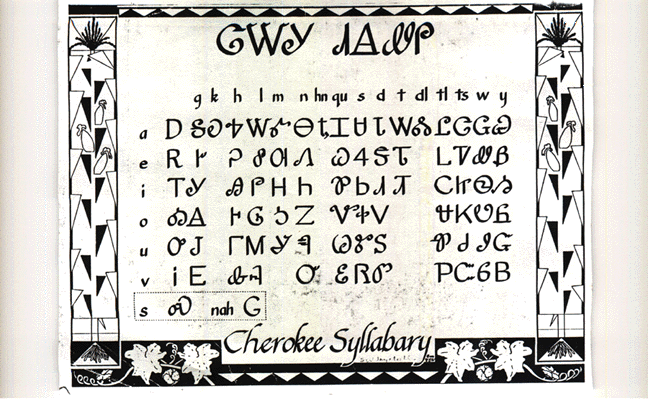 the story of the cherokee alphabet:
cherokee is the only american indian language that ever developed its own written form. the written form was created singe-handedly by the cherokee genius, sequoyah (1773-1843), the only person in history who ever accomplished such a feat. despite having no formal education, sequoyah devised a set of 86 symbols which represent all the syllables of cherokee. because each symbol stands for a whole syallbale, the alphabet is more properly called a syllabary. by the late 1820's the cherokee people had a higher literacy rate than their white neighbors. the bible was printed in cherokee, and the tribe published its own bilingual newspaper.

CLICK: TO VIEW CHEROKEE SYLLABARY [1]
ANTI-SPECIESISM:
SPECIESISM:
1. A PREJUDICE OF ATTITUDE OF BIAS TOWARD THE INTERESTS OF MEMEBERS OF ONE'S OWN SPECIES
AND AGAINIST THOSE OF MEMBERS OF OTHER SPECIES.
2. A WORD USED TO DESCRIBE THE WIDESPREAD DISCRIMINATION THAT IS PRACTICED
BY HOMO SAPIENS AGANIST THE OTHER SPECIES.
SAVE OTHER-OUR SPECIES
SOS-FRE
FROM RESEARCH EXPERIMENT
QUEST, MINISTRIES, GUY TEMPELTON BLACK, PASTOR, and YOGI YOGA BEAR, SERVICE K-9 - all dogs go to heaven - SOPHIA HONEY TOGA - (guy's partner)
753 BRAYTON AVE., CLEVELAND, OHIO 44113-4604 USA, V:216.861.7368, F:216.861.7368
UNITED STATES ARMED FORCES VETERAN (VOLUNTEER) PEACE, ANTI-WAR, DEFENSIVE
faith based non-profit corporation no. 389646, 501(c)(3), SINCE 1965,
questministry [at] att [dot] net
ADVOCATING FOR A NATIONAL WAR DOGS MEMORIAL
DONATE TO QUEST
anti-speciesism - Quest, ministries - gofundme - please donate
"When I despair, I remember that all through history the way of truth and love has always won. There have been tyrants and murderers, and for a time they seem invincible, but in the end, they always fall — think of it, always." - Mahatma Gandhi
TRUTH - EXTRA-TERRESTRIAL
Links:
[1] http://www.geocities.ws/questministry/cherokee.gif
[2] http://realneo.us/blogs/questministries
[3] http://www.addthis.com/bookmark.php?v=250&username=questministries
[4] http://realneo.us/content/anti-speciesism-quest-ministries-gofundme-please-donate
[5] http://www.gofundme.com/42dq3w
[6] http://www.disclosureproject.com/