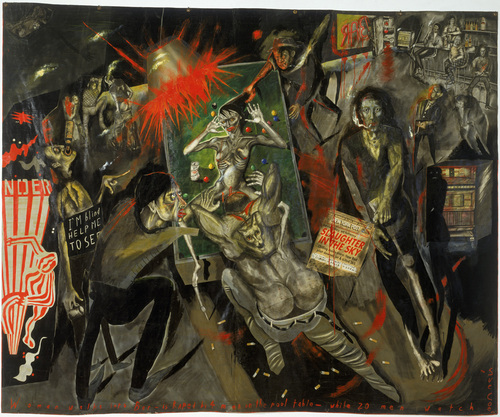 1983. Mixed media, 7' 7 5/8" x 9' 5 1/4" (232.7 x 287.7 cm). Museum of Modern Art. Acquisition from Werner and Elaine Dannheisser. © 2009 Sue Coe
In reflecting on events and actions directed at REALNEO and REAL COOP over the past week, in particular, and over the past five years, in general, my mind keeps returning to the greatest art exhibit I ever attended - Sue Coe's first solo show in America, at P.P.O.W. - in a great place and time for art - NYNY's East Village, in 1983. The cramped gallery exploded with Coe's enormous graphical paintings of graphic images, in bold black slashes on walls of white, with colors more for shock than illustration. The painting that keeps coming to mind, today, is my pick for Art of the Day: "Woman Walks into Bar - Is Raped by Four Men on the Pool Table - While 20 Watch", Sue Coe, 1983. Now in the collection of MoMA.
It is interesting to see this is at MoMA. When I went to see this show, I was staying with the President of MoMA, Aggie Gund, and she recommended the show to me. I remember raving about it. She clearly liked this work, as MoMA added it to their collection, and has featured Coe in several shows.
Read Sue Coe's words about this mind-changing painting, from one of her MoMA shows:
MoMA2000: Open Ends (1960–2000)

September 28, 2000–March 4, 2001

This was a true story of a young woman that parked outside a bar, I think to get a pack of cigarettes, and her children were in the car. And she walked in and she was raped be four men on a pool table, while twenty watched. And no one really thought to call the police because they obviously didn't see it as wrong.

I was doing work for magazines at the time of this rape, and I did a very similar drawing to the one you're looking at. The magazine published it but they censored it. They cut it in half so only the woman was exposed and it was a rape of the image, if you like, because what I was trying to do in this painting is expose the violence of the men. So then that made me furious, so angry, that I did this huge version so there wouldn't be any question of what was going on. I saw this woman as just any woman. Any woman that can be raped. We are the onlookers, we are the twenty people that didn't call the police, that didn't perceive this as wrong, so we are colluding with the oppressor, and we're looking at this scene. Are we silent? How do we see this woman? And then I have people playing games on the left-hand side, they're playing game machines. They're just absorbed in play.

I love the elegance of black and white. So, even though you're looking at this painting, it looks like its color, it's predominantly black and white, it's predominantly graphite. It's just a tiny pencil, you know, sort of like a termite crawling its way over acres of paper. And I still live in the tiny apartment I did the painting in, which is why it's in sections, because I only have a room like ten feet by eight feet. So, I have to do the work in increments and then try and piece it together. This was painted in the time of Ronald Reagan and it was times of great lack of compassion.

Basically, this painting is therapy. It's what you do with extreme fury, when we witness such cruelty and oppression, where do we put that? And I put that in the work. It opens up a dialogue, it gives people an opportunity to talk about these issues. I've seen men stand in front of this painting and they've discussed rape, and they've vocalized their feelings about this painting. Doing this work can change people. It's changed me seeing work like this. So it is part and parcel of change, not to ignore social issues.