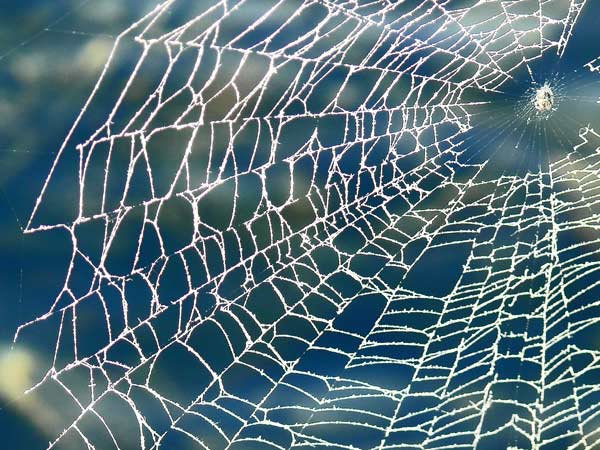 I was looking through un-catalogued images for some shots of the steel truss repairs recently completed on the I90 inner belt bridge, in Cleveland Ohio (the PD just ran a story on computer stress modeling of the trusses - I don't think their story is correct when it suggests that the stressed areas were "damaged"), when I happened to notice something about this spider web image.
One afternoon I had been using a belt sander outside to smooth some pine boards and the wind took the fine saw dust and coated a nearby spider web. I thought the web was emphasized neatly by the sawdust, so I took a few images.
Today I noticed that the center of the web, and the supporting strands around the outside of the web, didn't have any sawdust stuck to them.
DUH Duction! There must be two kinds of surface on the webs - sticky and un-sticky. When I checked on the internet I found this on Wikipedia about sticky and un-sticky web
So spiders not only have the ability to make the strongest tensile chemical around, and spin it up, down, and sideways, but the spider also has his own sticky surface coating circuit – which he is able to turn on and off precisely. Very cool.
I never knew that. Did you?