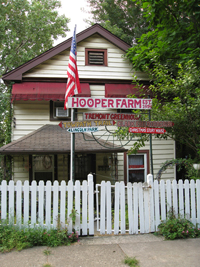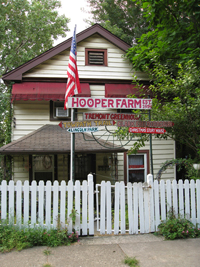 HOOPER FARM, EST. 1994,
TREMONT GREEN HOUSE
ORGANIC VEGETABLES - HERBS - FLOWERS-
MUSHROOMS - COMPOST-
CATERING & FUNDRAISERS AND MORE
216.861.5224 - 2835 WEST 11TH ST.,
hooper [dot] farm [at] Yahoo [dot] com
CLEVELAND, OHIO 44113
--------------------------------------------------------------------------------
The Cleveland Urban Design Collaborative -
Eric Hooper wants to do a greenhouse raising that night. He has a farm at the southern end. Kind of like a farm raising, but a greenhouse raising, to celebrate the fact that agriculture is flourishing in the city. Eric's been there since, I think 1999, so he has an established farm in the city.
Bridge Mix Part of the Tremont ArtWalk mix is this event Fri 10/10 from 6 - 11PM. at the West 11th St. pedestrian bridge in Tremont. A one-night outdoor celebration, Bridge Mix features the Cleveland Urban Design Collective, Gallery U-Haul, Alex Tapie & Wes Johansen, plus live tunes from Miss Melvis and the Buford Pusser Experience. Check out stargazing, cultural dances, music, storytellers and Capoeira; nosh and bevvies by Gypsy Beans, produce from Hooper's Farm and more. No cost, open to the public. West 11th Street bridge is two blocks south of Lincoln Park on West 11th St. (one block north of Clark Field). http://www.myspace.com/popupcleveland [2].
10.Eric Hooper: Need to get down to business on land use and new City laws (let councilman know if you need land), winter production, high school agricultural programs, TriC new classes.
Welcome to
Local Food Cleveland
________________________________________________________
ANTI-SPECIESISM:
SPECIESISM:
1. A PREJUDICE OF ATTITUDE OF BIAS TOWARD THE INTERESTS OF MEMEBERS OF ONE'S OWN SPECIES
AND AGAINIST THOSE OF MEMBERS OF OTHER SPECIES.
2. A WORD USED TO DESCRIBE THE WIDESPREAD DISCRIMINATION THAT IS PRACTICED
BY HOMO SAPIENS AGANIST THE OTHER SPECIES.
SAVE OTHER-OUR SPECIES
SOS-FRE
FROM RESEARCH EXPERIMENT
QUEST, MINISTRIES, GUY TEMPELTON BLACK, PASTOR, and YOGI YOGA BEAR, SERVICE K-9 (guy's partner)
753 BRAYTON AVE., CLEVELAND, OHIO 44113-4604 USA, V:216.861.7368, F:216.861.7368
UNITED STATES ARMED FORCES VETERAN (VOLUNTEER) PEACE, ANTI-WAR, DEFENSIVE
faith based non-profit corporation no. 389646, 501(c)(3), SINCE 1965,
"When I despair, I remember that all through history the way of truth and love has always won. There have been tyrants and murderers, and for a time they seem invincible, but in the end, they always fall — think of it, always." - Mahatma Gandhi
http://www.disclosureproject.com [7] TRUTH - EXTRA-TERRESTRIAL