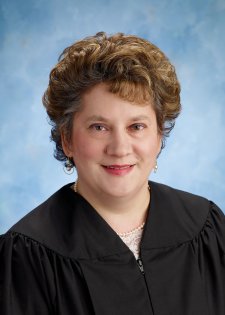 From the Metro Desk of the DeterminerWeekly.Com and the Kathy Wray Coleman Online News Blog.Com (www.kathywraycolemanonlinenewsblog.com [2] and www.determinerweekly.com [3])
The executive committee of the Cuyahoga County Democratic Party denied an endorsement to Cleveland Municipal Court Judge Lynn McLaughlin Murray at its endorsement meeting on Sat, March, 5 at Our Lady Of Mt. Carmel School in Cleveland, one that drew a quorum of 143 members of the 187 member executive committee, and candidates for judge of Cleveland's Municipal Court.
But in a stinging rebuke of McLaughlin Murray, the five Cleveland incumbent judges that sought support from the Democratic party of Ohio's largest county , all of whom are seeking reelection to the bench, and Cleveland Municipal Court Clerk Earl B. Turner, were endorsed for this year's election. They are Judges Michael John Ryan, Michelle Earley, Joseph Zone, Ron Adrine and Angela Stokes, daughter of retired U.S. Rep. Louis Stokes of Shaker Hts., Oh and a niece of the late Carl B. Stokes, a former state representative, Cleveland Municipal Court judge, Ambassador to Seychelles, and the first Black mayor of a major metropolitan city as to Cleveland.
Ohio municipal court judges, including those in Cleveland, are elected to six-year terms but can be appointed by the governor to replace judges that cannot serve out their terms for one reason or other, including election to higher judicial office in the middle of a term. If this happens the appointed judge must be elected by voters in the next regular election to the seat to continue in that role.
To win an endorsement the candidate must get votes from three fourths of the executive committee members in attendance. McLaughlin Murray did not make the cut, getting only 60 votes or 41 percent. Her most notable challenger is popular Assistant Cuyahoga County Prosecutor Pinkey Car who, among others, is backed by the United Pastors in Mission, Ohio State Sen Nina Turner (D-25), Cleveland Councilmen Jeff Johnson and Terrell Pruitt, and Cleveland Ward 7 Councilman T.J. Dow , who spoke in support of Carr at Saturday's meeting. Carr got her wish in seeking a "no endorsement" in her race against McLaughlin Murray where she told executive committee members that a no endorsement would provide for an equal playing field.
Among a host of other substantiated allegations, McLaughlin Murray is under fire by area women's groups for violating the law and trying to sentence Black women for allegedly resisting arrest when the sole arresting officer has not made an accusation or testified as required via the Sixth Amendment, a discrepancy requiring either a sua sponte dismissal by the judge of any such erroneous charge, or the granting of a post verdict acquittal motion.
As an appointed judge that the outgoing Gov Ted Strickland selected to serve out the remainder of Kathleen Ann Keough's unexpired term, who was elected to the Ohio Eighth District Court of Appeals in Nov. , McLaughlin-Murray cannot campaign seeking "reelection" and can only ask voters to "retain" her. And getting elected may prove to be an uphill battle some say do to the judge's reputation as an unfair judge with no respect for the law or Blacks and women that have cases before her, some brought on behalf of the City of Cleveland by law director Robert Triozzi for malicious purposes.

Expecting Cleveland Ward 9 Councilman to promote her at the meeting, Kevin Conwell, who is Black, got up and ultimately said he could not speak because he had laryngitis, a disposition that drew laughter and caused Cleveland Ward 3 Councilman Joe Cimperman, who is White and once tried to unseat popular U.S. Rep. Dennis Kucinich (D-10), to speak on the embattled judge's behalf.

In the short time McLaughlin Murray has been on the bench since her appointment in Jan., she has proven to be a judge that grassroots activists say has no respect for the law or for the Black community and women. Last week the Imperial Women called for her immediate resignation from the bench.

"We are pleased with the endorsements or the lack thereof as to Judge McLaughlin Murray, aside from Clerk Turner, whom we expect to face either the FBI or the county prosecutor for documented tampering with records, a felony crime," said Kathy Wray Coleman, a leader of the Imperial Women. "Clerk Turner and McLaughlin Murray, one Black and one White but both corrupt and arrogant, are a threat to the administration of justice and should be voted out of office."
Coleman said that Judge Angela Stokes is a target because she is a strong and qualified Black woman from a reputable family of Black leaders and that though she has been accused of being peculiar for hiring and firing numerous bailiffs within her purview as a judge, keeping attorneys for hours in her courtroom when other judges put them in front of predominantly Black defendants due to elitism, and asking defendants with cheap cologne to wait outside of her courtroom due to an allergy, she does not have a reputation of a complete disregard for the law as do Keough, McLaughlin Murray and Turner.
"There is a difference between a judge that is avant garde and an alleged annoyance, and one that is racist, sexist and has no respect for the law or other authorities," said Coleman, a 16 year journalist who now edits the Kathy Wray Coleman Online News Blog.Com and writes articles for the People's Forum.Com and REALNEO.Com.
Led by Adrine, who is the presiding and administrative judge of the court, the 14-member Cleveland Municipal Court that primarily hears traffic citation cases and criminal misdemeanors, and includes popular Housing Court Judge Raymond Pianka, has four White judges, and the rest are Black. Pianka, however, runs an independent housing court, the only court in Ohio where the bailiffs and associated staff employees have a union, one formed with Pianka's support.

Cleveland is a predominantly Black city that is divided along racial lines where Blacks reside largely on the East Side of the Cuyahoga River and Whites on the West, a scenario that prompted cross town busing beginning in the late 1970's as to the now defunct Cleveland schools desegregation court order. But the 19- member all Democratic Cleveland City Council has been relatively close in recent years and rarely if at all has race baiting fights, though Blacks on city council represent the largely Black East Side Wards 1-10, aside from Cimperman, whose council base includes the prominent downtown area as to theater, sports stadiums and the convention center.
Data reveal also that McLaughlin-Murray is revoking bonds and issuing warrants against Blacks and women without the bond forfeiture hearing required to be scheduled before a neutral magistrate by Cleveland Municipal Clerk of Court Earle Turner per the local rules of the Cleveland Municipal Court.
And Turner is falsifying case docket data in criminal cases to hurt Blacks and others on appeal and deliberately failing to schedule bond forfeiture hearings, knowing that when Blacks encounter police discrepancies can occur, including police murders of young Black males, which is routine in Cleveland. Additionally, said Coleman, McLaughlin -Murray is scheduling hearings and not telling Black defendants what type of hearing it is to trick them into appearing for the wrong reason so that she can illegally jail them. She is also, said Coleman, usurping the role of the magistrate to hold bond forfeiture hearings allegedly so that she can deny them and target Blacks that political operatives and corrupt non-Black judges want her to target, allegedly in exchange for judicial support for her upcoming run to hold on to the seat. And upon reinstating an illegally taken bond the judge then falsely denotes on the case docket that the previously revoked money bond was a personal bond so that she and Turner can steal the monies for the court.