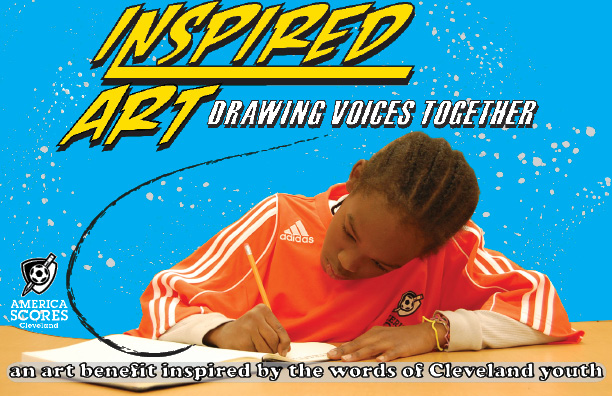 You are invited to the Inspired Art Benefit Auction, a collaboration of Cleveland artists and young Cleveland poets of the after-school program America SCORES Cleveland (SCORES). The original poetry of Cleveland kids involved in SCORES has compelled over 30 local artists to create and donate artwork to support the after-school health and literacy program. At the Benefit, students will witness their visions brought to life and artists will experience the poetry on a deeper level as select youth perform. On June 11th you too can experience the profound impact of these youths' words.
Enjoy hors d'oeuvres, an open wine bar, and live music while bidding on one-of-a-kind artwork. The benefit auction features local artists including CPAC Fellowship Award winners Amy Casey and Stephen Yusko. For more information, visit www.InspiredArtCleveland.com [2].
America SCORES Cleveland provides unique, free after-school programming for over 400 youth in nine Cleveland public schools, teaching poetry, service-learning and soccer to measurably improve literacy, community engagement and fitness.
WHAT: Inspired Art Benefit Auction + poetry readings by America SCORES Cleveland participants & live music
WHEN: Saturday, June 11, 2011 • 6 - 9 pm
WHERE: smARTspace at 78th Street Studios in Gordon Square District
1305 W. 80th Street, Suite 1B, Cleveland, OH 44102
TICKETS: $35, Tickets can be purchased at the event homepage
smARTspace at 78th Street Studios
1305 W. 80th Street Suite 1B
Cleveland
,
OH
44102
United States