INNERBELT SAGA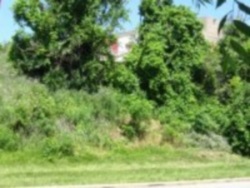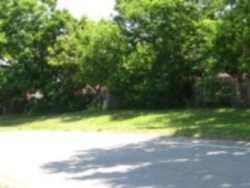 W. 14th going toward Abbey, my rowhouse on other side of fence at right, exit ramp from I-90 West on left.
Post 4 of a series.


When I read that the sole public input meeting would be canceled, I wrote to Councilman Cimperman, Director Teeuwen, chiefs McCall and Silliman and Director Brown as follows:
"First, many thanks to ODOT for rescheduling.
Second, my thanks to Councilman Cimperman for asking Chiefs McCall and Silliman and Director Brown to advocate for those who would be unable to attend, as unfortunately I cannot attend tonight, either, much as I would like to. Still too cold and also my various ailments are causing me a lot of pain.
Chiefs McCall and Silliman and Director Brown: please feel free to email or call me at 216-xxx-xxxx if you have any questions about my comments, although I should warn you I do not always speak clearly. This email continues my previous email which discussed the incredible, unwanted litter created by maple (and locust) trees, yet a large number of them are to be planted, rugosa roses underplanted with low growing herbs and perennials between W. 14th and W. 13th as a vegetative noise barrier and additionally as a screen to an undesirable car park only yards from my home.
In looking at the 11-5-09 City Design Review, it seems to me that there were two small parking areas on the opposite side, where there are no residences, that have now been done away with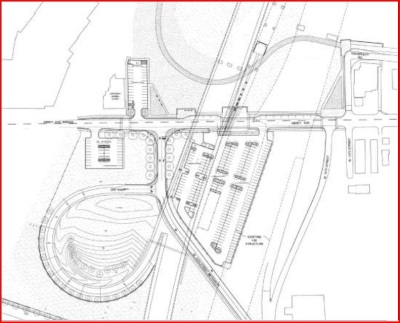 and the huge one, across the street from eight residences, left.
From a focus meeting summary I read that Bob Brown – mentioned that he and Chris Garland were talking about how they would not want the parking lot to become a nuisance and how the City and TWDC is going to manage the lot since it was not really going to be used. If it isn't really going to be used, why was the large one kept?
Stan Kosilesky – explained in defense of the parking. When the trail comes through, they plan on taking the portion in front of Sokolowski's University Inn and their parking need could use the new lot. (The parking area in front of Sokolowskis is not that big!) This area for parking would be ideal for trail users. There is access from the neighborhoods, freeway and there are great views along Abbey Ave., a reason to come there. The smaller parking areas would do just as well, in fact the one on the overlook side would be better as it would be closer to the trail.
Michelle Davis – I believe the valet parking could work with the new parking lot. Valet parking, and restaurant parking is a very sore point with residents as they come home to find no place to park in front of their own home. Designated parking spaces like in Little Italy I am told have been discussed. Well, approve them! And don't let restaurants or bars open without the proper number of parking spaces or convert their parking spaces to patios and get away with it, etc.
One thing I do not see. Historically, cars have pulled right up to the parapet at the Cold Storage Building at night in order to view the fireworks, not just on the Fourth of July, but when the Indians were winning. You show people walking and looking out at the vista but what about cars pulling up? There is a lot of room under a bridge, surely there can be a drive at the right and angled parking. This would not be on-street parking so would not affect the "calming" for the street itself and shouldn't cause us to lose federal funding.
As for the large car lot that I do not want and find unnecessary, I do suggest a use for it, something we do not have: change the type of fencing and make it a small dog park. The Clark Dog Park has no separate area for small dogs and so is not safe for them. The large stones make it hard for them to walk. I found it hard to walk on it. If they'd been attacked, I would have had trouble getting to my dogs quickly.
As to surface, www.dogpark.com [1] suggests pervious pavers from Permapave Northwest, made of rock and binder with an amazing flow-through rate of 1 gallon of water per second which would allow runoff water to go back into the aquafer. This article in Realty Timeshttp://realtytimes.com/rtpages/20070529_dogparks.htm [2] about dog parks being a community anemity that can increase property value mentions things needed. Besides water, what about being wheelchair accessible and braille friendly? This article http://www.dogparkusa.com/articles/small-dog-section [3], recommending separate sections, discusses weight (Lakewood's dog park has a section for dogs 20 lbs and under) or height.
Should any rugosa roses other than those I mentioned be ordered and any herbs or perennials other than I discussed, I would appreciate it if my approval was required. I hope you can understand that I'd hate to wind up with roses I dislike after all my efforts. I do bring another viewpoint.
For example, I don't see the key for 7/L4.1 perennial mix but I do see the spring flowering bulbs and daylilies and gayfeathers listed north of the off ramp also lists tulips. Tulips decline after two or three years and need to be dug up and replanted, which would make them uneconomical here I should think. And monoculture is not that healthy. It looks as though there are lines of elms, then lines of maples in stiff rows. Besides getting rid of the maples, consider mixing up the trees a bit, it might be healthier and the appearance softer and more natural."
Robert Brown, Director of Planning for the City of Cleveland, responded the same day:
Dear Mrs. Hinkle:
I want to thank you for your well-researched and insightful comments. I will discuss them with staff from ODOT and Tremont West and others, and then we will respond to you. I am confident that we can address your concerns. Our goal has always been to make the needs of nearby residents a priority in planning for the Innerbelt Bridge project."
I replied:
"Dear Mr. Brown:
Thank you so much for your kind words and especially for saying you are confident you can address my concerns. You ease my mind.

Although now that I am a senior citizen and disabled, I wish it were all on one floor, I still love my little row house where I can have my dogs and my roses; and I don't want to move. I've lived here for 25 years.
Architect Harriet Gould called me an "urban pioneer" when I moved to Tremont then.
I very much appreciate your advocacy."
Director Brown responded:
"Dear Ms. Hinkle:
You are very welcome. I am in the process of setting up a meeting to review your issues in detail. Once that takes place, I will get back to you promptly. Be well.
PS: I also know Harriet and Bill Gould. They are urban pioneers as well. I am honored to add you to my acquaintances in the world of Cleveland's urban pioneers!"
This last communication, on December 18, 2010, was the first not sent with a cc to Councilman Cimperman, Chiefs McCall and Silliman and Director Teeuwen.
On January 30, 2011, I wrote:
"Dear Director Brown:
I haven't heard anything further and expect you would have had your meeting by now. If you delegated notifying me to someone else, they let you down. Could you fill me in, please.
Thank you."
Director Brown wrote back the next day to myself and Craig Hebebrand, Project Manager, copy this time to Councilman Cimperman and Chris Garland of TWDC only;
"I apologize for not getting back to you. I had conversations with ODOT staff on this matter and was told that it was being addressed. I am copying Craig Hebebrand at ODOT to ask that someone from ODOT contact you with an update. Feel free to get back to me directly as well."
Roughly a week later Mr. Hebebrand wrote me:
"Dear Ms. Hinkle:
I apologize for the delay in responding. Please advise as to when would be good time to meet with you and discuss your comments and concerns?
Thank you,"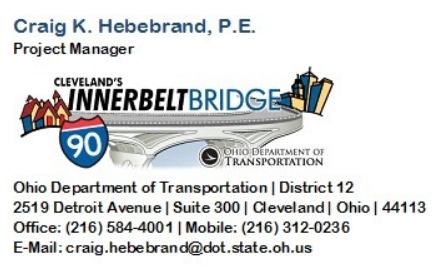 From: Craig [dot] Hebebrand [at] dot [dot] state [dot] oh [dot] us
Cc: cfarroll ; Chris Garland ; Jocelynn [dot] Clemings [at] dot [dot] state [dot] oh [dot] us ; joecimperman ; Brown, Robert
Sent: Tuesday, February 15, 2011 2:51 PM
Subject: Re: Innerbelt Bridge Design
Ms. Hinkle,
Would you be available this Thursday afternoon?
Thank you,
Dear Mr. Hebebrand,
Yes.
1:00, 2:00 and to a lesser extent 3:00 p.m. are preferred times as I tire out due to some health problems.
Please let me know what time you pick.
From: Craig [dot] Hebebrand [at] dot [dot] state [dot] oh [dot] us
Sent: Wednesday, February 16, 2011 3:27 PM
Cc: cfarroll ; Chris Garland ; Jocelynn [dot] Clemings [at] dot [dot] state [dot] oh [dot] us ; joecimperman ; Brown, Robert ; kristentrolio [at] tremontwest [dot] org ; Thomas [dot] Hyland [at] dot [dot] state [dot] oh [dot] us ; dave [dot] lastovka [at] dot [dot] state [dot] oh [dot] us
Subject: Re: Innerbelt Bridge Design
Ms. Hinkle,
I will stop by at 1:00 PM tomorrow, Thursday, February 17, 2011, to discuss your concerns about the project. Kristen Trolio from Tremont West Development Corp will also be joining us.
Respectfully,

Imagine that! Just announcing he was bringing another person, without bothering to ask my permission. I was very tempted to tell him there wouldn't be room for another person in my small house. I would have liked to have invited Jerleen to attend also to be my witness. but she was busy baby sitting.
What happened at the meeting? Stay tuned for the next installment.
To be continued.