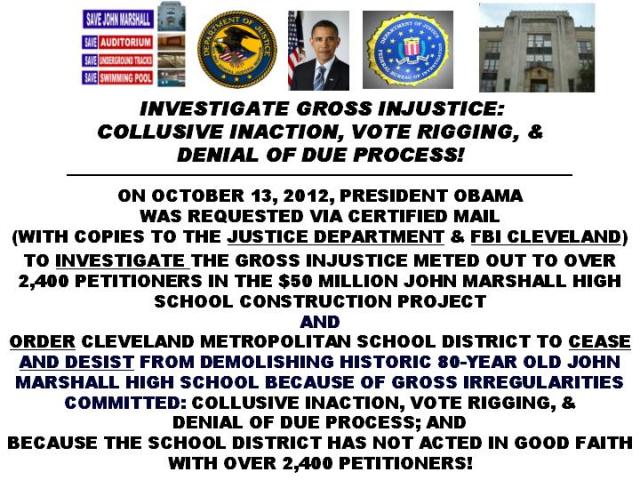 INVESTIGATE!
ON OCTOBER 13, 2012, PRESIDENT OBAMA WAS REQUESTED VIA CERTIFIED MAIL TO INVESTIGATE THE GROSS INJUSTICE METED OUT TO OVER 2,400 PETITIONERS IN THE $50 MILLION JOHN MARSHALL HIGH SCHOOL (LOCATED IN CLEVELAND, OHIO) CONSTRUCTION PROJECT!
COPIES OF THE LETTER WERE ALSO FORWARDED (VIA CERTIFIED MAIL) TO THE JUSTICE DEPARTMENT & FBI CLEVELAND!
IN ADDITION, THE PRESIDENT WAS REQUESTED TO
ORDER CLEVELAND METROPOLITAN SCHOOL DISTRICT TO CEASE AND DESIST FROM DEMOLISHING HISTORIC 80-YEAR OLD JOHN MARSHALL HIGH SCHOOL BECAUSE OF GROSS IRREGULARITIES COMMITTED: COLLUSIVE INACTION, VOTE RIGGING, & DENIAL OF DUE PROCESS;
AND
BECAUSE THE SCHOOL DISTRICT HAS NOT ACTED IN GOOD FAITH WITH OVER 2,400 PETITIONERS WHO WANT TO SAVE JOHN MARSHALL BY RENOVATING THE HIGH SCHOOL INCLUDING THE AUDITORIUM, UNDERGROUND RUNNING TRACKS, AND THE SWIMMING POOL!
THE PRESIDENT WAS REQUESTED TO WORK WITH THE PETITIONERS TO RIGHT THE INJUSTICE AND RESPOND VIA CERTIFIED MAIL A.S.A.P. CONSIDERING THE URGENCY OF THE MATTER!
A copy of the letter (32-pages) and a copy of all the documents (over 250 pages) sent to Gov. Kasich on October 9, 2012 – were also enclosed with the 10-page letter sent to the President, Justice Department, and FBI Cleveland.