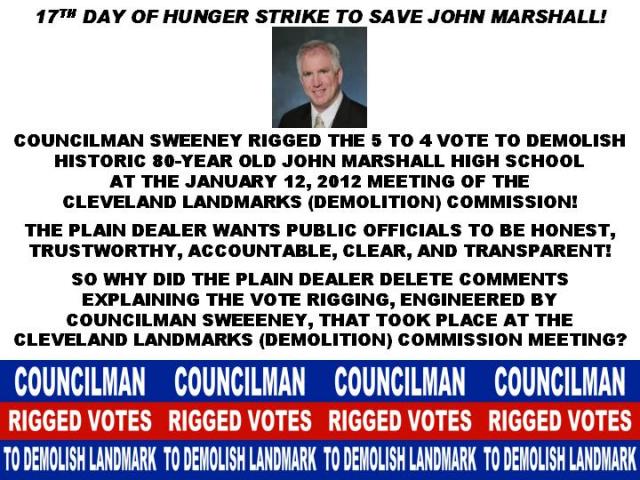 PLAIN DEALER IN BED WITH CITY HALL DELETES COMMENTS PERTAINING TO RIGGED VOTES TO DEMOLISH LANDMARKED 80-YEAR OLD JOHN MARSHALL HIGH SCHOOL IN CLEVELAND, OHIO.
TODAY (12-06-12) IS THE 17TH DAY OF THE INDEFINITE HUNGER STRIKE BY A 70-YEAR OLD SIKH-AMERICAN TO SAVE HISTORIC 80-YEAR OLD JOHN MARSHALL HIGH SCHOOL!

COUNCILMAN SWEENEY RIGGED THE 5 TO 4 VOTE TO DEMOLISH HISTORIC 80-YEAR OLD JOHN MARSHALL HIGH SCHOOL AT THE JANUARY 12, 2012 MEETING OF THE CLEVELAND LANDMARKS (DEMOLITION) COMMISSION!
THE PLAIN DEALER WANTS PUBLIC OFFICIALS TO BE HONEST, TRUSTWORTHY, ACCOUNTABLE, CLEAR, AND TRANSPARENT!
SO WHY DID THE PLAIN DEALER DELETE COMMENTS POSTED BY DAVE McBEAN – A LANDSCAPE ARCHITECT AND A MEMBER OF THE SAVE JOHN MARSHALL HIGH SCHOOL ON FACEBOOK – WHO ATENDED THE SUBJECT MEETING – AND WHO WAS EXPLAINING THE VOTE RIGGING, ENGINEERED BY COUNCILMAN SWEEENEY, THAT TOOK PLACE AT THE
CLEVELAND LANDMARKS (DEMOLITION) COMMISSION MEETING?
THE COMMENTS WERE POSTED ON THE CLEVELAND.COM WEBSITE ON 12-05-12 AND WERE FOUND DELETED LATER ON THE SAME DAY. THE COMMENTS WERE IN RESPONSE TO THE ARTICLE:
"A Cleveland man's hunger strike won't save John Marshall High School but it's worth noticing" by Mark Naymik, Plain Dealer Reporter, 12-02-12.
Here is the link:
http://www.cleveland.com/naymik/index.ssf/2012/12/a_cleveland_mans_hunge... [2]
IS THE PLAIN DEALER IN BED WITH CITY HALL?
The Plain Dealer in their August 4, 2012 editorial: "Cleveland schools must be clear and honest about what levy will buy" called for honesty, trustworthiness, accountability, clarity, and transparency in public officials.
So when I wrote on Cleveland.Com, with supporting facts, that Mayor Jackson and others were not honest and trustworthy on the $50 million JMHS Construction Project and thus could not be trusted for implementing the 15-mill levy, the PD not only deleted all my comments but also kicked me out – so now I cannot post anything on Cleveland.Com.
HERE ARE THE COMMENTS BY DAVE McBEAN THAT WERE DELETED BY THE PLAIN DEALER:
Dave McBean
The demolition of John Marshall High School by the City and the School Board is just wrong.
The problem is the archaic funding formula of the Ohio School Facilities Commission, which favors new construction over renovating old buildings. The estimated cost of renovating the existing approx. 300k SF building is $2m more then the estimated cost of a new approx. 200k SF building (which will have no auditorium, swimming pool, or basement running track). The local share we are responsible for, however, is $12m more if we choose to renovate.
The following are my posts on Mr. Puri's Facebook group page "SAVE JOHN MARSHALL HIGH SCHOOL":
December 1
Martin Sweeney, at the 12/6/11 Bellaire Puritas Development Corporation, Neighborhood Education Committee meeting: "I AM NOT PRESERVATION MINDED".
April 18
OK, I have gotta share this.
At a recent lecture at the local chapter of the US Green Building Council* the question was asked "are there any examples of retrofitting existing large commercial buildings [to German Passivhaus standards] (http://www.structuresdb.com/commercial/passivhaus [3].... )."
The answer was yes of course, since the country is largely built out it is commonly done.
So my point is twofold:
1) If European existing buildings can be upgraded to the most stringent energy standards in the world it can be done here.
2) In Europe the option of demolishing a sound existing building for a new one would only be considered under some compelling circumstances.
* "Commercial Passive House Lecture" by architect Adam Cohen, principal partner of Structures Design / Build LLC in Roanoke, Virginia.
April 4
Councilman Sweeney is entitled to an opinion as is everyone. Unfortunately for us it is contrary to ours. He is victim of a uniquely American disregard of history and infatuation with new stuff. Unhappily his job is to make happen what he believes is best (likely what he thinks will get him reelected), and he is good at it.
In a recent letter to him I pointed out that his name on a plaque in a new high school will be probably be demolished with the new building before 50 years has passed; but a plaque in the restored John Marshall (a building built to last indefinitely) will likely be there in 120 years.
He and Mayor Jackson must be made to understand what the majority of their constituents want; and that it is reasonable and right.
April 1
This is a good one, right on page 3 of the April 2012 issue of the "Plain Press".
In two articles (John Marshall High supporters fight loss..., and Johnny Kilbane honored on 100th Anniversary...) Councilman Sweeney is quoted "Once the city of Cleveland landmarks something, it stays that way forever."
March 17
The clock is ticking loudly for John Marshall High School.
The kids are out of School June 1st or so; I am sure demolition contracts have been let and the site will be fenced off June 2nd or so.
Emails I plan to send out are to Councilman Sweeney, Representative Sherrod Brown and Scene Magazine.
People, you are being hard on Mr. Sweeney. I can see nothing he has done illegal here. He has his biases and is blind to the importance of preserving something that is good (it's a uniquely American trait). But, we need him on our side.
He is in favor of what the people that elect him want. Let him know what we want.
January 18 (after the 1/12/12 Landmarks Commission hearing)
"The Landmarks Commission is an eleven-member board of preservation-minded individuals..." (fourth paragraph, http://planning.city.cleveland.oh.us/landmark/ [4]). It's mission is to encourage the preservation of Cleveland's architecturally significant buildings and districts.
One of it's members spoke prior to the vote, she said "I like new things. I am not a preservationist. I am not against it. I look at it as a case by case basis". This falls somewhat short of my definition of "preservation-minded".
Our mistake was to underestimate the influence (and intentions) of Councilman Martin Sweeney. I believe he orchestrated the Landmarks Commission's decision to approve the demolition of John Marshal High School. When he spoke at the 12/6/11 Neighborhood Education Committee meeting, in a moment of candor he said he is not a historic preservation minded individual. When he spoke at the Jan. 12th Landmarks Commission meeting his bias for new projects became clear when he proudly presented large photos of 3 brand new K-8 schools in his Ward 20 fiefdom (all on W 140th St., north or south of John Marshall). He stated he did not think he had ever used visual aids in this manner; he presented them like a proud father with pictures of his children.
Of the 5 votes for demolition 4 were cast by city employees (two are councilpersons, two others are the chief city planner and the chief city architect. Do we seriously think a fellow councilman is going to vote against something the Council President wants in his ward? And really; a professional planner and a professional architect (keep in mind the phrase "preservation-minded") voting to demolish a perfectly sound high school (a designated Cleveland Landmark) to build a new school. Come on! The 5th yea vote was cast by a general contractor who works in Cleveland. Think his business requires city building permits? Think he will vote against what the Council President wants?
The four votes against the demolition of this landmark were all professional people: a lawyer, an architect, a real estate professional; none of whom work directly for the city.
http://www.structuresdb.com/commercial/passivhaus [3]
www.structuresdb.com [5]
PLEASE SEE THE FOLLOWING PREVIOUS POSTS PERTAINING TO THE ISSUE OF VOTE RIGGING:
DAY 12 OF HUNGER STRIKE & UNANSWERED QUESTIONS ON RIGGED VOTES TO DEMOLISH LANDMARKED JOHN MARSHALL HIGH SCHOOLI
DAY 11 OF HUNGER STRIKE & WHY CHIEF ARCHITECT OF CLEVELAND VOTED TO DEMOLISH LANDMARKED 80-YEAR OLD JOHN MARSHALL HIGH SCHOOL?
FACEBOOK & YOUTUBE:
Follow the SAVE JOHN MARSHALL HIGH SCHOOL group on Facebook: https://www.facebook.com/groups/160386844035662/ [6]
Also, see the following three YouTube clips:
1. Save John Marshall High School, Cleveland, Ohio
http://youtu.be/S6Shgwi5cuU [7]
2. Save John Marshall High School Pt. 2: Demonstration http://www.youtube.com/watch?v=jdTaCQrwoF4 [8]
3. Save John Marshall High School Part 3: Call for a Hunger Strike
http://youtu.be/nyoL5sFBjeA [9]