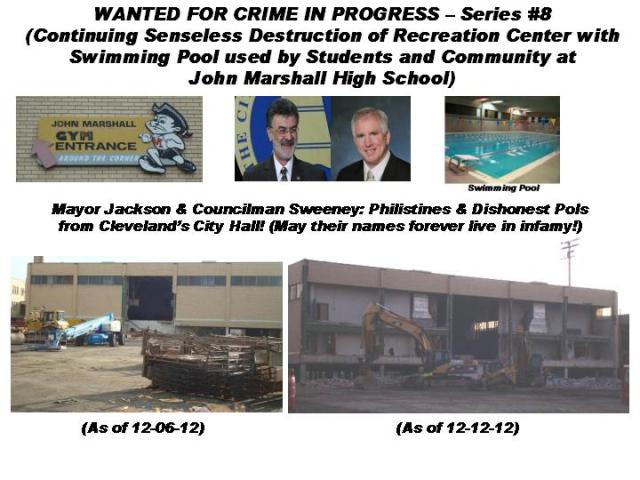 WANTED FOR CRIME IN PROGRESS SERIES #8 -- MAYOR JACKSON & COUNCILMAN SWEENEY -- PHILISTINES & CORRUPT POLS (POLITICIANS) FROM CLEVELAND'S CITY HALL -- MAY THEIR NAMES FOREVER LIVE IN INFAMY -- FOR THE CONTINUING SENSELESS DESTRUCTION OF THE RECREATION CENTER WITH SWIMMING POOL USED BY THE COMMUNITY AT JOHN MARSHALL HIGH SCHOOL IN CLEVELAND, OHIO!
MAYOR JACKSON HAS SAID HE LOVES KIDS -- OUR KIDS – BUT CANNOT EXPLAIN, DESPITE 26 REMINDERS, WHY HIS HONOR IS DESTROYING THEIR AUDITORIUM, UNDERGROUND RUNNING TRACKS, AND SWIMMING POOL,
THE DESTRUCTION OF 80-YEAR OLD HISTORIC JOHN MARSHALL HIGH SCHOOL, LOCATED IN CLEVELAND, OHIO, STARTED IN LATE OCTOBER, 2012!
ALL THIS IS HAPPENING BECAUSE WE HAVE A 100% CORRUPT POLITICAL SYSTEM IN CLEVELAND, OHIO – LED BY PHILISTINES AND CORRUPT POLITICIANS – MAYOR JACKSON AND COUNCILMAN SWEENEY AND WHICH IS AIDED AND ABETTED BY THE MEDIA – THE PLAIN DEALER AND CHANNELS 3(NBC), 5(ABC), 8(FOX), AND 19(CBS) – WHO ARE IN BED WITH CITY HALL AND WHERE THE SEWER FLOWS FROM CITY HALL ALL THE WAY DOWN TO THE BELLAIRE PURITAS DEVELOPMENT CORPORATION – AND ENGULFS EVERY ONE OF MAYOR JACKSON'S AND COUNCILMAN SWEENEY'S CRONIES, GOONS, AIDES, AND ABETTERS -- WHO WALLOW IN THE MUCK!

REALNEO:
PLEASE SEE PREVIOUS POSTS ALL RELATED TO THE SAVE JOHN MARSHALL HIGH SCHOOL CAMPAIGN!
FACEBOOK & YOUTUBE:
Follow the SAVE JOHN MARSHALL HIGH SCHOOL group on Facebook: https://www.facebook.com/groups/160386844035662/ [2]
Also, see the following three YouTube clips:
1. Save John Marshall High School, Cleveland, Ohio
http://youtu.be/S6Shgwi5cuU [3]
2. Save John Marshall High School Pt. 2: Demonstration http://www.youtube.com/watch?v=jdTaCQrwoF4 [4]
3. Save John Marshall High School Part 3: Call for a Hunger Strike
http://youtu.be/nyoL5sFBjeA [5]