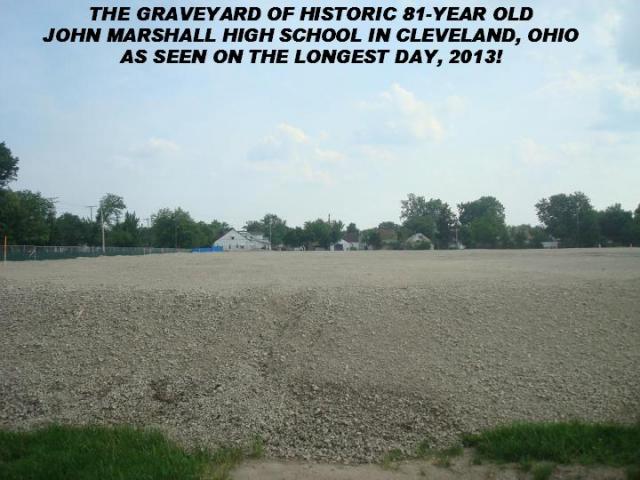 THE GRAVEYARD OF HISTORIC, 81-YEAR OLD, JOHN MARSHALL HIGH SCHOOL IN CLEVELAND, OHIO AS OBSERVED ON A VERY HOT, PARTIALLY CLOUDY, FRIDAY, JUNE 21 AFTERNOON -- THE LONGEST DAY, 2013!
The graveyard contains the pulverized remains (bricks, stones, etc.) of John Marshall High School, which opened in 1932.
The historic school recently underwent an illegitimate and senseless, destruction – a crime against humanity – a crime that we shall never forget – a crime which has destroyed our link to the past – a crime that was perpetrated by a corrupt and visionless City Hall – Mayor Jackson & Councilman Sweeney (also City Council President) – and a corrupt and visionless Cleveland Metropolitan School District – and their cronies including the media through collusive inaction, vote rigging, and denial of due process to over 2,400 petitioners who wanted to renovate the architectural gem – similar to the renovation of 84-year old John Hay (built in 1929) and 81-year old (built in 1932) Rhodes High Schools.
Councilman Sweeney (and City Council President) rigged the 5 to 4 vote to demolish historic John Marshall High School at the January 12, 2012 Cleveland Landmarks Commission meeting. So powerful is Mr. Sweeney's grip on City Hall -- he was able to coerce the Chief Architect of the City of Cleveland, who should be protecting and preserving our landmarks, to vote to demolish the architectural gem. And, two of his cronies on the City Council – Councilwoman Phyllis E. Cleveland and Councilman Anthony Brancatelli -- also voted to demolish.
The media -- The Plain Dealer and the four TV stations – ABC (5), CBS (19), NBC (3), and Fox (8), and Governor Kasich did not investigate irregularities (collusive inaction, vote rigging, and denial of due process to over 2,400 petitioners) in the $50 million John Marshall High School Construction Project despite multiple reminders.
In addition, the irresponsible Demolition Contractor poisoned the environment – for present and future generations -- a crime against the community. Ohio EPA took no action when repeated violations were brought to their attention.
Construction of the new school – a jazzed up warehouse (without an auditorium, swimming pool, or underground running tracks) with a suggested name of Martin J. Sweeney High School because it represents Councilman Sweeney's vision – which was scheduled to start on April 1, 2013 – has been delayed by nearly 3 months.
The new school will be built on top of the graveyard.
No construction activity has been observed in the graveyard since the Demolition Contractor left – five weeks ago. The scheduled opening of the new school by August 15, 2015 – is in jeopardy!
MAY THE NAMES OF ALL THOSE WHO PARTICIPATED IN THE SENSELESS DESTRUCTION – A CRIME AGAINST HUMANITY -- PERPETRATED BY A CORRUPT & VISIONLESS CITY HALL – MAYOR JACKSON & COUNCILMAN SWEENEY -- AND A CORRUPT & VISIONLESS SCHOOL DISTRICT -- AND THEIR CRONIES -- INCLUDING THE PRESIDENT OF THE JMH ALUMNI ASSOCIATION AND SOME OF THE TRUSTEES WHO ARE IN BED WITH CITY HALL (SWEENEY & CO.) AND HAVE PROFITED FROM THE SORDID UNDERTAKING BY SELLING BRICKS FROM THEIR "BELOVED JOHN MARSHALL" -- MAY THEIR NAMES FOREVER LIVE IN INFAMY!
ADDITIONAL INFORMATION:
REALNEO: Please see previous posts all related to the Save John Marshall High School campaign.
Facebook: Follow the Save John Marshall High School group on facebook where the senseless destruction of the historic landmark has been documented in detail: https://www.facebook.com/groups/160386844035662/ [2]
Youtube: Also, see the following three Youtube clips:
1. Save John Marshall High School, Cleveland, Ohio http://youtu.be/s6shgwi5cuu [3]
2. Save John Marshall High School, Part 2: Demonstration http://www.youtube.com/watch?v=jdtacqrwof4 [4]
3. Save John Marshall High School, Part 3: call for a hunger strike http://youtu.be/nyol5sfbjea [5]