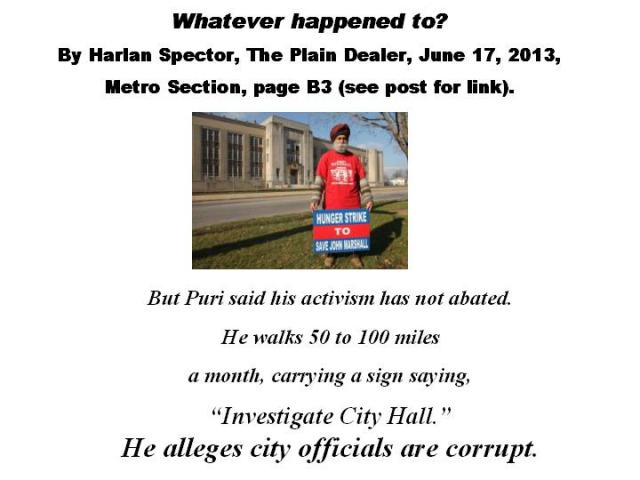 THE PLAIN DEALER UPDATES THE SAVE HISTORIC JOHN MARSHALL HIGH SCHOOL CAMPAIGN IN CLEVELAND, OHIO!
Whatever happened to?

By Harlan Spector, The Plain Dealer, June 17, 2013,
Metro Section, page B3.
HERE IS THE LINK TO THE PLAIN DEALER ARTICLE:
http://www.google.com/url?sa=t&rct=j&q=&esrc=s&source=web&cd=1&cad=rja&v... [2]
NOTE:
Historic 81-year old John Marshall High School (built in 1932) recently underwent an illegitimate and senseless destruction – a crime against humanity – a crime that we shall never forget – a crime that has destroyed our link to the past.
The crime was perpetrated by a corrupt City Hall (Mayor Jackson & Councilman Sweeney), a corrupt and visionless Cleveland Metropolitan School District, and their multitude of cronies.
Councilman Sweeney (and City Council President) rigged the 5 to 4 vote to demolish historic John Marshall High School at the January 12, 2012 Cleveland Landmarks Commission meeting. So powerful is Mr. Sweeney's grip on City Hall -- he was able to coerce the Chief Architect of the City of Cleveland, who should be protecting and preserving our landmarks, to vote to demolish the architectural gem. And, two of his cronies on the City Council – Councilwoman Phyllis E. Cleveland and Councilman Anthony Brancatelli -- also voted to demolish.
The three–week long hunger strike which started on November 20, 2012 at 12:01 a.m. was broken at 12:01 a.m. on December 11, 2012 by first blessing myself, as per instructions from my Irish wife, with holy water from knock (Ireland), then sipping from a glass -- a mix of 75% water, 20% vegetable juice, and 5% apple juice – as our very naughty seven cats looked at me with amazement.
The path to normal eating took 3 to 6 weeks as I slowly recovered the 20 pounds I lost over the three-week hunger strike.
Fasting for three weeks was a spiritual experience. Jesus Christ fasted for 40 days and 40 nights. Mahatma Gandhi fasted multiple times – including once for 21 days to fight British colonial oppression.
I was not successful in stopping the demolition of historic 81-year old John Marshall High School in Cleveland – as I was unable to overcome the 100% corrupt political system – led by philistines and corrupt politicians – Mayor Jackson and Councilman Sweeney and which is aided and abetted by the corrupt media – The Plain Dealer and channels 3(NBC), 5(ABC), 8(Fox), and 19(CBS) – who are in bed with City Hall.
The hunger strike was not a cry for historic preservation – it was a cry for justice – which to this day has not been served. Had justice been served, John Marshall High would have been saved.
I have started a new campaign to INVESTIGATE CITY HALL for collusive inaction, vote rigging, and denial of due process to over 2,400 petitioners who wanted to renovate John Marshall High School --- an 81-year old architectural gem – similar to the renovation of 84-year old John Hay (built in 1929) and 81-year old (built in 1932) Rhodes High Schools.
The Plain Dealer & the TV stations will not investigate these issues – despite multiple reminders.
I will not rest until all those responsible for the senseless destruction of an architectural gem – a crime against humanity – are brought to justice.
ADDITIONAL INFORMATION:
REALNEO: Please see previous posts all related to the Save John Marshall High School campaign.
Facebook: Follow the Save John Marshall High School group on facebook where the senseless destruction of the historic landmark has been documented in detail: https://www.facebook.com/groups/160386844035662/ [3]
Youtube: Also, see the following three Youtube clips:
1. Save John Marshall High School, Cleveland, Ohio http://youtu.be/s6shgwi5cuu [4]
2. Save John Marshall High School, Part 2: Demonstration http://www.youtube.com/watch?v=jdtacqrwof4 [5]
3. Save John Marshall High School, Part 3: call for a hunger strike http://youtu.be/nyol5sfbjea [6]