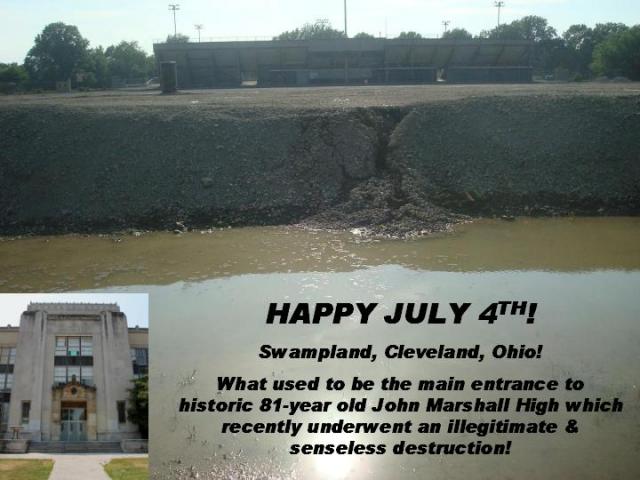 HAPPY JULY 4TH, 2013!
SWAMPLAND, CLEVELAND, OHIO!
What used to be the main entrance to historic 81-year old John Marshall High School – an architectural gem which recently underwent an illegitimate & senseless destruction -- brought about by Cleveland's corrupt pols – Mayor Jackson & Councilman Martin J. Sweeney (also City Council President), a corrupt & visionless Cleveland Metropolitan School District, and their multitude of cronies!
The graveyard (see photograph) contains the pulverized remains (bricks, stones, etc.) of the historic high school.
The new school – a jazzed up warehouse (without an auditorium, swimming pool, or underground running tracks) with a suggested name of Martin J. Sweeney High School – the Councilman who made all this possible – will be built on top of the graveyard – with a scheduled opening of August 15, 2015.
May the names of the following who facilitated the senseless destruction (through collusive inaction, vote rigging, and denial of due process to over 2,400 petitioners who wanted to renovate John Marshall High School --- an 81-year old architectural gem – similar to the renovation of 84-year old John Hay (built in 1929) and 81-year old (built in 1932) Rhodes High Schools) -- a crime against humanity – that should never be forgotten – may their names forever live in infamy:
Mayor Frank G. Jackson;
Councilman and City Council President Martin J. Sweeney;
Councilman Anthony Brancatelli;
Councilwoman Phyllis E. Cleveland;
Cleveland Metropolitan School District;
Chair, Cleveland Landmarks Commission;
Manager of Architecture (Chief Architect), City of Cleveland;
Director of City Planning;
Bellaire Puritas Development Corporation; and
President and those trustees of the John Marshall High Alumni Association who openly advocated for demolition.
ADDITIONAL INFORMATION:
REALNEO: Please see previous posts all related to the Save John Marshall High School campaign.
Facebook: Follow the Save John Marshall High School group on facebook where the senseless destruction of the historic landmark has been documented in detail: https://www.facebook.com/groups/160386844035662/ [2]
Youtube: Also, see the following three Youtube clips:
1. Save John Marshall High School, Cleveland, Ohio http://youtu.be/s6shgwi5cuu [3]
2. Save John Marshall High School, Part 2: Demonstration http://www.youtube.com/watch?v=jdtacqrwof4 [4]
3. Save John Marshall High School, Part 3: call for a hunger strike http://youtu.be/nyol5sfbjea [5]