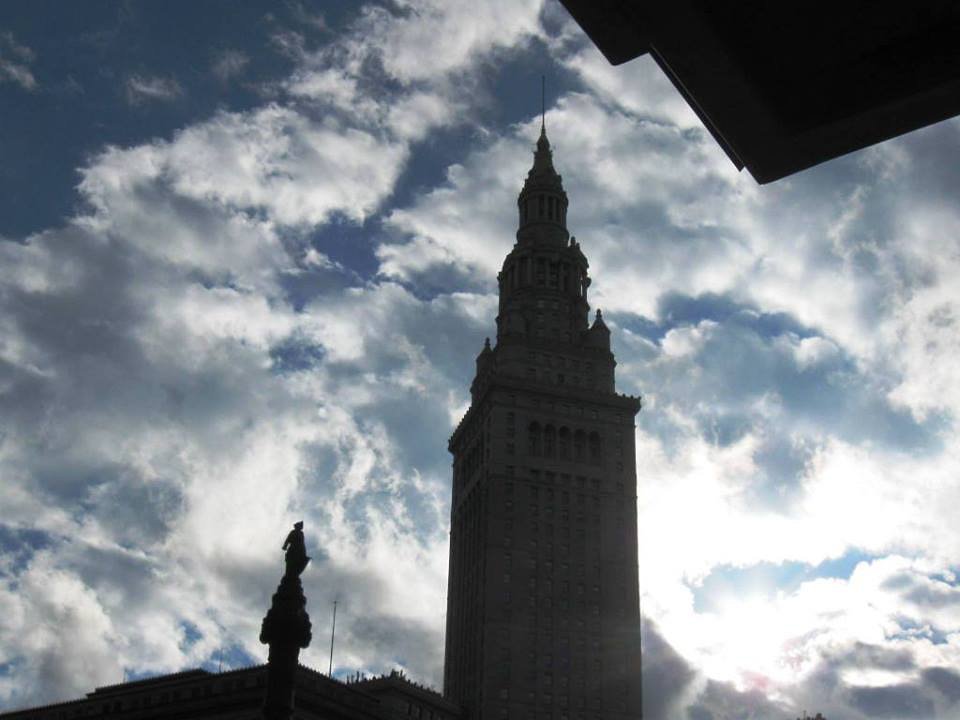 Somewhere­­­­­ along the way, many of us at REALNEO, became aware of a real estate scheme that was hatched many years ago-using OPM-other people's money. For anyone, who might tune into REALNEO and write-off or marginalize the content here, please take a minute to review my personal history, which has led me to the conclusion that there is a massive criminal enterprise at work here.
My own experience starts in 1992 when I returned to Cleveland after graduate studies in landscape architecture. I chose to live in Tremont because I could afford the rent at the time and it was close to the Metroparks where I worked part-time in planning. I also waited tables to earn the bulk of my income. I became aware of the local community development corporation through my neighbor, who worked as a community organizer, where he had volunteered me for a garden project. My neighbor would later be canned by that CDC – Tremont West. And, I would start working there as a contract employee – to help organize their databases and apply for grants (backstory – CDCs did not exist until the Community Reinvestment Act of 1977-which began the process of allowing federal dollars-OPM- to flow into CLE).
Much of Tremont was already cleared for redevelopment by arson
- and the City of Cleveland assembled these plots along W. 7th especially - through the City of Cleveland Land Bank (engineered by Frangos) - Progressive Urban Real Estate with Keith Brown and Mike McBride began promotion of a project that was to connect Tremont with the National Park - the Tremont Ridge Project - for new housing designed by City Architecture.
At the time, the CDC depended on funding from Frangos, then Paulenske and Nelson Cintron. Nelson became vilified because he pulled some of his TWDC funding. I didn't understand all of the dynamics then, but realized later that the council person drives the CDC in their wards. I was aware at the time that there was an influence from Gus Frangos –and Jim Rokakis with their proposal for a Greektown in Cleveland in the vicinity of Annunciation Church. At the time, there was still a small Greek presence in the neighborhood with remnant immigrant residents near the church, a coffee shop and a Greek restaurant where Parallax is now. Also, Jim Alex ran the much despised asphalt plant in the Flats and residents protested the fumes.
1993-While at TWDC, I quit my Metroparks job and decided to take on some hours working part-time as a sub at Cleveland Public Library. I later applied to an opening at a non-profit called the Cuyahoga Remedial Action Plan – housed at the Northeast Ohio Areawide Coordinating Agency.
1995/1996- Tremont began to get "hot' in the real estate market – mostly w/restaurants that appealed to folks who did not live in the neighborhood. Edison's was one of the first to take off as a destination for 20-30 year old crowd, later Bohemia helped with the revitalization, but also brought drug scene to the neighborhood. Miracle's was around in 80s when I worked at Metro and still in the neighborhood when I came back in 1992, Dempsey's and the various ethnic hangouts still catered to families who worked in the flats and for LTV.­­­­
My landlord Dave Perkowski and his brother built up a sizeable real estate inventory of rental properties.
Several other investors in the neighborhood made out w/rentals to the growing demand for housing for 20-30 year olds. It continues to this day – with appeal of Lincoln Park, especially.
1997-After my stint at TWDC as an employee – I was asked by Emily Lipovan to serve on the board and I ran and was elected. This became an unbearable situation, as Emily did not like me asking too many questions on the operation of the organization. I was especially disturbed when TWDC began to negotiate transfer of a property on Tremont Ave. to a property owner who was delinquent in taxes on properties throughout the city. The more I asked for records and accountability – the more I became ostracized and it culminated in an attack session at one board meeting. I resigned. But, I was very much aware then that some dirty deals were occurring – and that I was lucky to get away from the machinations on that board.
So – I gave up working with neighborhood groups until I bought a house in the Brooklyn Centre neighborhood in 1999. By then, I had quit the non-profit job in lieu of a more stable and rewarding library career. I managed to avoid politics until 2006 when my old nemesis Emily Lipovan became installed in my neighborhood as the council person, appointed by Merle Gordon, who had been appointed by Jim Rokakis. Emily was so schooled in the "game" that I did not want her as my rep – in hind sight – I may have been better off if she was made our council rep, but then I thought Brian Cummins was a more "honest" person. Nelson Cintron's aide Rick Nagin also got into the race – and this caused a change up in the council dynamics – as Nelson hired Rick's wife and then lost his seat in the election to Joe Santiago – an openly gay council rep who was close friends with Emily Lipovan and
Rosemary Vinci.
As Brian took office – I was at first impressed by his commitment and mainly impressed by the energy of his assistant and her husband. The Hamms – Johanna and Darren – did many good things including helping seniors paint their homes and organizing the CSA drive and sale of fresh farm items. The first term was hopeful – even as the housing bubble burst and foreclosures became evident.
Dianna had extensive real estate knowledge and Lily had extensive legal experience and an understanding of the Housing Court system. We all began to suspect more than the corruption revealed by the Russo and Dimora investigation. Valuations at Board of Revision were starting to become suspicious and there was some investigation by the Plain Dealer, but that abruptly stopped as FBI closed in on Dimora and Russo. Sale of property tax liens, including sale of Frank Giglio's property led Lily Miller to investigate exclusive sale of tax liens by Cuyahoga County to Plymouth Park Tax Services.
Creation of the Land Bank has only allowed this massive criminal enterprise to continue – the acquisition and dealing of properties with past liens "wited" out – just as the evaluations were manipulated under Frangos while he served as deputy treasurer. HUD monies are a factor as many of the properties acquired through tax lien sales have been rented out to Section 8. The obvious beneficiaries of this massive criminal enterprise include Forest City and Safeguard properties. So that is where I am in this story. I continue to believe that collusion has played a part in the set up of this massive real estate scheme.
(still editting - 1/28/2014)