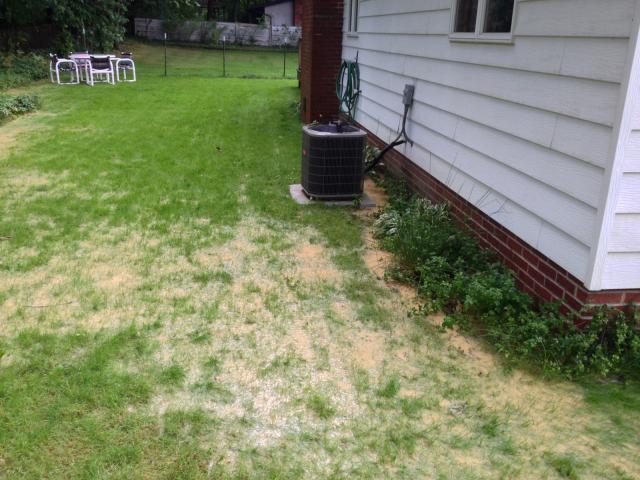 Another chapter in the continuing saga of Citizens as Wallet .
Backstory:
Cuyahoga County Public Library, against community wishes, is building a new library on S. Green Rd, for $12.6 million.
They could have renovated the current historic library for $5 million.
That historic library, Telling Mansion, is an Ohio Landmark and is on the National Register of Historic Places.
The Cuyahoga County Public Library sold this PUBLIC PROPERTY for pennies on the dollar to one wealthy man.
The new library is now under construction.
The site of the new library on Green Road has well documented flooding problems.
So well documented that, 500 feet from the new library, a $1.2million step pool retention basin [2] was built in 2008 to mitigate the flooding problem.
Because we knew about this flooding problem, citizens asked Cuyahoga County Public Library to work with Cuyahoga Soil and Water Conservation District(CSWCD) to come up with the best possible plan.
CSWCD provides site reviews (second opinions) about managing the stormwater runoff of construction sites.
We thought that if these two totally tax supported entities worked together, they could prevent flooding, prevent damage to residents' homes, and minimize pollutants being dumped into Lake Erie.
Cuyahoga County Public Library REFUSED to let CSWCD review the plan, even though we sent in the $400 check to pay for it.
CSWCD initially agreed to review the plan, and cashed our check. But after Cuyahoga County Library told them not to cooperate with us, CSWCD sent our check back to us!
I guess their relationship with each other is more important than serving citizens. They have to show us who's boss...
Cuyahoga County Public Library Board and Cuyahoga Soil and Water Conservation District did not work to protect the public welfare.

Why should they? It's only our property, our health and our money.
After all, if you were building a $12.6 million home would you want a free second opinion on managing stormwater runoff?
Anyway, even if you could not follow the details of this story--the picture shows you what is happening to the homes of people who live next to where the new library is being built.
And for even better before and after photos taken by the residents click here. [3]
If you want to know about how the EPA is the only public entity that helped us---Read on! [4]
There is a meeting about the new library, this Wednesday, February 4, 2014 at 5pm in South Euclid City Hall;1349 South Green Rd; South Euclid, OH 44121. IT IS OPEN TO THE PUBLIC. See you there!