WELCOME JIMMY DIMORA SQUARE CAMPAIGN ON THE MIKE TRIVISONNO RADIO
SHOW!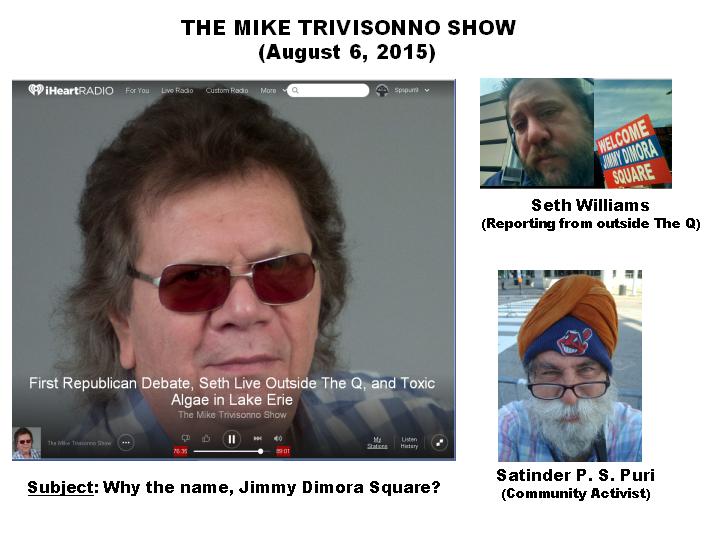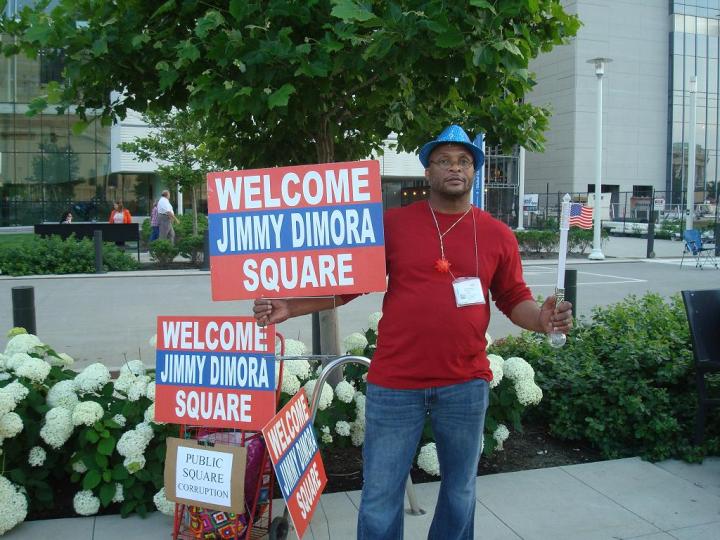 On August 6, 2015, while I was demonstrating outside The Q (venue for the first GOP Presidential Debate) – Seth Williams of WTAM radio spotted my Welcome Jimmy Dimora Square sign and said that Mike Trvisonno would like to ask a few questions about the WELCOME JIMMY DIMORA SQUARE sign.
How about the new Public Square being called the Danny Greene Square or the Bernie Madoff Square or the Meyer Lansky Square – asked Mr. Trivisonno – among other questions.
I am a community activist.
I enjoyed every bit of the 4-minute interview.
I have attached a link to the interview and also provided my transcript of the recording.
LINK TO SHOW DATED AUGUST 6, 2015:
My interview starts after the 50-minute mark.
http://www.iheart.com/show/139-The-Mike-Trivisonno-Show/?episode_id=27306468
TRANSCRIPT OF THE INTERVIEW:
Note: I transcribed the audio recording to the best of my ability.
In the interview, Seth Williams acted as the field correspondent for WTAM.
Start of Interview:
Seth Williams: What does your sign mean by "Welcome Jimmy Dimora Square"?
Satinder P. S. Puri: We are putting up this new Public Square and I am saying is because the new Public Square is mired in corruption – instead of calling it the new Public Square – it should be called the Jimmy Dimora Square.
Seth: Do you think it is fair that Jimmy Dimora got 28 years for stealing and murderers get less time than Jimmy Dimora?
Satinder: I have talked with a number of people – and they all think – the common conclusion is that Mr. Dimora got railroaded for what he did – he did not deserve such a long sentence – it was very unfair.
Mike Trivisonno(Triv): Exactly. Why are you picking on Dimora – the poor guy is in jail?
Satinder: The question in here is – because the project is mired in corruption – and we want to identify the corruption aspect of the new Public Square – what better name than Mr. Dimora -- he has such name recognition.
Seth: Should it not be called Frank Jackson Square?
Satinder: Because then people would not associate that the new Public Square is mired in corruption. The name Jimmy Dimora is because of name recognition with corruption.
Seth: Are you just going after Dimora because he is Italian?
Satinder: Not at all, no, no, no – I am Indian.
Triv: Really!
Satinder: I am from India. Right. I have great respect for all minority groups. Not at all. This is just to identify the corruption aspect. Because if there was somebody else more corrupt and who had name recognition ---
Seth: Mike Trivisonno is offended being an Italian-American by your sign.
Satinder: I don't think, I have talked with a lot of people – they actually laugh at it because there is a comical aspect – and they are saying – Mr. Dimora was corrupt – and therefore it is correct to name the new Public Square as Jimmy Dimora Square. No offence intended, sir. No offence intended.
Triv: This is going a way lot. If you are going to come up with a name that is recognized as being full of corruption --- name another name other than Italian. You can't. Try it at home. Try to name – come up with a name that has to do with corruption and has not ended up in an 'L'. What is the guy who went to jail in New York? Barnie Fife. The guy who embezzled all the money from the rich people.
??: Oh, Ya, Bernie Madoff.
Triv: Ha! Ha! Ha!
??: Bernie Madoff is Italian, Triv
Triv:No I don't think, that is really nice – using the Dimora sign – it offends a lot of Italian people..
Seth: Again, he is thinking you are offending all the Italians who are walking by.
Satinder: Not at all. It has a very comical aspect – people laugh at it.
Seth: He is a very nice guy.
Triv: Tell him how about Danny Greene's name?
Seth: Triv says you need to use Danny Greene's name instead of Jimmy Dimora? Because Danny Greene was also corrupt.
Satinder: It is just that Mr. Dimora has more name recognition.
Triv: Now I have got a problem. The Irish guy who brought down the entire mob has infinite more name recognition than Jim Dimora. Tell him about Meyer Lansky.
End of Interview.
COMMENT POSTED ON AUGUST 8, 2015 ON THE MIKE TRIVISONNO SHOW FACEBOOK PAGE:
I enjoyed being interviewed by Mr. Trivisonno re. the WELCOME JIMMY DIMORA SQUARE campaign. I was outside The Q on the afternoon of August 6 demonstrating and the sign was in full display – along with other campaign signs – when Seth Williams approached me for the interview.
From August 2014 to March 2015 – I demonstrated for nearly 450 hours to LEAVE PUBLIC SQUARE ALONE. Unfortunately the campaign was not successful. The senseless destruction of 218-year old Public Square started on March 9, 2015 and was completed in 2-months.
The development of the new Public Square, which is being built on the cheap, has been mired in corruption. Mayor Jackson never responded to 10-emails and two certified letters seeking information about the project. There was a ten-day long hunger strike to protest corruption in the project.
The name Jimmy Dimora Square has become part of the Cleveland lexicon. Most Clevelander's and Cuyahoga county residents have a big laugh when they first encounter the sign. The use of Mr. Dimora's name does not imply any disrespect to the Italian community. I come from India where the wife of a former Prime Minister -- Mrs. Sonia Gandhi -- is from Italy.
The photograph shows a supporter at Mall A on July 1, 2015 on the evening of the Star Spangled performance by the Cleveland Orchestra.
Details of my campaigns can be found on my blog at REALNEO:http://realneo.us/blogs/satinder-p-s-puri
SENSELESS DESTRUCTION OF 218-YEAR OLD PUBLIC SQUARE:
218-year old Public Square, a.k.a. Jimmy Dimora Square, located in Cleveland, Ohio, has been destroyed – a destruction engineered by the administration of Mayor Frank L. Jackson,
The destruction started on March 9, 2015 and was completed within a 2.5 month period.
All trees, granite benches, flower beds, and shrubs were destroyed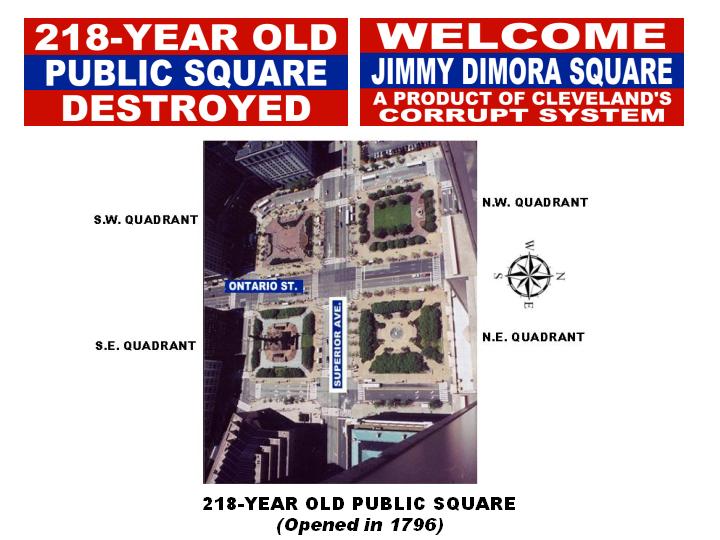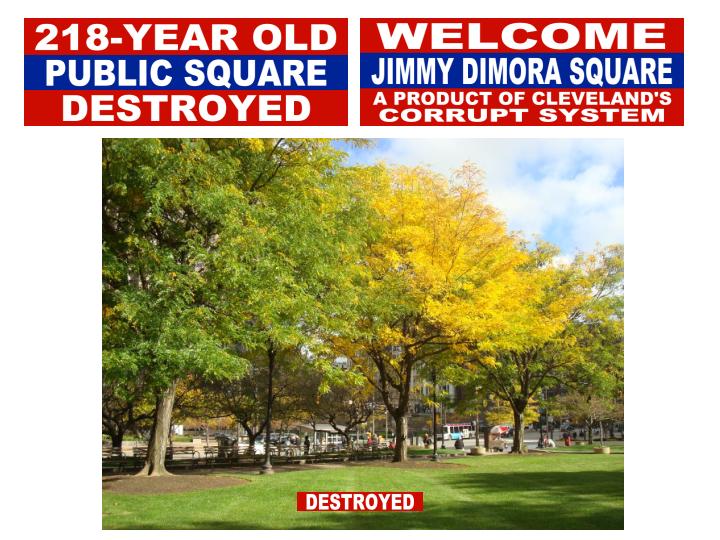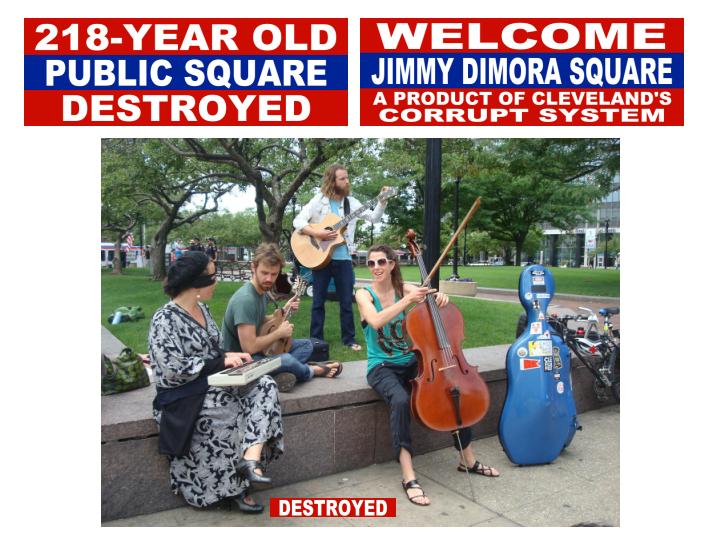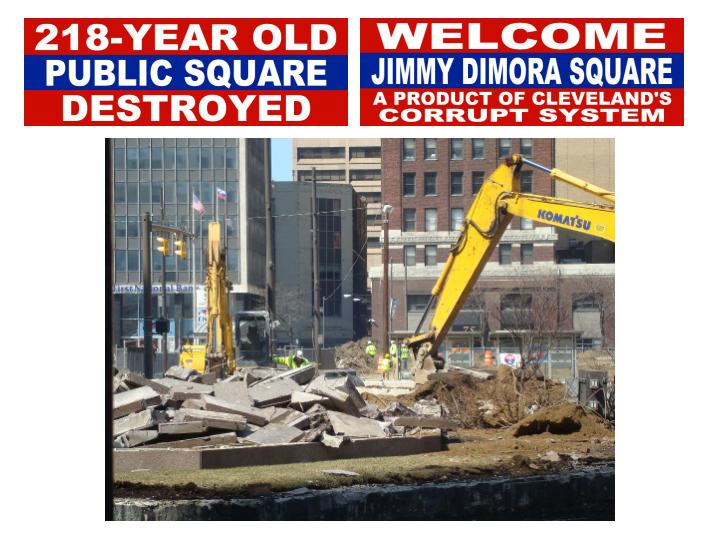 NEW PUBLIC SQUARE UNDER CONSTRUCTION:
A new Public Square, under construction, which will be built on the cheap, has been nicknamed the Jimmy Dimora Square because of corruption involved in the process.
The $32 million project, with an additional $5 to 10 million for replacing old utilities, is scheduled for completion in time for the Republican National Convention in July 2016.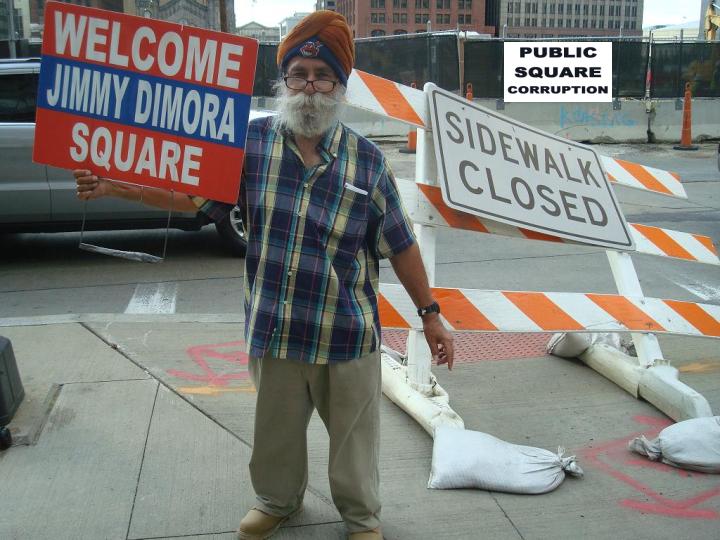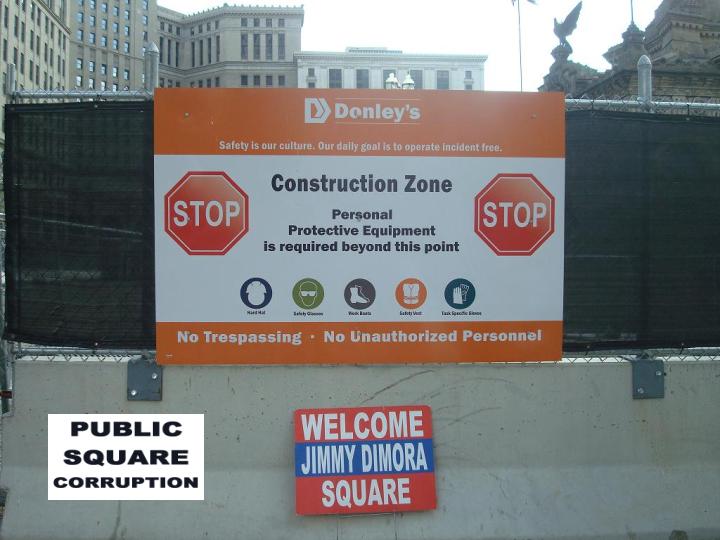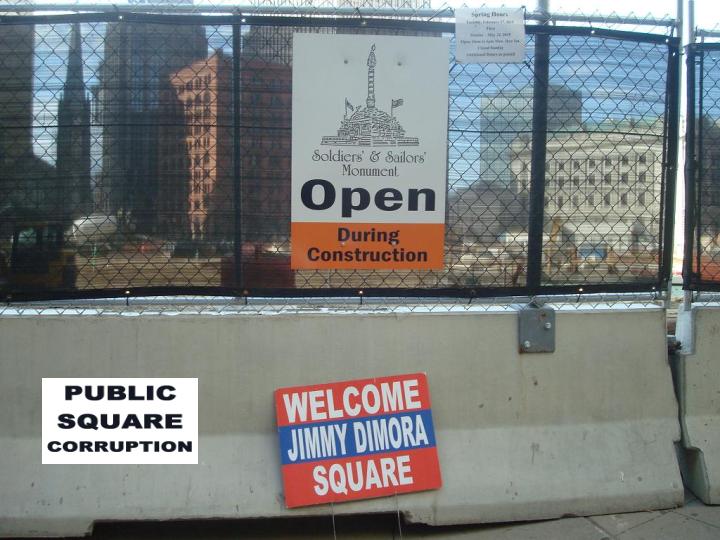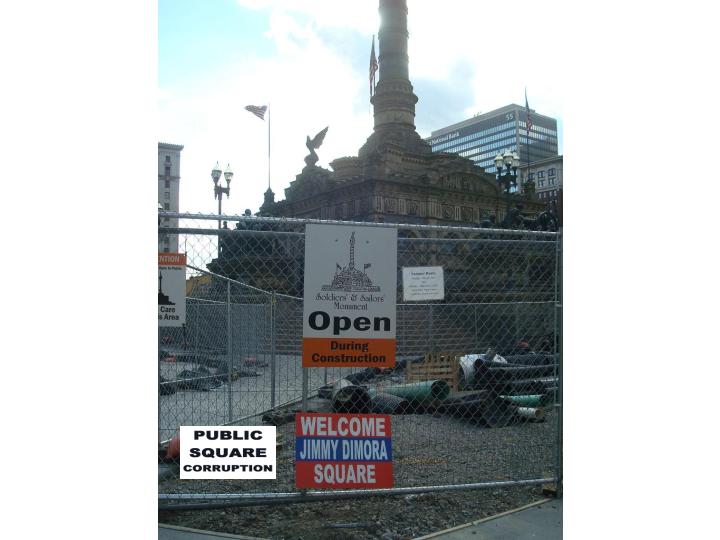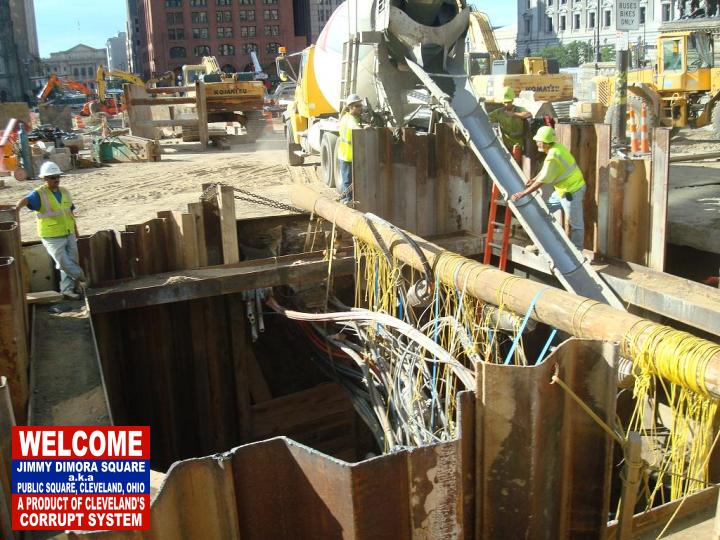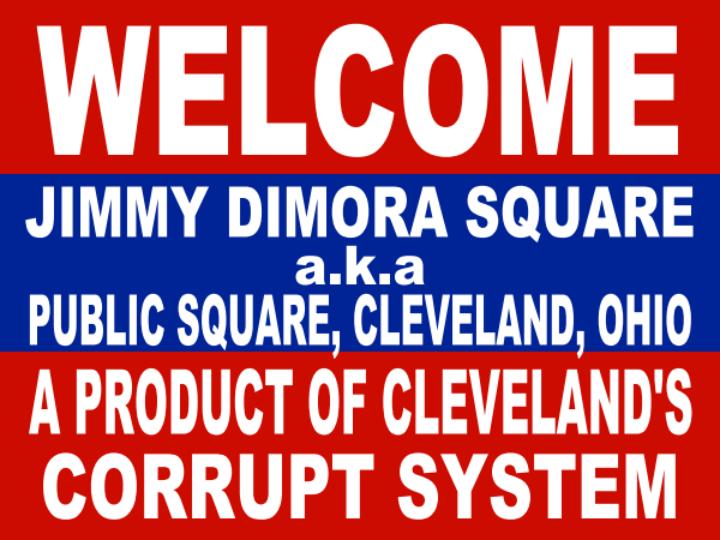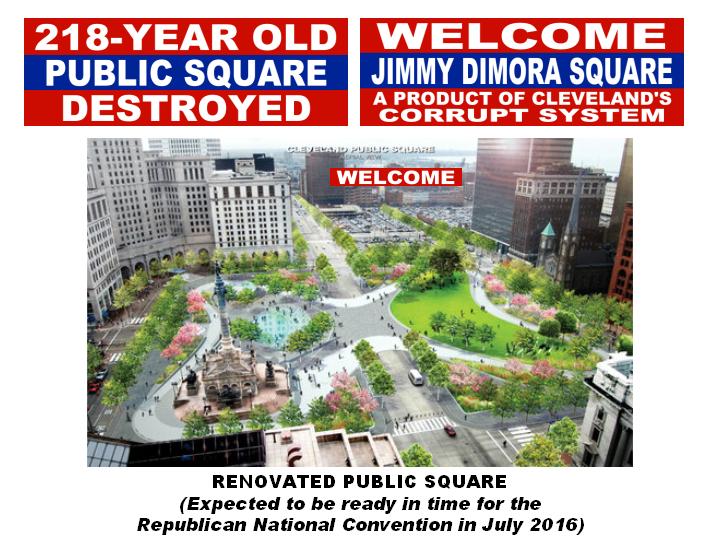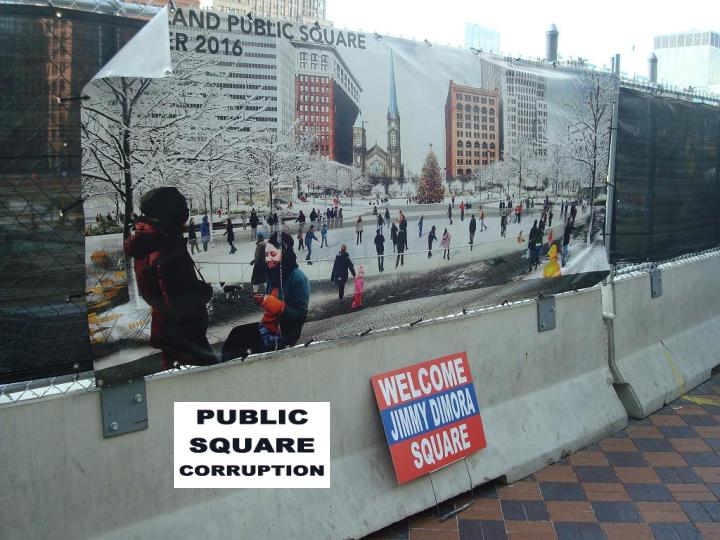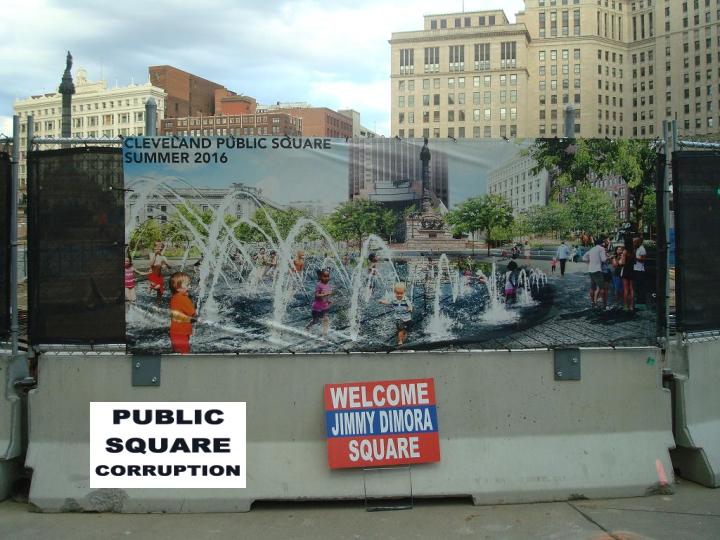 CLEVELAND CRITICAL MASS MEETS WELCOME JIMMY DIMORA SQUARE ON JULY 31, 2015!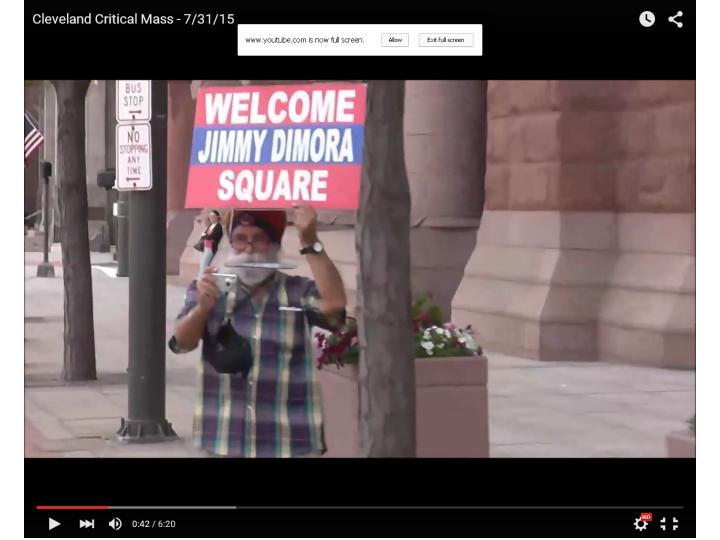 So far, since August 2014, there have been nearly 450 hours of demonstrations.
Details of the campaign can be found on my blog at REALNEO:http://realneo.us/blogs/satinder-p-s-puri