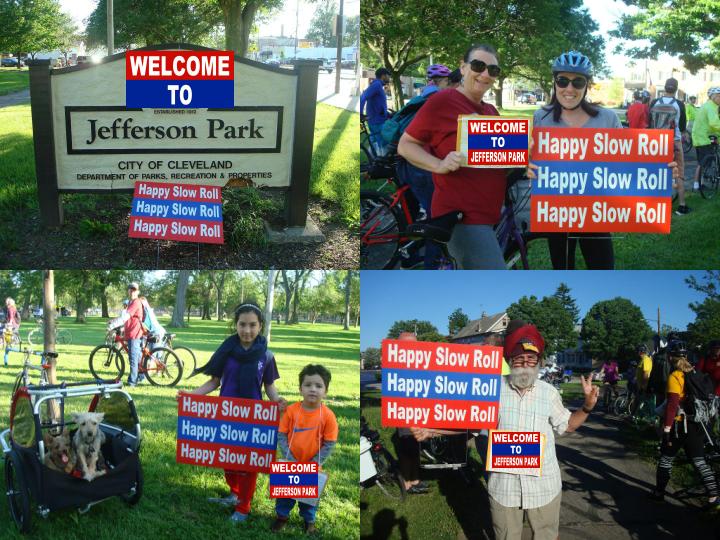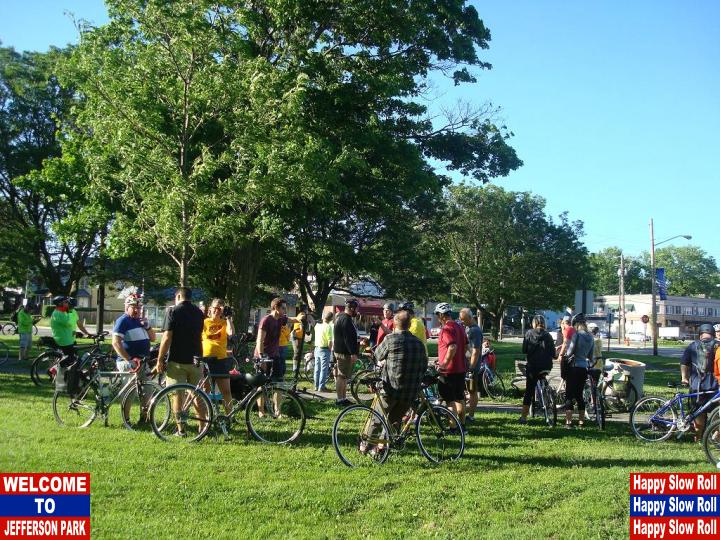 JEFFERSON PARK, LOCATED ON THE WEST SIDE IN CLEVELAND, OHIO, WELCOMES 2018 SPRING SLOW ROLL BIKE RIDERS
On the evening of Monday, June 3, 2018 – a very pleasant late Spring day, Jefferson Park welcomed Slow Roll, 2018.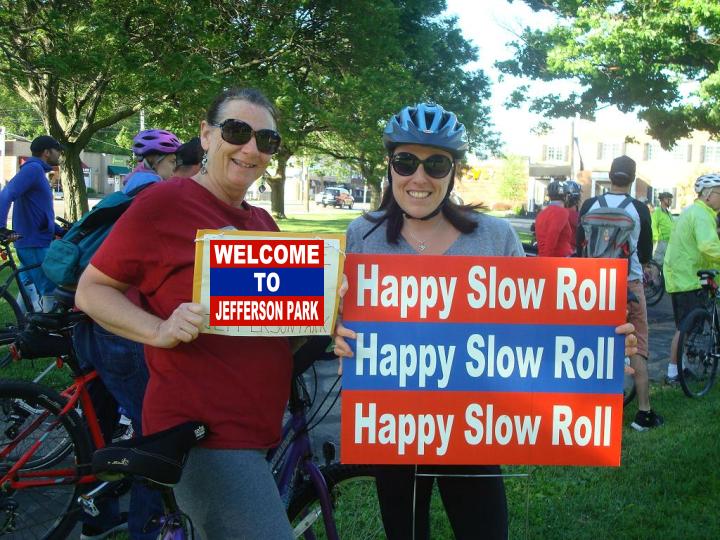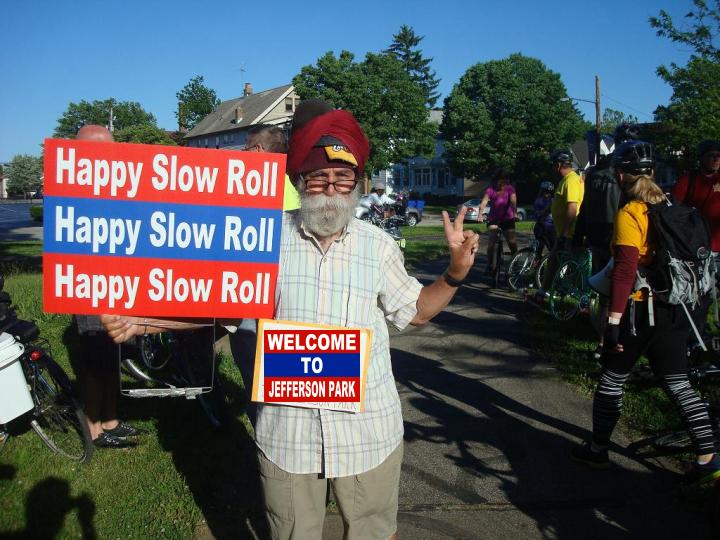 (Slow Roll is a social group bike ride that meets at a different location every Monday night, year round, and rides about 10 miles through the city.)
Over 200 Cleveland and surrounding area bicyclists started gathering in the north-west corner of Jefferson Park – around 6:30 pm.
Some rode in on their bicycles and other brought them in their cars which they parked around the perimeter of the park.
The photographs show the bicyclists conversing with fellow riders.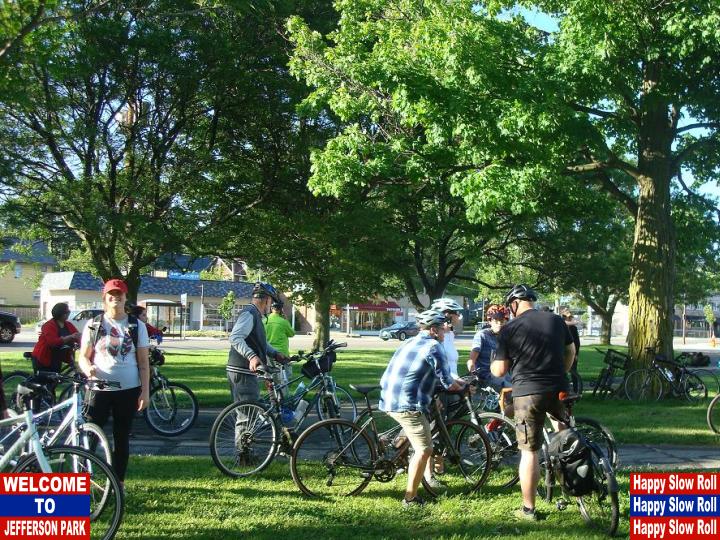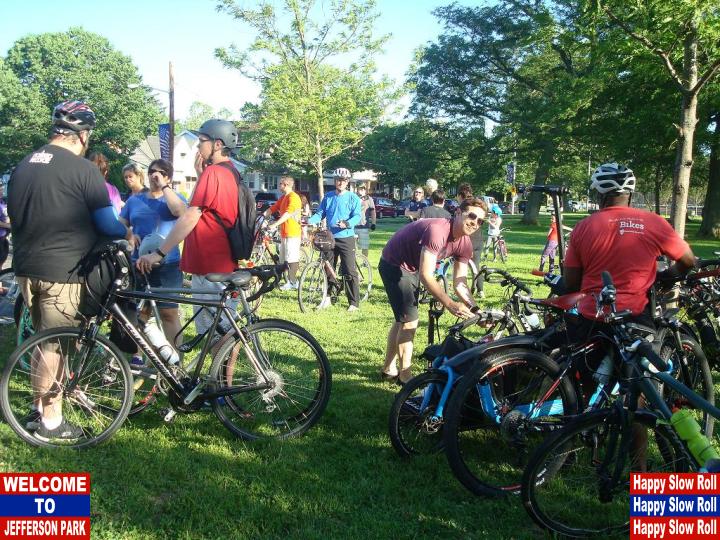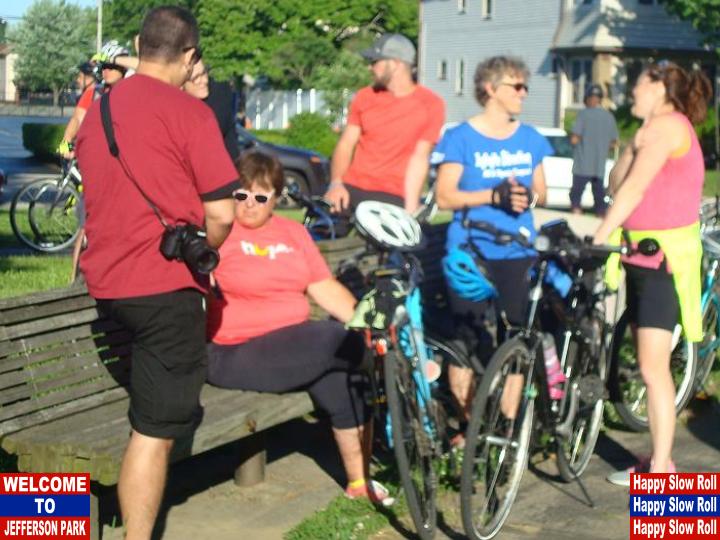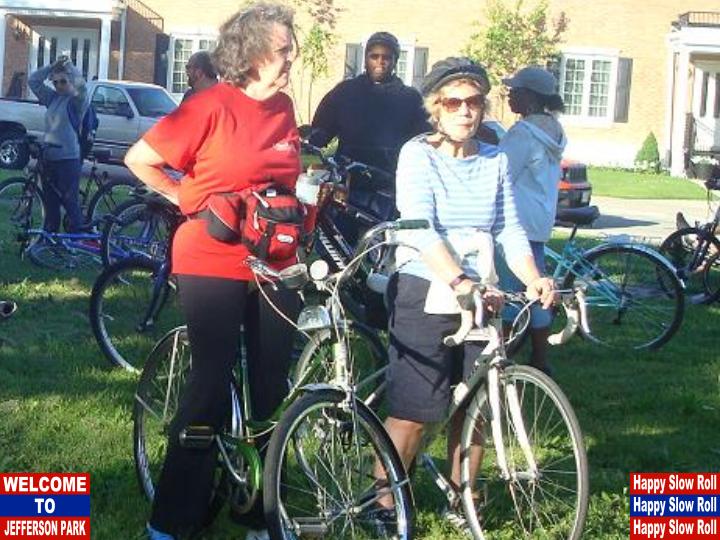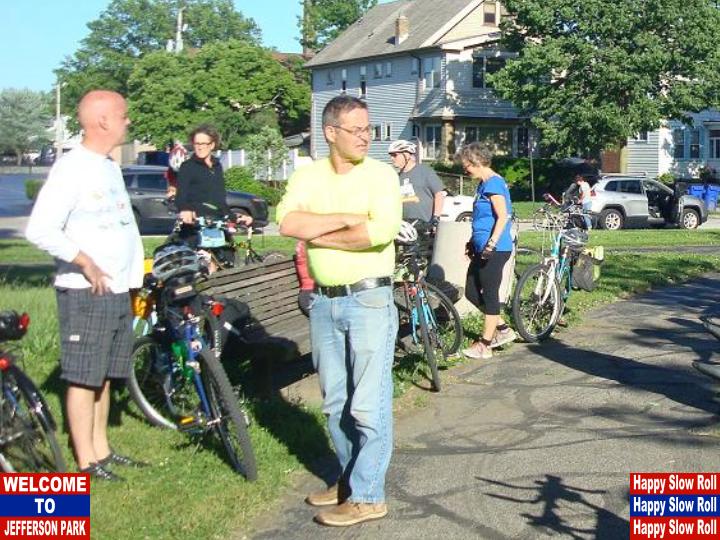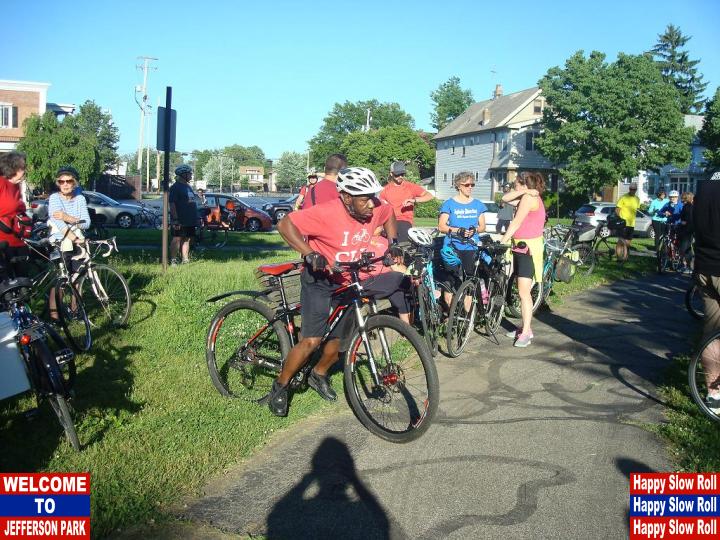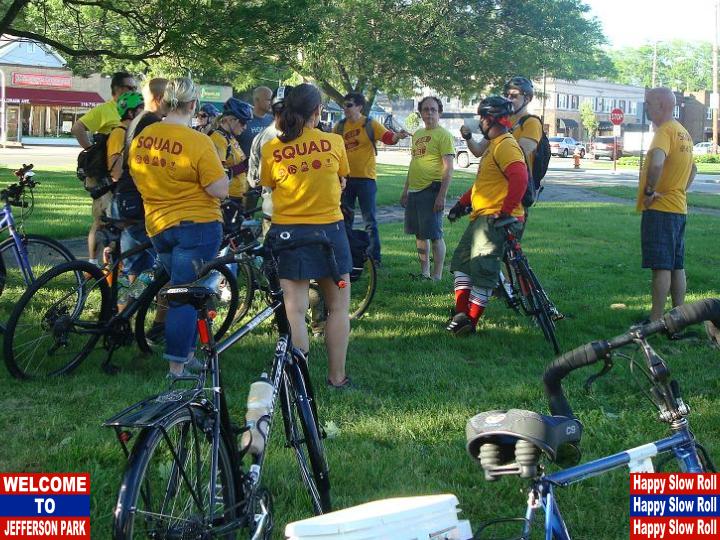 A rider brought along two pet dogs that attracted the attention of 8-year old Tabasum Fatima and her 3.5-year old brother, Farhan Ali – who live on the east side of the park and who had come to welcome the bicyclists. And of course, the two youngsters brought along their bicycle. Tabasum will be a 3rd grader in the coming school year in Garfield (located on West 140th Street) and Farhan will join the preK program.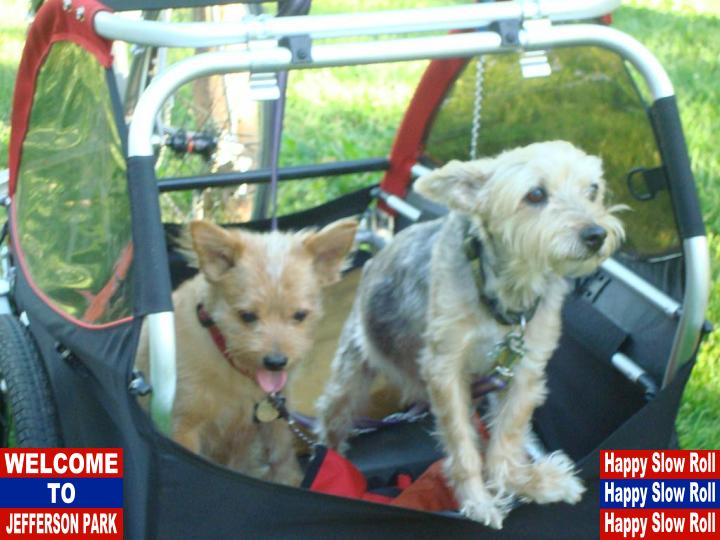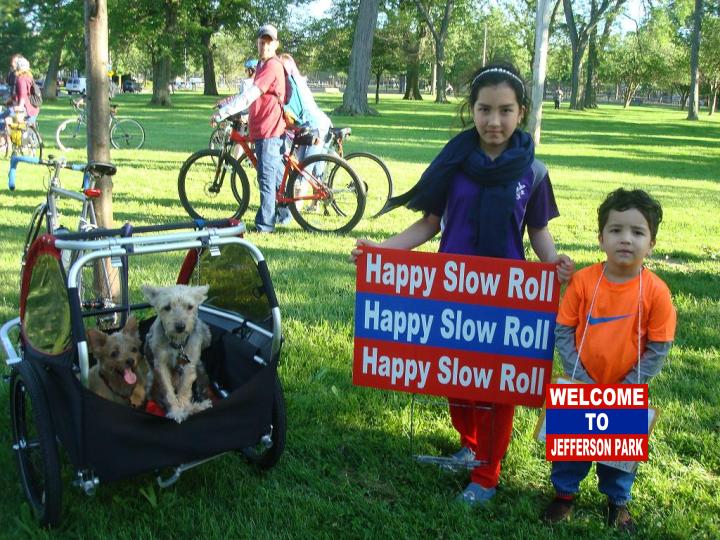 Shortly after 7:00 p.m. – the bicyclists filed past the northern pedestrian crossing over Lorain Avenue and rode west (in the bike lane) and back to the park for nearly 11 miles.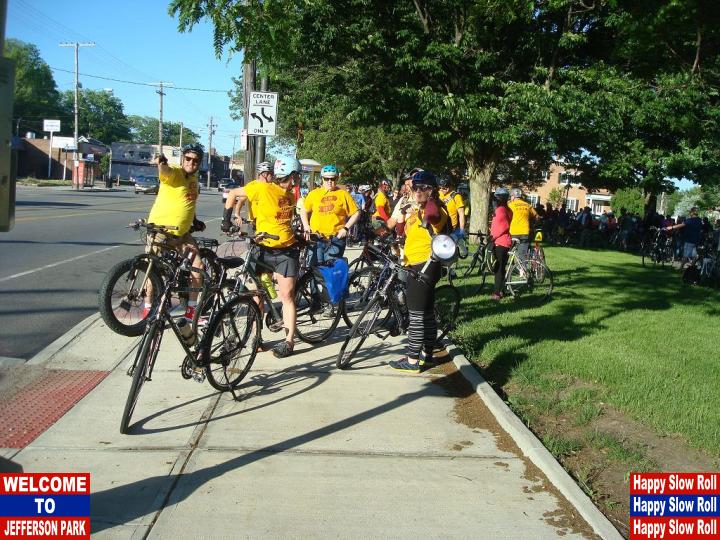 The Slow Roll riders will return to Jefferson Park – later in the year.
Link to Video on Facebook: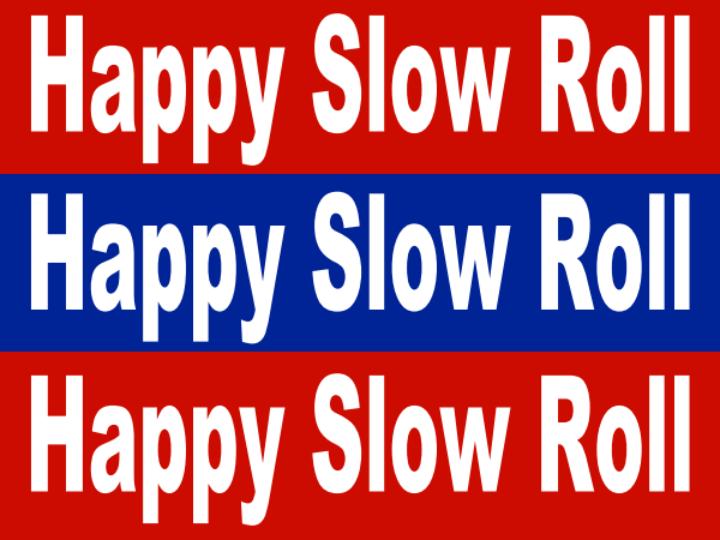 Links:
[1] https://www.facebook.com/100008875359296/videos/1888158481489979/
[2] http://realneo.us/system/files/Slide1_190.JPG
[3] http://realneo.us/system/files/Slide2_211.JPG
[4] http://realneo.us/system/files/Slide3_182.JPG
[5] http://realneo.us/system/files/Slide4_161.JPG
[6] http://realneo.us/system/files/Slide5_145.JPG
[7] http://realneo.us/system/files/Slide6_135.JPG
[8] http://realneo.us/system/files/Slide7_126.JPG
[9] http://realneo.us/system/files/Slide8_113.JPG
[10] http://realneo.us/system/files/Slide9_108.JPG
[11] http://realneo.us/system/files/Slide10_96.JPG
[12] http://realneo.us/system/files/Slide11_90.JPG
[13] http://realneo.us/system/files/Slide12_82.JPG
[14] http://realneo.us/system/files/Slide13_80.JPG
[15] http://realneo.us/system/files/Slide14_72.JPG
[16] http://realneo.us/system/files/Slide15_68.JPG
[17] http://realneo.us/system/files/Slide16_62.JPG
[18] http://realneo.us/system/files/Slide17_59.JPG
[19] http://realneo.us/system/files/Slide18_54.JPG