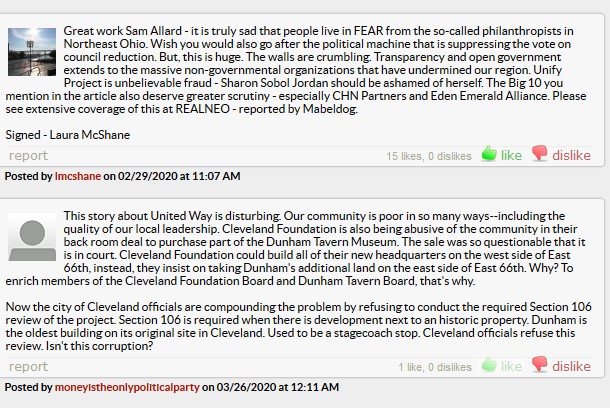 Thank you to Sam Allard:
https://www.clevescene.com/cleveland/a-legacy-cleveland-nonprofit-struggles-for-relevance-and-financial-survival-under-ceo-august-napoli/Content?oid=32490788 [2]
The newly announced cuts will disrupt or dismantle a wide range of area programs, from a food and clothing distribution program at the May Dugan Center ($16,000) to a Step Up to Quality (SUTQ) Early Childcare Professional Development Program at Starting Point ($145,000). The plurality of programs currently receive funding in the range of $50,000 to $80,000 per year. But 10 individual programs — including two at the Centers for Families and Children; workforce development programs at Lutheran Metropolitan Ministries and Towards Employment; financial stability programs at CHN Housing Partners and the Legal Aid Society of Greater Cleveland; the Earned Income Tax Credit Coalition at Enterprise Community Partners; a housing stability program at EDEN; and a vocational rehabilitation training program at Vocational Guidance Services — all currently receive annual funding above $100,000.
(Note: Sam Allard's wife works at Towards Employment)
Thank you for this announcement and the suspicions raised about the Unify Project, now Unify Labs - run by Sharon Sobol Jordan, and financed by United Way, while she served on United Way's Board of Directors. [3]
One of Sharon's acolytes, Richey Piiparinen, worked for the bogus Unify Labs for a minute - he left pretty quickly - he now sounds the alarm:
https://www.cleveland.com/opinion/2020/03/repair-our-broken-economic-model-to-harness-clevelands-full-potential-richey-piiparinen.html [4]
Yes, Richey, we have a BIG problem -the charlatans running this region.