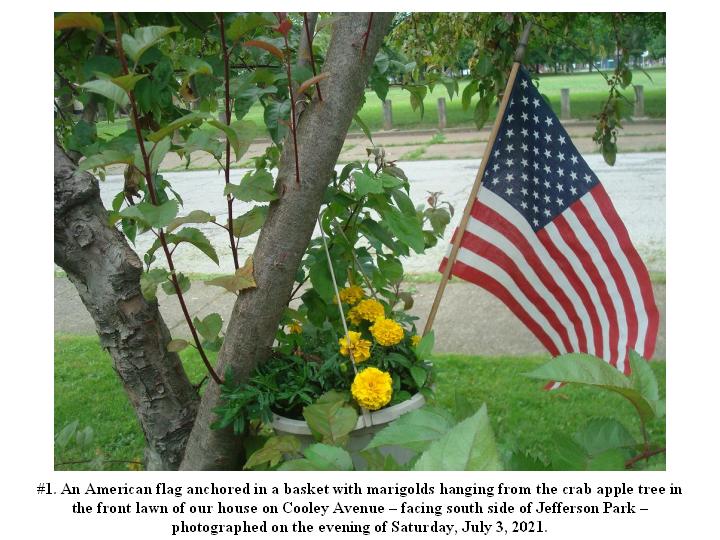 HAPPY INDEPENDENCE DAY, 2021
In celebration of Independence Day, 2021 – we had flags – both outside and also inside our house on the south side of Jefferson Park along Cooley Avenue.
The lead photograph shows an American flag anchored in a basket with marigolds hanging from the crab apple tree in the front lawn of our house photographed on the evening of Saturday, July 3, 2021.
My late wife and I, and our pet cats, moved here from New York City in 2001.
While in New York City – we were both very interested in art and architecture.
We used to visit New York's great art museums – the Metropolitan, Guggenheim, Modern, Whitney, and others – and New York's multitude of art galleries.
Being without a car – we used public transportation (over an 800-mile long subway system and a vast bus network) – and of course we walked for miles on end.
And we brought home numerous art exhibition brochures, post cards, and catalogs.
We framed some of the brochures and post cards – hung them on the walls of our apartment in Queens, New York.
The framed art ultimately ended up in Cleveland.
So while the traditional flag gets displayed outside during the 4th of July celebrations – we have our brochures, magazine cuttings, and postcards, showing paintings of the American flag – all year round – inside our house.
The second photograph from a Whitney Museum of American Art (New York City) brochure pertaining to a 1981 exhibition -- showing a painting, in their permanent collection, titled Three Flags (1958) by Jasper Johns, American artist, born 1930, encaustic on canvas, 30.875 x 45.5 x 5 inches. The painting consists of three canvases layered together. A plastic frame, holding the 10-page brochure with the front face as shown – hangs on a wall in our living room.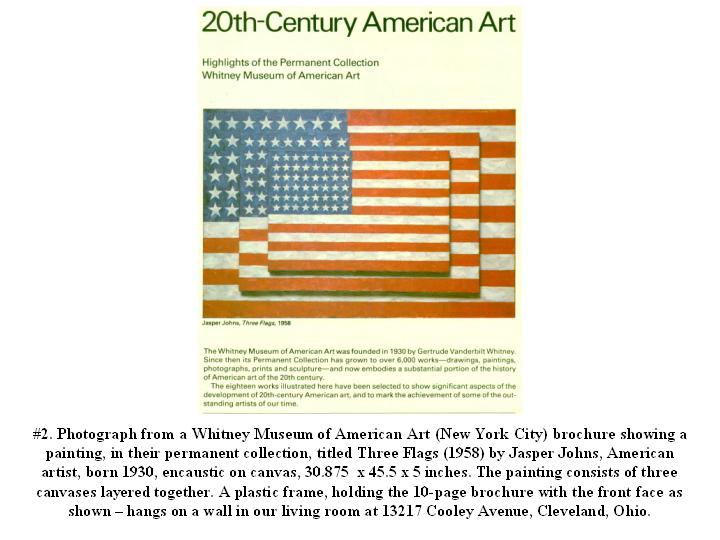 (As a Structural Engineer – working for a New York City consultant – I was associated with the design of the Whitney Museum at 945 Madison Avenue by the famed architect – Marcel Breuer who also designed the 1971 addition to our Cleveland Museum of Art. The NYC consultant I worked for – also did the structural design for the CMA addition – however I had no involvement with the Cleveland project.)
The third photograph shows the painting of an American flag (approx. 8.5 x 11 inches) – artist not known – collected when my late wife and I were living in New York City (1973-2001). The photograph of the painting was clipped from a magazine. The frame hangs on a wall in our living room. It is a very good example of how artists can use alternate symbols to create the stars and stripes.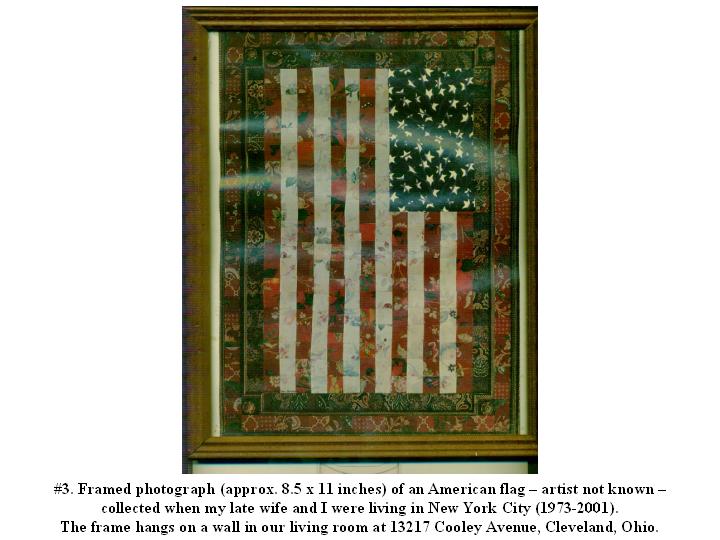 The fourth photograph is a of a picture post card (4 x 5.75 inches) showing stars, stripes, and the Statue of Liberty – commemorating the World Trade Center (1973-2001) which was destroyed during a terrorist attack on September 11, 2001. Again, a plastic frame, holding the card hangs on a wall in our living room.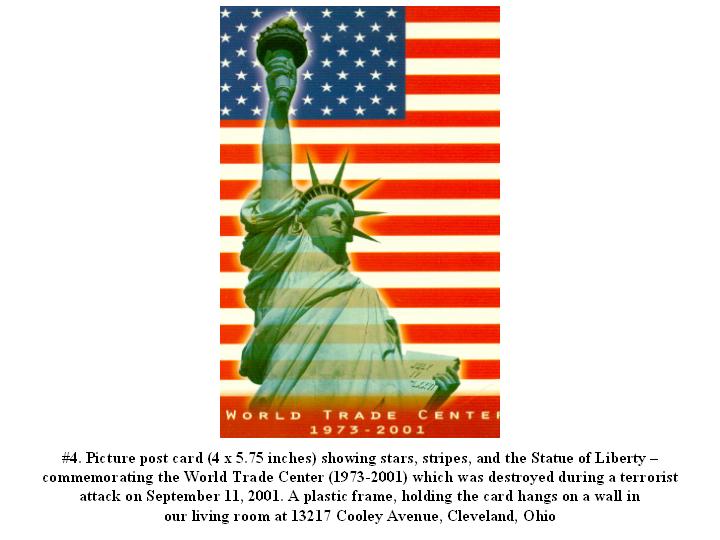 (While in New York City, I also worked for the Port Authority of New York & New Jersey – the owners of the World Trade Center. I was trapped in an elevator, for over three hours, along with seven other employees, during the bombing of February 26, 1993. Fortunately, we all survived. While I was no longer in the employment of the Port Authority during the terrorist attack of September 11, 2001 – I had many of my former colleagues who were among the nearly 3,000 who died).
Stay safe and enjoy the summer!
------------------------
Note: Here is the link desscribing the experience of being trapped in an elevator during the bombing of the World Trade Center on February 26, 1993: