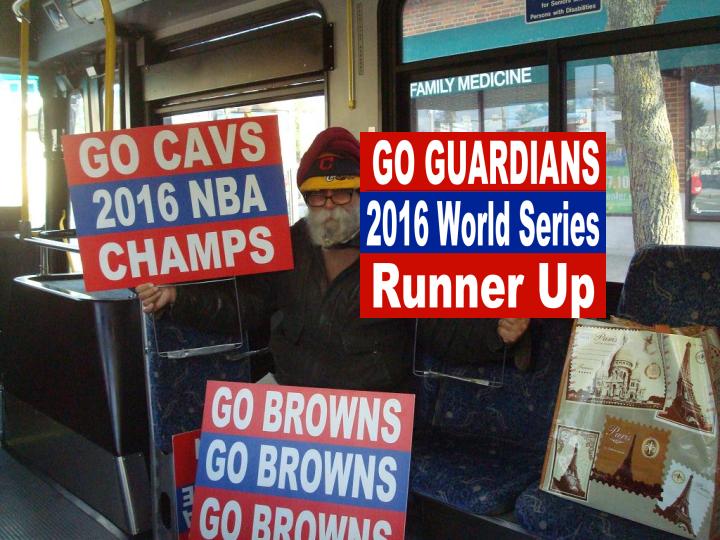 RIDE THE RTA & GO BROWNS! GO CAVS! & GO GUARDIANS!
The Cleveland Indians have decided to change their name to the Cleveland Guardians.
The selection of a new name was in progress for over a year.
A number of names had been suggested --- here is a sampling obtained from the following link which covers the background to the suggestions:
1. Cleveland Spiders
2. Cleveland Rocks
3. Cleveland Midges
4. Cleveland Wild Things
5. Cleveland Naps
6. Cleveland Dobys
7. Cleveland Guardians
I am not a fan of major sports – I hardly understand them – let alone play them.
But I have taken a lot of pride in carrying the signs all over Cleveland and outside the major playing venues as part of many campaigns. However, I have never been inside any of the venues.
As I am car-less (as a former New Yorker -- no driver's license and an empty 2-car garage) – I use the RTA buses and the rapid to carry me and my signs all over Cleveland.
Also, I have been supporting the logos of the three teams on caps I wear under my turban. And of course the logos have changed in some cases.
A few years ago – I switched the Chief Yahoo logo on one of the caps (the cap was a gift from my late wife) to one with the latest block C after I had been accused of not being sensitive to the needs of the native people and subject to sustained harassment.
I wear caps under my turban all year round as a sign of support. In the winter months, the caps help a lot to keep my head warm. And year-round they help keep my conscience in place.
The lead photograph edited for the latest name change shows me riding the #22 RTA (a few years ago) on my way to a campaign event downtown from our house located on the south side of Jefferson Park -- a few-minutes walk from the RTA bus stop on Lorain Avenue between West 132nd and 133rd Streets.
GO BROWNS (Let's hope they win soon)
GO CAVS (2016 NBA Champs)
GO GUARDIANS (2016 World Series Runner Up).