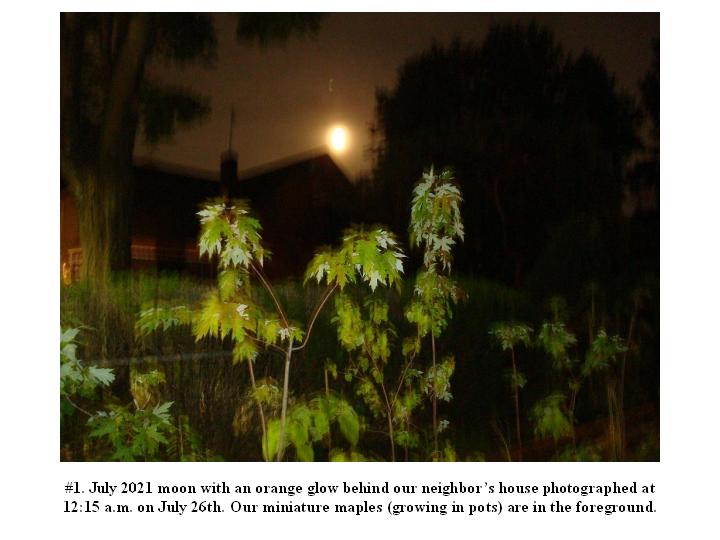 OH DEAR! – DID YOU SEE THE JULY 2021 BUCK MOON?
The full July moon arrived as scheduled on the evening of Friday, July 23rd.
Did I get to see it? No! It was an overcast evening (not a surprise) over our house on the south side of Jefferson Park.
How about the evening of Saturday, June 24th, the next day?
Nope! Another overcast evening – again not a surprise!
Now it was clear on the evening of Sunday, July 25th -- this was a surprise!
It was a pleasant summer evening with temperature around 70 deg. F. All day it had been very hot with a high of 85 deg. F.
So I was all ready with my pocket digital camera – starting around 9:30 p.m.
So were Smokey and her son Gingy – our two outdoor cats – and my constant companions – they follow me everywhere I go outside the house. And I am sure – Galena, our golden retriever with a curly tail, and their dear friend, was ready too at the Rainbow Bridge.
Well we waited and waited!
So I gave up and went inside.
I came out two hours later – and saw it in our backyard – hiding behind our neighbor's tall trees.
I moved to the front of our driveway and was able to get a better view from Cooley Avenue.
According to the Old Farmer's Almanac, the "July full moon is called the "Buck Moon" because the antlers of male deer (bucks) are in full-growth mode at this time. Bucks shed and regrow their antlers each year, producing a larger and more impressive set as the years go by". I have been around Jefferson Park all year – and I have not sighted any deer in our area -- though there have been sightings in neighboring areas.
Also, according to the same Almanac – the July moon has animal-referenced names such as Feather Moulting Moon and Salmon Moon.
And, plant-referenced names such as Berry Moon, Moon When the Chokecherries are Ripe, Month of the Ripe Corn Moon, and Raspberry Moon.
The July moon has also been called the Thunder Moon (there was no shortage of thunder and rain in July) and the Halfway Summer Moon (June 20th was the first day of summer –so we are close to midpoint.)
And none of the old names could describe the orange glow (from the particles in the atmosphere that made their way from the fire-ravaged western states) that I saw in the July moon.
I took a number of photographs.
The lead photograph shows the July moon photographed on July 26th at 12:15 a.m. It is behind our neighbor's house with our miniature maple trees (growing out of pots) in the foreground.
The second photograph, taken earlier, shows Smokey (right) and Gingy (left) -- mother and son – our two outdoor cats and my constant companions – in our driveway – waiting patiently for the moon to show up at 9:45 p.m. on July 25th. The moon was sighted nearly 2-hours later.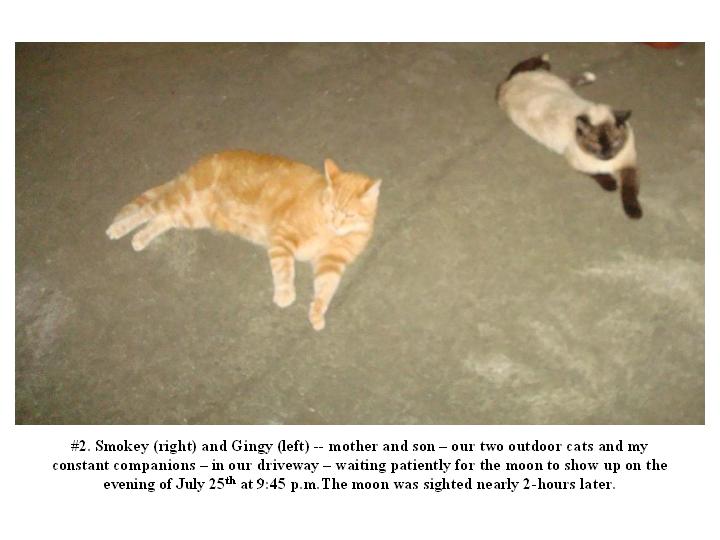 The next full moon is scheduled for August 22nd.
Enjoy the lunar month!
Note: Here is a link to the story of our Galena: