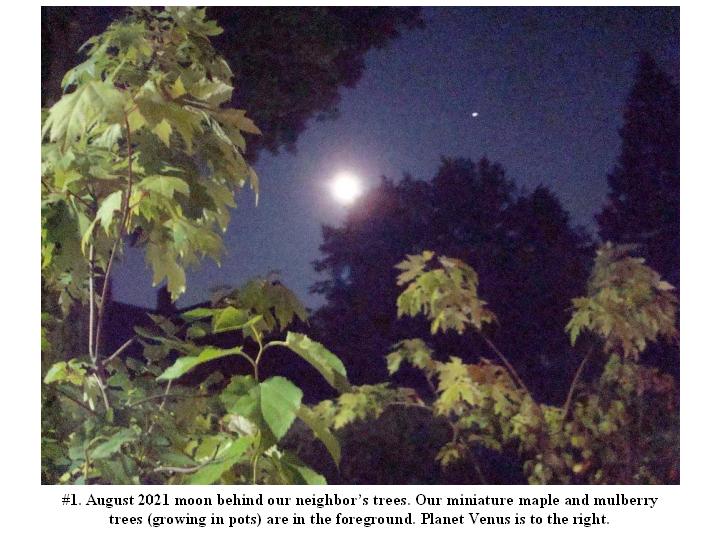 SOUTH SIDE OF JEFFERSON PARK WELCOMED THE AUGUST 2021 STURGEON MOON & VENUS TOO
The full August moon arrived as scheduled on the evening of Sunday, August 22nd.
It was a pleasant summer evening with clear skies and temperature around 70 deg. F. All day it had been very hot with a high of 85 deg. F and 80% humidity.
I waited until 11:30 p.m. before I came out to see the moon rise above our neighbor's tall trees so I could photograph it with my pocket digital camera.
And when I came out, Smokey and her son Gingy – our two outdoor cats – and my constant companions – they follow me everywhere I go outside the house – were ready. And, I am sure – Galena, our golden retriever with a curly tail, and their dear friend, was ready too at the Rainbow Bridge for the celestial observations.
According to the Old Farmer's Almanac, the Moon names used come from Native American, Colonial American, or other traditional North American sources passed down through generations.
"August's Full Moon was traditionally called the Sturgeon Moon because the giant sturgeon of the Great Lakes and Lake Champlain were most readily caught during this part of summer."
Also, according to the Almanac, the August Full Moon has the following alternate names:
"Flying Up Moon is a Cree term describing the time when young birds are finally ready to take the leap and learn to fly.
Corn Moon (Algonquin, Ojibwe),
Harvest Moon (Dakota), and
Ricing Moon (Anishinaabe) signify that this is the time to gather maturing crops.
Along the same vein, the Assiniboine people named this period Black Cherries Moon, referring to when chokecherries become ripe."
Not to be left behind – there are Chinese restaurants named "August Moon."
While I did not see any sturgeon (no rivers in our neighborhood) – a few years ago (2018) – neighbors from Bhutan grew corn on the grounds of the apartment complex at the corner of Cooley & West 132nd. (See second link at the end for photographs.)
Our house that faces Jefferson Park's south side is located on Cooley Avenue. So, I took a number of photographs from Cooley Avenue, and the adjoining sidewalks.
The lead photograph shows the August moon, with planet Venus to the right photographed behind our neighbor's trees with our miniature trees – maples and mulberries, (growing in pots) in the foreground.
The second photograph shows the August moon with our crab apple tree (the crab apples are too small to be seen) in the foreground.
The third photograph shows the August moon with our two apple trees (laden with apples which I have frankly never tasted) in the foreground. While I was photographing at night – I was startled by a sudden thud – I looked around and saw an apple that had fallen down – roll on the ground. A lot of mysterious forces at work in our Universe.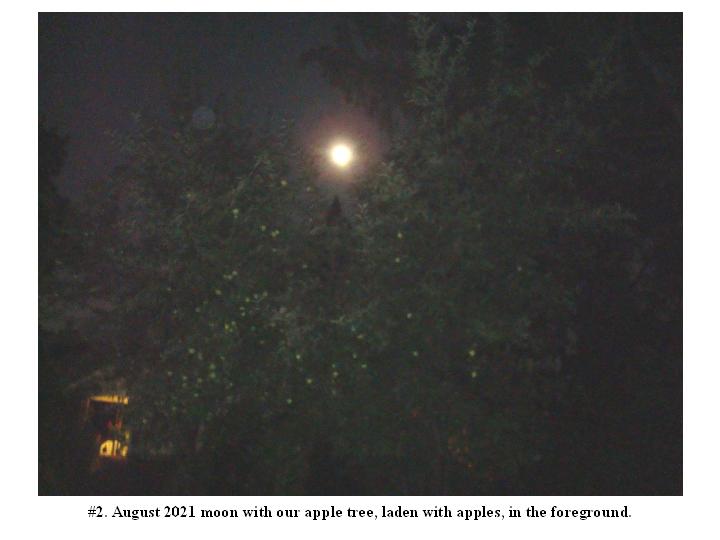 The fourth photograph shows Smokey (rear) and Gingy (front) -- mother and son – our two outdoor cats and my constant companions – in our driveway – obviously moonstruck while I was busy photographing.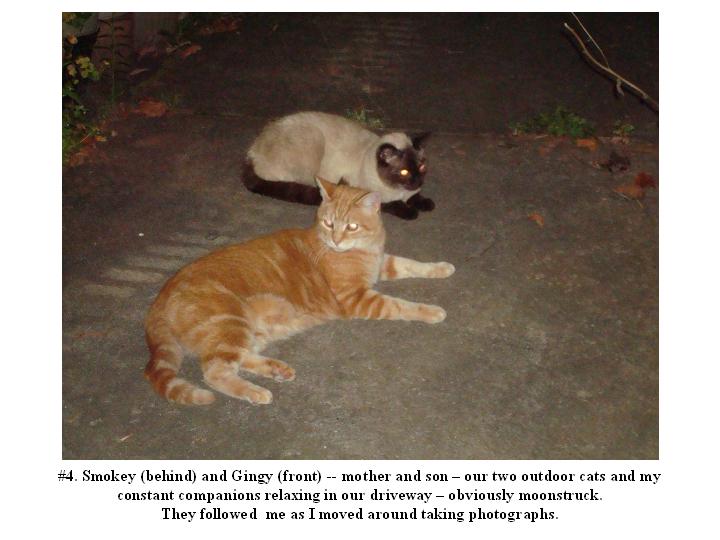 The last photograph shows the temperature reading, taken earlier, at the SDVP (Saint Vincent De Paul) electronic board on Lorain Avenue: 85 deg. F at 8:13 p.m.
I love taking photographs. Within a span of 30 minutes, I took nearly 80 photographs out of which I selected four for this post.
The next full moon is scheduled for September 20th.
Links to Earlier-Related Articles:
2. TALL CORN STALKS NEAR THE SOUTH SIDE OF JEFFERSON PARK WELCOMED THE AUGUST 2018 CORN MOON