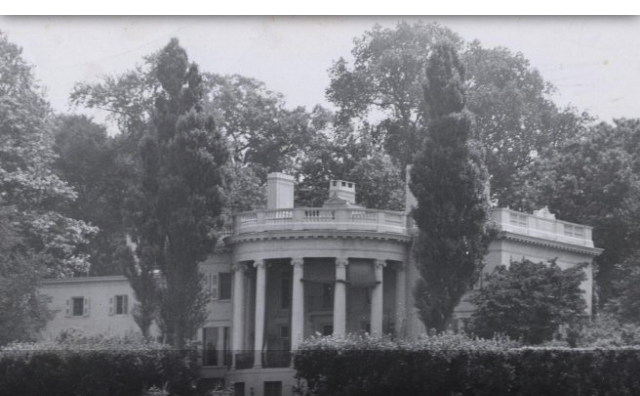 Gwinn is for sale. For $6,500.000. There is perhaps no greater example of the catastrophic collapse of Cleveland than by comparing the original and current owners of Gwinn. The original owner William Gwinn Mather built his Italianate villa in collaboration with architect Charles Platt in 1907. There are really no adequate superlatives to describe the contributions to the economic, civic and cultural life of Cleveland made by William G. Mather and his late in life wife Elizabeth Ireland Mather. The Mather fortune which also supported thousands of NON green energy UNION jobs that helped to build the middle class in Cleveland, came from the Cleveland Cliffs Iron Company which he ran for 50 years. These jobs have been replaced with stimulus checks, expanded unemployment, food stamps, and waiting for federal bailout funds. Starting with mining, under his leadership Cleveland Cliffs diversified into iron ore and steel. Cleveland Cliffs recently took over the drastically reduced operation at the former Republic Steel. The Mathers commitment to the public good, a now ridiculed concept by the wokeism that poisons every single aspect of public life, from their OWN fortune, contributed to University Circle, the Garden Society, and the Cleveland Museum of Art among other institutions and endeavors. William Mather was president of CMA for many years and many of the works of art in the permanent collection originally hung on the walls at Gwinn. Mrs. Mather was known for her elaborate fund raisers at Gwinn for the Art Museum, the Red Cross and what is now The Botannical Garden. She also planted a huge garden that fed hungry Clevelanders during the Depression. She was a social worker and the first female foreman of the Cuyahoga County grand jury.
In 2007 Gwinn slipped from the stewardship of the Mather Ireland family for the first time since it was built a century earlier into the hands of 2 shameless grifters that hide behind a phony corporation called Terwyn properties LLC. Terwyn Properties was registered with Ohio Secretary of State on October 2, 2007, a mere 13 days before the title transfer of the greatest architectural masterpiece ever built in Cleveland. Terwyn Properties I discovered after much digging has 2 principal ummmm officers....Trenton Wynter Brown and someone who doesn't exist. Donald Comes. There is no such person. Go ahead try to find him. It was sold to Terwyn, which means white in Welsh, for $3,250,000 and at the same time a mortgage was issued from Comerica for 3,750,000. $500,000 MORE than the purchase price. Hmmmmm. The mortgage was signed with an illegible signature but the NAME was typed clearly underneath. Trenton Wynter Brown. Terwyn properties is not a real business just a convenient cover for the Browns who for some reason do NOT want it PUBLICLY known they own Gwinn. Trenton and Meghan Brown or is it Megan, which is how it's spelled on the "non" profit "charity" they "founded" in 2019 called the "foundation for Arts Sciences and Technolgy" which has neither been registered with the Ohio SOS nor has it filed an IRS 990 which they claim is not required on the "corporate documents" printed on IRS letterhead...... This "charity" was set up right around the time Mr. Brown took out another mortgage from Comerica for $2,538,000 on April 4,2019 and on April 29,2019 the orginal mortgage was paid off. This new mortgage debt is in addition to over a dozen manufacturers liens placed on the property totaling well over a $1,000,0000 only some of which have been settled. And there is also an IRS Federal tax lien for $17,050. Printed on IRS letterhead. .)

Mr. Brown made his fortune through a life insurance payout from his dead father who was decapitated in a sailing race in Newport Rhode Island in 1989. Along with his long days working at Terwyn Properties AND his "charity", Mr. Brown in collaboration with others developed several obscure on-line games in 2015 that have yet to attract a paying clientele.

Mrs. Brown, is a strong supporter of all things woke and wimmin politicians like Hitliary and Kamaltoe. And mandatory vaxxxines. And abortion. And is anti death penalty. And supports food programs for the poor as long as they are provided by the government at libraries and public schools. Other than her "work" at the Brown "foundation" for art and technology, Mrs. Brown seems to be unemployed. Unlike Elizabeth Ireland Mather, Mrs. Brown has no personal dealings with the ACTUAL mostly black poor who are right in her neighborhood of zip code 44108 which other than the grand mansions of Bratenal is the ghetto.

And it is quite apparent that little Master Brown now of school age will NOT be attending the local school Franklin D Roosevelt elementary, although Mrs. Brown is a huge supporter of urban public education for OTHERS. Like all hypocritical white liberals. So the Wynter Browns are looking to cash out and move on. In fact they already have. Possibly to the Maison Des Fleurs. At 21584 Avalon in Rocky River. Or to Mellow Glade. Unit 703 at 701 Lakeside. And the empty mansion at 12407 Lake Shore sits, gazing across the lake, patiently waiting for the next chapter.