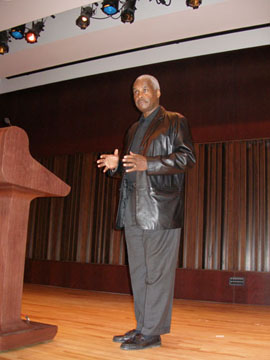 Everett Prewitt spoke in the 240 seat recital hall, the same room where live jazz often featured. Library Director Gregory Reese, the person responsible for bringing this dream to fruition, told me that portions of the Tri-C Jazz fest will be held at the library. For a listing of future concerts, check out the library's website [1].
Although I've heard Everett speak before, each time I hear him, I learn something new. He focused this time on his life and the experiences that shaped his both his voice as an author and Snake Walkers, his first book. Snake Walkers tells the story of the first black reporter at a southern newspaper, who traumatized as a child after witnessing a tragic event, attempts to solve the mysterious disappearance of 14 townspeople and an abandoned town. You can learn more about the book by visiting here [2].
In describing his motivation for writing, he closed with an African Proverb: until the lions have their own historian, the tales of the hunt will always glorify the hunter.
I must say a few words about the East Cleveland Public Library.The newly remodeled facility is fantastic.