There are only a few days left to see All Digital, one the most visually interesting and intellectually challenging exhibitions at MOCA Cleveland [1] in recent memory. The show closes Sunday May 7th. If you were there for the opening make sure you make a second visit to experience CyberLounge and the ArtCasts. What are ArtCasts? They are digital recordings (think Podcasts) of interviews with the artists who participated in All Digital. They can be heard via your iPod, or, if you don't have an iPod, MOCA will loan you one in exchange for your id and a credit card.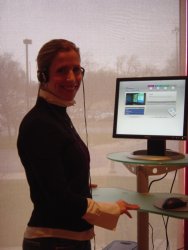 Have you ever visited an art exhibition and wished the artists were there to tell you about their work? Well, ArtCasts are the next best thing. I interviewed Megan Lykins, MOCA's Emily Hall Tremaine Curatorial Fellow, who came up with the idea for CyberLounge and the ArtCasts. Megan is also a Ph.D. student in art history at Case Western Reserve University [2]. The fellowship she received is a unique collaboration between Case and MOCA. Not only did Megan initiate the project, she interviewed the artists and edited the recordings. CyberLounge had its official opening party March 15th (cleverly promoted as the i's of March). MOCA has no direct marketing plans for CyberLounge or the ArtCasts. Other than the opening party, which attracted a crowd of several hundred on a week night, both have received little publicity. The best way for people to find out about them is to visit MOCA or the Museum's website. The artists were interviewed during the opening week of All Digital (thats why the ArtCasts were not available until several weeks after the opening). The artists were enthusiastic about the high tech project; some of the interviews took over an hour. Megan then had to edit the recordings of the interviews and prepare them to become ArtCasts. The project was definitely worth the time and effort. The experience of hearing the artists, themselves, talking about their works as you are viewing them is far better than the typical audio tour that many museums now have.
Even though All Digital will soon be coming to an end, MOCA's ArtCasts are here to stay. ArtCasts will be created to compliment upcoming shows. The technology can be useful even for exhibitions of work by artists who are no longer living. In those situations, Megan said that MOCA plans to create ArtCasts with scholars discussing new perspectives on works in the exhibition.