This month's meeting has two parts. We will do a photo field trip to take pictures at the Parade the Circle event [1], this Saturday and then we will show our photos the following Thursday at the regularly scheduled meeting.
6/10/06, Saturday: Parade the circle is a vibrant parade and spirited celebration with food and entertainment. Photographers can have a field day and that's exactly what we plan to do. For a complete schedule, download the PDF brochure here [2]. Arrive when you want. Photograph what you want. Just take some pictures! Entertainment starts at 11 a.m. The parade starts at noon.
6/15/06, Thursday: At the next meeting of the Digital Photography Special Interest Group at 6:30 p.m., we will share and critique photographs taken at Parade the Circle. This meeting will be an opportunity to show your photos or look at the photos of others. Please join us even if you didn't take pictures on June 10th. You can bring printed photos, photos on CD, memory card, or show photos that are on the internet.
Meetings are held on the third Thursday of the month at the Maple Heights Branch of the Cuyahoga County Library [3].
The Digital Photography SIG is special interest group of the Greater Cleveland PC Users Group that is dedicated to sharing information about digital photography. Meetings are free and open to the public. For more information on the GCPCUG, please visit www.gcpcug.org [4].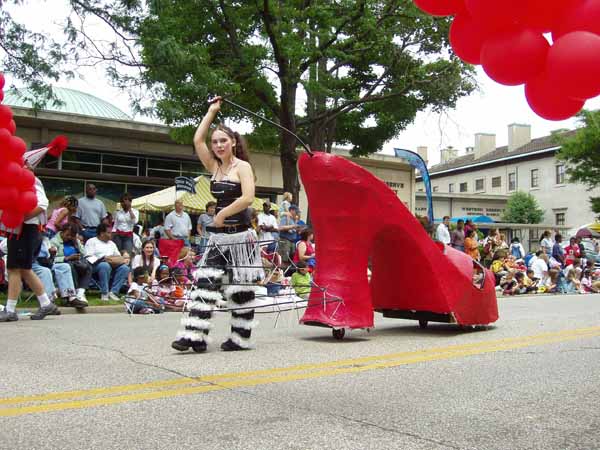 Maple Heights Branch of Cuyahoga County Library
5225 Library Lane Off Libby Road between Broadway and Lee
Maple Heights, Ohio 44137-1291
,
OH
United States
Links:
[1] http://www.clemusart.com/educef/parade/html/index.html
[2] http://www.clemusart.com/educef/parade/ParadeFlyer2006.pdf
[3] http://www.cuyahogalibrary.org/branchespages/MHR.htm
[4] http://www.gcpcug.org/
[5] http://maps.google.com?q=5225+Library+Lane%2C+Maple+Heights%2C+Ohio++44137-1291%2C+OH%2C+%2C+us
[6] http://realneo.us/system/files/ParadeFlyer2006.pdf
[7] http://realneo.us/system/files/Pages+from+ParadeFlyer2006+%28Small%29.jpg
[8] http://realneo.us/system/files/P6120004.jpg
[9] http://realneo.us/system/files/P6120024.jpg