Imagine abandoned brownfields in Cleveland growing crops for biofuels while cleaning the soils! In this article [1] about a study being done by Kurt Thelen at Michigan State University, he looks at that very possible solution.  Imagine lots with green plants growing in Cleveland neighborhoods -- some for food where the soil is good and some to heal the soil and produce a fuel alternative for vehicles!
I found some research being conducted in New Jersey about mustard as a bioremediation solution for lead contaminated soils. I have yet to find out whether or not the solution worked.
I don't know if this sort of research is going on here in Cleveland. Does anyone know?
Imagine -- Not a Soybeanfield -- a biofuels field -- right in Tremont that would clean the soils! Imagine the city not paying to cut grass on abandoned lots, but the City of Cleveland leasing this land to biofuels producers... It might be a dream come true…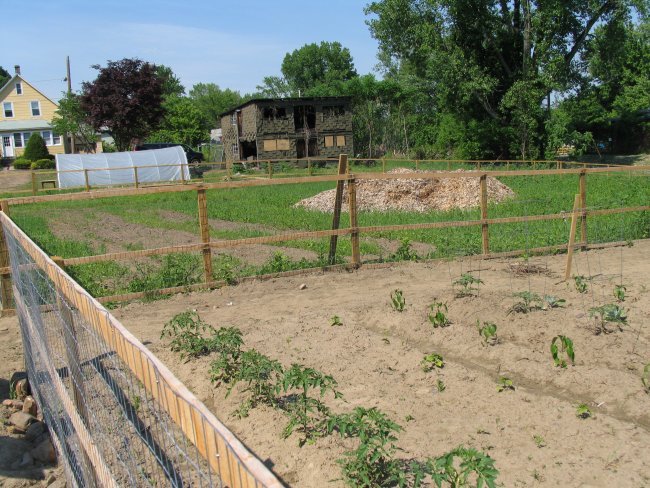 New Industries to Fuel the Economy
On a 2-acre parcel that is part of a former industrial dump site, small plots of soybeans, corn, canola and switchgrass plants are soaking up the sun, part of a new partnership between the DaimlerChrysler Corporation, MSU and NextEnergy, a non-profit organization. Researchers are studying whether sites like this one, which aren't desirable for residential or commercial use, can be used to grow crops for ethanol or biodiesel fuel production and help clean up contaminated soils. The same crops are being grown in plots on the MSU campus and in the Upper Peninsula to compare yield and quality between latitudes and also determine if these crops may be profitable bioenergy crops for the U.P. Researchers are also studying the cost effectiveness and energy-saving potential of processing canola into chips for home heating and commercial-size stoves.
Crop researchers are looking at what crops and crop varieties possess the best qualities for use in biofuel production. Kurt Thelen, MSU professor of crop and soil sciences, is leading a research project focused on examining the possibility that some varieties of oilseed crops — including soybeans, sunflower, and canola — and other crops such as corn and switchgrass can be grown on abandoned industrial sites for use in ethanol or biodiesel fuel production.
Here's more on the story [2] from PRnewswire and even more from EPA Superfund Redevelopment Program [3]
Envision a healthy green future for Cleveland.