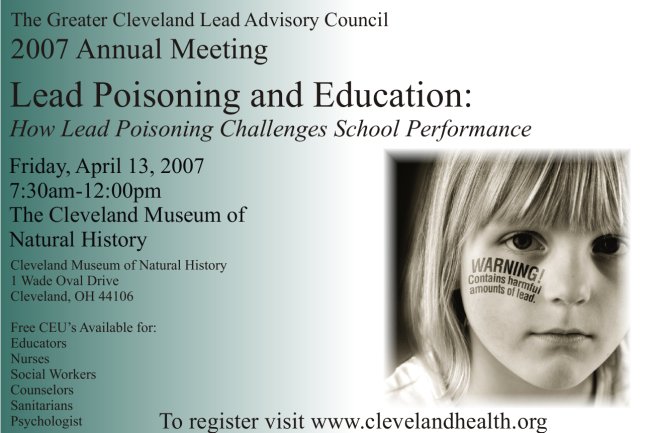 It is my greatest honor to invite all people of NEO who are interested in regional economic development transformation and education to attend the 2007 Greater Cleveland Lead Advisory Council 2007 Annual Meeting, titled "Lead Poisoning and Education: How Lead Poisoning Challenges School Performance". This will be one of the most insightful experiences of your life - spread the word and register immediately, as we will exceed the capacity of the Cleveland Natural History Museum! Read on...
The Greater Cleveland Lead Advisory Council (GCLAC) Presents 2007 Annual Meeting
Lead Poisoning and Education: How Lead Poisoning Challenges School Performance
"42% of Cleveland children tested in 2004 had lead levels that could adversely impact school performance"
Keynote Speakers
Kim N. Dietrich, Ph.D.: The University of Cincinnati College of Medicine
Author of "Early Exposure to Lead and Juvenile Delinquency"
"It appears that the neurodevelopment effects of this avoidable environmental disease of childhood may not be limited to declines in IQ or academic abilities"
Michael T. Martin, Arizona School Boards Association
Author of "A Strange Ignorance: The Role of Lead Poisoning In "Failing Schools"
"Public schools can no longer ignore the tragedy of lead poisoning"
Breakout sessions featuring symposium keynote speakers and moderated by local leaders in education and lead poisoning prevention.
Final panel discussion featuring elected officials and community members to identify next steps in addressing lead poisoned children in our schools.
Continuing Education Units applied for Educators, Nurses, Social Workers, Psychologists, and Counselors from Case Western Reserve University, Mandel School of Applied Social Sciences
Continuing Education Units applied for Sanitarians from State of Ohio Board of Sanitarian
Registration [1]
Free parking and shuttle from the VA Hospital parking lot at 10701 East Boulevard, The Cleveland Museum of Natural History
Annual meeting is free and open to the public but registration is required - Registration deadline is March 30, 2007
On-line Registration: www.clevelandhealth.org [1]
Questions: Contact Kimalon Meriweather, Lead Safe Living Campaign at 216-664-4189.
Funding for the Lead Safe Living Campaign is provided by the Saint Luke's Foundation of Cleveland.
AGENDA:
2007 Greater Cleveland Lead Advisory Council Annual Meeting
Lead Poisoning and Education: How Lead Poisoning Challenges School Performance
Cleveland Museum of Natural History
April 13, 2007
7:30am - 8:00am Registration
8:00am - 9:00am Opening Remarks & Breakfast
Bruce Latimer, PhD
Executive Director, Cleveland Museum of Natural History
Frances Strickland (invited)
First Lady, State of Ohio
Terry Allan
Commissioner, Cuyahoga County Board of Health
Matt Carroll
Director, Cleveland Department of Public Health
Tracy Martin
Chief of Education, City of Cleveland
9:10am -10:40am Plenary Session with Keynote Addresses
Kim Dietrich, PhD
Michael Martin
10:40am- 11:25am Concurrent Break-out sessions with Local Leaders
Session I
Kim Dietrich, PhD
Moderators: Dorr Dearborn, PhD, M.D.
Swetland Center for Environmental Health
Case School of Medicine
Bobbi Anderson, Metrohealth Medical Center
Session II
Michael Martin, ASBA
Moderators: Kim Fuelling, Concerned Citizens Organized Against Lead
(CCOAL)
Joann Wasco, Cleveland Municipal School District
11:30am-12:00pm Policy Panel Discussion & Closing Remarks
12:00pm Adjourn
KEYNOTE SPEAKER BIOGRAPHIES
Dr. Kim Dietrich serves as Director of the Division of Epidemiology and Biostatistics
and Associate Director of the Cincinnati Children's Center for Environmental
Health. His research has focused on the developmental effects of prenatal and early
postnatal exposure to lead in infants, toddlers, school-age children, adolescents and
adults. His studies also include an examination of the developmental benefits of
chelation therapy with succimer in a multicenter clinical trial. Dr. Dietrich is
examining the effects of prenatal exposure to prevalent developmental toxicants
including lead, pesticides, mercury, PCBs, tobacco smoke, and alcohol in a birth
cohort of 400 infants. He is also involved in studies examining early risk factors for
the later development of breast cancer in a cohort of community dwelling
prepubescent girls with and without a family history of the disease.
Mr. Mike Martin is the Research Analyst for the Arizona School Boards Association.
He regularly prepares reports on education topics of statewide relevance. One of
those reports, titled "A Strange Ignorance," summarized the research on lead
poisoning and its affects on school children. He has a B.A. in Liberal Studies with an
emphasis in economics from the Hutchins School of Liberal Studies at California
State University, Sonoma. He formerly was the assistant financial advisor to the
Arizona Senate, a research analyst with the Arizona Tax Research Association, the
Arizona Public Affairs Officer for the Internal Revenue Service, and an instructor in
the U.S. Marine Corp Electronics School. He is married and has a thirteen year-old
son in eighth grade.
Cleveland Museum of Natural History
1 Wade Oval Drive University Circle
Cleveland
,
OH
United States