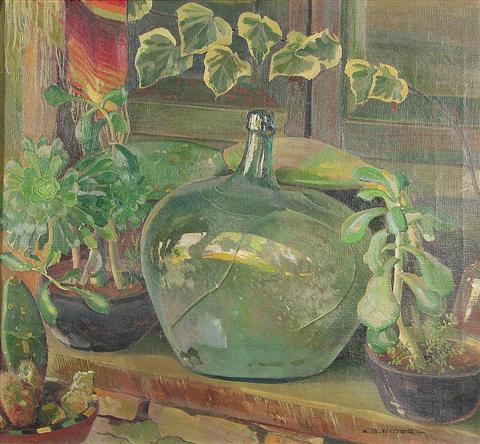 Gray's Auctioneers [1] Saturday March 1st sale was an exciting event in the fine arts market with the sale of two paintings by important California Impressionist painters, Orrin Augustine White and Arthur Grover Rider. This was probably the first time works by these artists were sold in Northeast Ohio.
Both works had languished for decades in a Cleveland area home, their historical significance and value unrealized until they were discovered discovered by auctioneer Deba Gray. Both paintings were securely identified by the artists' signatures and original gallery stickers on the back of one of the canvases. The consignor was thrilled to find out that the paintings, which she believed to be worthless except for their gilded original frames, were actually worth thousands of dollars. Gray's Auctioneers featured both paintings on their promotional postcard and on the cover of their auction catalog.
California Impressionism is a sub-genre of American Impressionism, which began in the late 19th-early 20th century. Inspired by French Impressionism, many American painters traveled to the French Village of Giverny where Claude Monet, one of the founders of French Impressionism, established his home and studio. Like the French Impressionists, American Impressionists depicted scenes of modern life, created landscapes that captured the fleeting effects of light and incorporated aspects of Japanese aesthetics into their compositions. American Impressionist painters such as Richard E. Miller (1875-1943), Colin Campbell Cooper (1856-1937) and Guy Rose (1867-1925) were among the first to paint the California landscape in an Impressionist style. The number of artists today identified as California Impressionists is approximately 100, including Arthur Grover Rider and Orrin Augustine White. Inspired by golden sunlight, majestic mountains and vast green meadows and valleys, the California Impressionists painted en plein air and favored landscape over other typical Impressionist subject matter. California Impressionism is an important genre of painting because it captures unique aspects of the American landscape in much the same way as Hudson River School painters did a century earlier.
Arthur Grover Rider (1886-1975) was born in Chicago Illinois. He studied at the Academy of Fine Arts in Chicago. He began his career as a painter for theater companies, first working for the Chicago Lyric Opera and later for the London Opera at Covent Garden. Rider continued his studies in Paris and also exhibited his works there. For nearly a decade Rider spent his summers painting in Spain and developed a close friendship with the Spanish painter Joaquin Sorolla. After Sorolla's death, Rider returned to the United States and settled in California. He was an extremely versatile artist, producing murals and works on canvas, and for over thirty years he was a leading scenic artist with MGM and Fox studios. Some of Rider's most important works were murals he produced for the Century of Progress Exposition in Chicago in 1933 and the Golden Gate International Exposition in 1939. Rider's subject matter covers a wide range; landscapes, seascapes, figures and florals.
Cracked Bottle, a still life, h: 29 x w: 32, is one of the largest works by Arthur Grover Rider to come on the market. The composition is complex, depicting a traditional Southwestern or Mexican textile in the upper left, rugged succulents and native Southern California plants, and a large green glass vessel on a weathered step or ledge. The voluptuous form and iridescent green color of the bottle creates an interesting relationship between the natural green and man made green elements in this still life. And, as a painter with a formal art school education, Rider would not have been unaware of the symbolism of the broken bottle. By the 17th century a broken vessel was a well established symbol of lost virginity. As if it was difficult for Rider to completely depart from his favorite subject matter, he included a landscape reflected in the glass.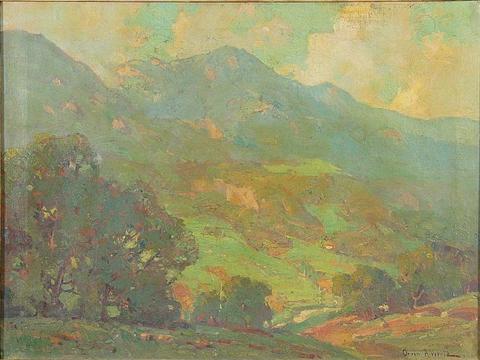 Orrin Augustine White (1883-1969) was born in Hanover, Illinois. He had a natural gift for art, but did not pursue a career as a painter until he was in his 30s. He received a Bachelor of Arts degree from Notre Dame University in 1902 and studied textile design at the Philadelphia School of Applied Arts until 1906. White worked as textile designer at his family's company, the Hanover Woolen Mills and taught chemistry at Portland University. White moved to California in 1912, but only painting in his spare time. After his work was accepted to the Panama-Pacific International Exposition in 1915 he decided to make painting his full-time profession.
The landscape, h: 18 x w: 24 ins., by Orrin Augustine White shows a mastery of Impressionist technique. In this work White achieved much more than a mere naturalistic rendering of the expansive, fertile California landscape with its scenic mountains. White's choice of color and loose, expressive brushwork capture an hour of the day during a specific season of the year with its quickly changing light, clouds, humidity and foliage. At a time in American history shortly after the frontier had closed, when many American cities were over crowded and polluted, White captured for his viewers an Eden-like landscape, a largely undeveloped state full of natural beauty and opportunity for Americans.
The works of California Impressionist Painters frequently sell at auction and at galleries, and consistently fetch high prices. The consistently strong market for such works reflects both the popularity of the Impressionist style and the popularity of landscape painting, both of which have endured since the mid 19th century. As climate change and over development continue to threaten the California landscape, paintings by California Impressionists will only increase in value and appeal.