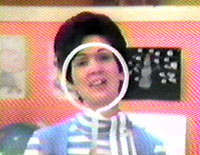 ..Or Lessons Learned.
I tuned into kids programming this past Sunday morning and was pleasantly alarmed to hear cartoon voices with English and Australian accents. Wouldn't that be a nice change of pace here in Northeast Ohio!
I also thought of my formative TV years and the old resentment welled up inside of me. You see, my telegenic sister was picked for Romper Room [1]and I was NOT!
But, now we all have a chance to be seen by Miss Barbara here on RealNEO. There are sullen kids, angry kids, happy kids, mean kids, pretty kids, ugly kids, greedy kids, sloppy kids, old kids, fat kids, sporty kids, green kids...really, the whole gamut of kids you will find on the planet. Only now, Miss Barbara can see all of us!!!