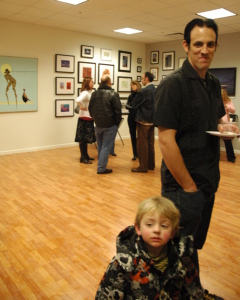 There is a new photography studio and gallery in NEO. Studio 22 Photography & Gallery is located at Beachcliff Market Square, 19316 Detroit Road in Rocky River. Despite the snow and cold, many friends and family gathered to celebrate at the opening reception Saturday, January 10, 5-8 pm.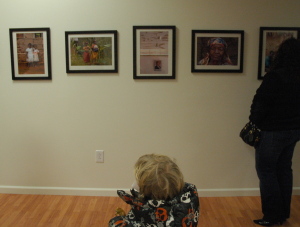 Who would open a photography studio and gallery now -- in the middle of a recession, in the middle of winter, in Northeast Ohio? Owners Josh and Patty McLaughlin, of Lakewood, are definitely optimists. But Josh is also a talented photographer and he is very committed to his art. He does portraits, wedding photography and commercial work. He also sells some very beautiful and interesting compositions taken during his various trips to Europe, Asia and around the United States.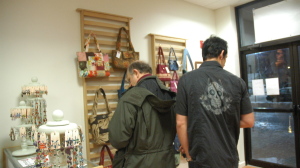 The space Studio 22 Photography & Gallery occupies in the struggling Beachcliff Market Square has been lovingly renovated. It is a sleek, spacious and well lit place, perfect for exhibiting art. Several artists were featured for the opening; photos by Lauren Sammon, prints by Ginger Wankewycz, paintings by Roby MacDougal -- and of course, photos by Joshua McLaughlin. There was also jewelry from several artists, knit items by Suzanne Reich and quilted bags by Bezeboo (Josh's Mom). There was plenty to eat and drink -- even for vegans. Josh and Patty are vegans and Patty makes great vegan chocolate chip and oatmeal cookies.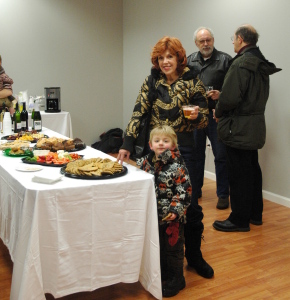 Studio 22 Photography & Gallery is a great place to have a portrait taken, buy some art or buy a gift. The jewelry, quilted hand bags and knit scarves and bags were all very high quality but low priced. Studio 22 will be open regular hours: Wednesday-Friday 11 am - 7 pm, Saturday 10 am - 6 pm, Sunday 10 am-4 pm.