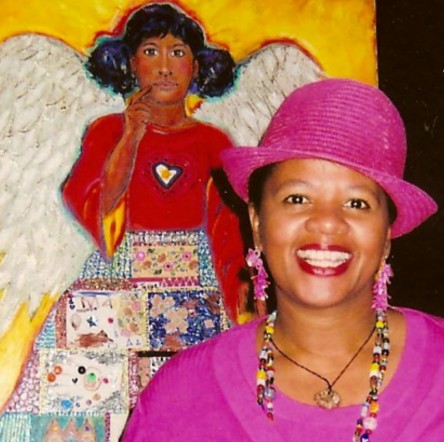 Artist Anna Arnold with her painting Angel on My Shoulder, from her website [1]
Cleveland State University Art Gallery and the Cleveland Artist Foundation have organized a sequel to the 1996 exhibition "Yet Still We Rise: African American Art in Cleveland, 1920-1970. We have some very talented African American Artists working here in Cleveland -- thought exhibitions under the theme of Cleveland African American Artists are rare, as Steven Litt Mentions in his February 5, article about this show [2]. For more information about "Each in Their Own Voice: African-American Artists in Cleveland 1970-2005" please see Cleveland State's press release. [3]
The show runs through March 7th, open Monday - Friday 10 am - 5 pm and 12pm - 4pm Saturday in the Cleveland State University Art Gallery, 2307 Chester Avenue.  But Friday February 13th, the official opening should be especially interesting and informative, there will be a gallery talk at 4 pm , many of the artists will be in attendance and a film by Robert Banks Jr. will be shown later in the evening in lecture room 202 above the gallery.
A  panel discussion moderated by William Busta is scheduled for February 21 at 2 pm.
Cleveland State University Art Gallery
2307 Chester Avenue
Cleveland
,
OH
United States
Links:
[1] http://www.annaarnold.bravehost.com/
[2] http://www.cleveland.com/entertainment/plaindealer/steven_litt/index.ssf?/base/entertainment-0/123373985361080.xml&coll=2
[3] http://www.csuohio.edu/news/releases/2008/12/14592.html
[4] http://maps.google.com?q=41.504274+-81.673559+%282307+Chester+Avenue%2C+Cleveland%2C+OH%2C+%2C+us%29
[5] http://realneo.us/system/files/Anna+with+Angel+on+my+Shoulder+2006.jpg