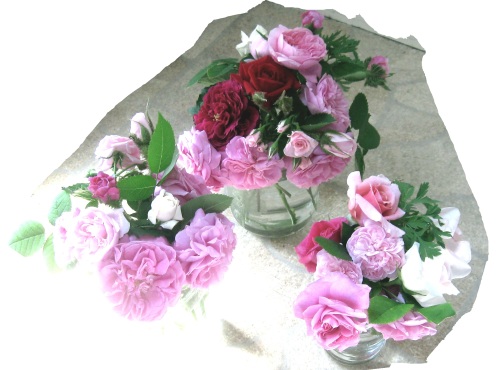 I've so far given away over 30 bouquets of roses, starting with old garden rose bouquets to TWDC's Chris Garland, ODOT's Craig Hebegrand and to Director Ron Brown of Cleveland Planning in gratitude for his help. At the recent ODOT update and Q&A at Sokolowski's, Safety Director Marty Flask sat beside me and said he'd heard about the bouquet for Director Brown, it was mentioned at a meeting, adding that City Hall is a small place. He got the "Nose" bouquet I was carrying myself, to take home to his wife. A large bouquet Jocelynn Clemmings of ODOT had helped me carry over to decorate the room I gave to a charming graphics design I met, who admired them. Jocelynn said that when she went into Mr. Hebebrand's room, they had perfumed the whole room. All of the thank-you's mentioned the fragrance.
When I went for my osteopathic manipulation treatment (OMT) at Metro Health, I took along a bouquet for Dr. Baker. In the hallway outside I saw a lady in a wheelchair and held the bouquet so she could smell it. She enjoyed them and told me she had smelled them as soon as I entered the large reception room. While they were in full bloom, other doctors, and a nurse got bouquets also. One man in a wheelchair pretended he was going to keep them and not let me have the bouquet back to give to the doctor. My pain management doctor said he kept them until they were so dry and shrivelled he had to throw them out.
When I went to Broadway to be rated by Metro again, I took a bouquet and also went by Becker's Donuts on my way to take some of them along.The little corner store looked at first glance as though it was deserted long ago, but not so. A very warm welcome was waiting inside and a special: 12 for $6.00. One lady helped me outside, carrying the huge donut box for me so I shouldn't fall.
At Broadway, I offered the donuts to people sitting around me, but they politely shook their head. One of my seatmates was already with a counselor when I came in later and said there were roses and Becker's donuts. "Becker's donuts!" everyone exclaimed. Counselors stopped what they were doing and rushed to get paper towels to put their donuts on. I offered my handi-wipes. "Beckers!" "Beckers!!" Everyone ignored the roses.
My formerly uninterested seatmate was so overcome. With great emotion she told me how her family would take her as a little girl to Beckers. I am such a nice woman to bring a large box of Becker's donuts, she said.
Well, at least one person now thinks so.
Becker's is on E. 71st, about two blocks south of Harvard on the right-hand side on the corner.Their donuts look ordinary but taste very light and without any "yeastiness." They have as fillings, as best I can remember: raspberry, chocolate,lemon, custard, cream, and apple. Some have cinnamon sugar on top, some have chocolate icing, maple icing I believe also. I recommend them.