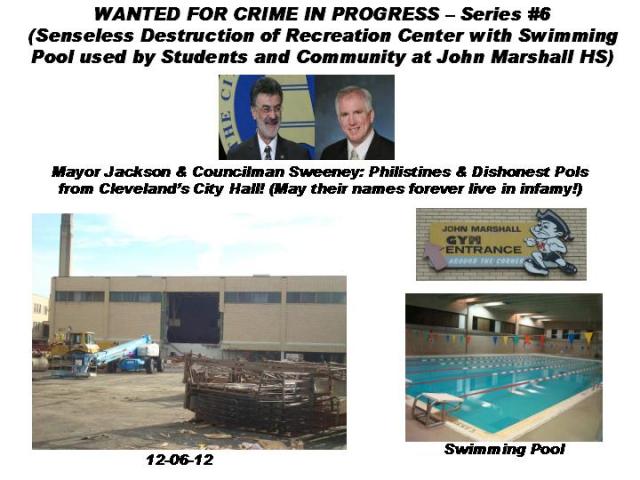 WANTED FOR CRIME IN PROGRESS #6 -- MAYOR JACKSON & COUNCILMAN SWEENEY -- PHILISTINES & CORRUPT POLS FROM CLEVELAND'S CITY HALL -- MAY THEIR NAMES FOREVER LIVE IN INFAMY -- FOR THE SENSELESS DESTRUCTION OF THE RECREATION CENTER WITH SWIMMING POOL USED BY THE COMMUNITY AT JOHN MARSHALL HIGH SCHOOL IN CLEVELAND, OHIO!
MAYOR JACKSON HAS SAID HE LOVES KIDS -- OUR KIDS – BUT CANNOT EXPLAIN, DESPITE 26 REMINDERS, WHY HIS HONOR IS DESTROYING THEIR AUDITORIUM, UNDERGROUND RUNNING TRACKS, AND SWIMMING POOL,
THE DESTRUCTION OF 80-YEAR OLD HISTORIC JOHN MARSHALL HIGH SCHOOL, LOCATED IN CLEVELAND, OHIO, STARTED IN LATE OCTOBER, 2012!
REALNEO:
PLEASE SEE PREVIOUS POSTS ALL RELATED TO THE SAVE JOHN MARSHALL HIGH SCHOOL CAMPAIGN!
FACEBOOK & YOUTUBE:
Follow the SAVE JOHN MARSHALL HIGH SCHOOL group on Facebook: https://www.facebook.com/groups/160386844035662/ [2]
Also, see the following three YouTube clips:
1. Save John Marshall High School, Cleveland, Ohio
http://youtu.be/S6Shgwi5cuU [3]
2. Save John Marshall High School Pt. 2: Demonstration http://www.youtube.com/watch?v=jdTaCQrwoF4 [4]
3. Save John Marshall High School Part 3: Call for a Hunger Strike
http://youtu.be/nyoL5sFBjeA [5]