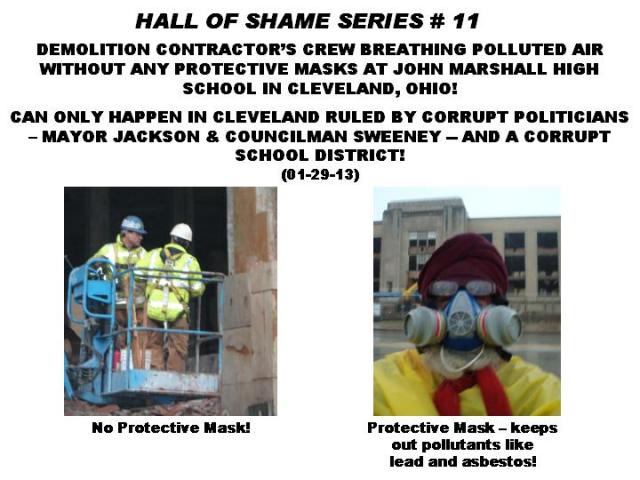 DEMOLITION CONTRACTOR'S CREW WERE OBSERVED BREATHING POLLUTED AIR WITHOUT ANY PROTECTIVE MASKS, ON JANUARY 29, 2013, AT JOHN MARSHALL HIGH SCHOOL IN CLEVELAND, OHIO!
HALL OF SHAME SERIES #11!
THE CREW HAVE NEVER BEEN OBSERVED WEARING MASKS ON MULTIPLE PRIOR VISITS!
THIS CAN ONLY HAPPEN IN CLEVELAND RULED BY CORRUPT POLITICIANS – MAYOR JACKSON & COUNCILMAN SWEENEY -- AND A CORRUPT SCHOOL DISTRICT!
PROTECTIVE MASKS KEEP OUT POLLUTANTS LIKE LEAD AND ASBESTOS!
JOHN MARSHALL HIGH SCHOOL UNDERWENT ASBESTOS ABATEMENT PRIOR TO START OF GENERAL DEMOLITION!
WE ARE NOT SURE IF ALL THE ASBESTOS AND OTHER POLLUTANTS WERE REMOVED AS OHIO EPA HAS NOT PERFORMED ANY TESTS ON THE SURROUNDING AIR – DESPITE GENERAL DEMOLITION BEING IN PROGRESS SINCE OCTOBER 2012 – NEARLY 4 MONTHS!
ADDITIONAL INFORMATION:
See previous related posts titled: HALL OF SHAME SERIES #9 (two parts) AND #10!

Normal
0