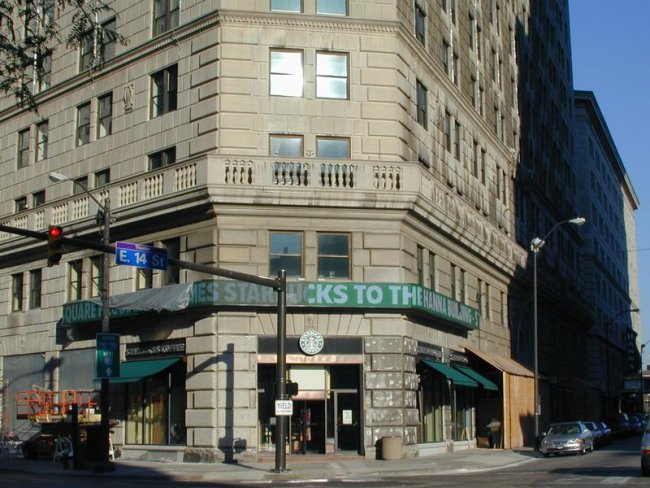 Last night I stood on the sidewalk on the newly completed Euclid Corridor section at Playhouse Square at the Ingenuity Festival. The sidewalk there is paved with a sort of shiny brick-like pavers rather than concrete, but I kept looking for the tree planters. Cleveland Foundation's logo is a tree right? So where were the trees? There were none to be seen at that corner. I was standing right at the entrance to the building that houses the Cleveland Foundation's offices. Didn't they release a statement saying that all applying organizations must state their sustainability goals; that all capital projects applying to the foundation must meet LEED Standards [1]? So I began to wonder; with our county leaders hell bent on a hypocritically "greenbuilt" administration building project (which entails the demolition of a cultural icon – the Breuer Tower), when will we see the Cleveland and Gund Foundations going green? What are each foundation's stated sustainability goals? Do they offer RTA passes for their staff members? Have they invested in carsharing so that their executives and program officers can ride the train to work, but use Citywheels [2] to attend meetings outside the offices when necessary? Do they have residency requirements like the public servants in Cleveland? How could they drive the green infrastructure needs of the region through their own example? Have they suggested to their landlords that energy audits be performed on the building that houses their offices?
Then I thought, with their green goals for capital projects, maybe they and their counterpart, the George Gund Foundation (who joined with them in the gotta be green announcement) they may be considering like the county, vacating their offices in the Hanna Building (and Gund in their Tower City location in the Guildhall Building) --leaving these well appointed offices for new tenants and building a combined new green building for their operations. Wow, now that would be leading by example. But then I thought… who, we have wondered, might have the foresight and savvy from both the arts and environmental aspects to care about and appropriately adaptively reuse the Breuer Tower so that it can remain the important part of Cleveland's legacy of its history and built environment? Well, who better than the Cleveland and Gund Foundations?
There are some historical connections to Cleveland Trust Company here.
From the Encyclopedia of Cleveland: "The CLEVELAND FOUNDATION, the oldest and third largest community foundation in America, was established on January 2, 1914 by FREDERICK H. GOFF [3]†. Goff was concerned about wills and trust funds with no provision for changing circumstances. He based the community trust on Sir Arthur Hobhouse's philosophy (London, 1880) that property be managed by the "living hand" through public tribunal rather than by the "dead hand." The Cleveland Foundation was placed under the trusteeship of the Cleveland Trust Co. (later AMERITRUST [4]), of which Goff was president. Four main principles have guided the foundation: funds represent the union of gifts of various sizes left at different times by different donors; the funds are placed with local financial institutions which invest the monies as trustees of the Cleveland Foundation; an 11-person distribution committee of rotating membership (five members appointed by trustee institutions, five by public officials, and one person with a philanthropy background selected by both trustees and officials) disburses the income [5]; and contributors may designate a preferred charity, with their wishes observed unless changing conditions make such purposes unnecessary, undesirable, impractical, or impossible.
The GEORGE GUND FOUNDATION [6] was founded in Cleveland in 1952 by GEO. GUND [7], president of Cleveland Trust (later AMERITRUST [4]). Gund's personal estate was valued at $600 million, the largest in Cleveland's history. On his death (1966), the Gund Foundation received $40 million for education and the fine arts, bringing its assets to $83.5 million, second only to the CLEVELAND FOUNDATION [8]. The Gund Foundation favors Cleveland projects but supports others nationally and in Ohio in education (especially for the disadvantaged), economic revitalization, human services (especially for women and children), the arts, ecology, and civic affairs."
Are we getting the Cleveland Trust/Ameritrust, Goff, Gund link here? Are we getting the drift that this is one big happy family of money here in NEO all stemming from the guys who watched over and made money from and for their industrial depositors? Are we getting the drift on the children of George Gund – Agnes Gund [9] who is Chair Emeritus of MOMA (see the MOMA letter to retain the Breuer Tower) and Graham Gund [10] who is an alumnus of and affiliated with [11] the Harvard Graduate School of Design [12] in particular? Have these two alone not shaped our art and architectural experience well beyond the regional confines of Northeast Ohio? Would they not descend on Cleveland and tell us the story or at least offer their legacy a life preserver by stepping in to recommend an adaptive reuse for the buildings once occupied by their father – suggesting a brilliant way to meld green building technology, historic preservation and forward thinking redesign of the Breuer. Didn't Graham Gund study at Harvard School of Design the school founded on the principles of Marcel Breuer and Walter Gropius?
In 2004 Graham Gund was on a panel in Toronto that covered this topic:
"Smart Choices for 1960's Buildings: Overcoming Challenges in Function and Context
Every campus has at least one: an outdated and sometimes failing example of the post-war era of architectural modernism. How can we assess these buildings and make an informed decision as to how to reuse them for the twenty-first century student? This workshop will assist planners, architects and facilities leaders in determining how to adapt, restore, expand and maintain this critical building stock. We will cover a wide variety of building typologies, including libraries, laboratories, museums, residence halls, and classroom buildings and review tested methodologies for determining the useful life of building systems. This includes mechanical systems, structural systems, building envelope (fenestration, cladding and roof), interior partitions/furnishings and fixtures, and operating cost factors.
We will also review examples of building renovations, building additions, partial and entire reskinning, partial and entire demolition and other successful strategies for different building types and determine how to apply these lessons to other campus examples. This dynamic and hands-on workshop will allow participants to learn about and then investigate first-hand 1960's buildings using examples at the University of Toronto. We will explore commonalities among the building types and campus settings, and determine how changing program uses can be accommodated into repurposed campus buildings."
This is old news. So where is Graham Gund in the discussion of greening and adaptively reusing the Tower built by Breuer for his father's bank (George Gund served as Chair of Cleveland Trust for 25 years) now slated for demolition?
Wouldn't it be prudent for Agnes and Graham to step in and suggest that this building be resurrected as a place for the financial anchor to the emerging District of Design, a place to house the offices of the great foundations affiliated with their father's wealth and the arts and cultural institutions they have funded over the years? Wouldn't it be great if Graham Gund would address the reuse of the Hisaka Student Center at CSU before that building meets the wrecking ball? Surely he and his sister have some ideas about the redevelopment of the site and the city. Could this not be a wonderful gift to the region? It would offer not only their family's money to the community, but also bring us the history of our financial community (Cleveland's banking industry is among the Fortune 500 [13] here in the region; those banks being National City Bank [14] and Key Corp, which usurped Society for Savings/Ameritrust once Cleveland Trust. These two banks are among the top 50 holding companies [15] in America).
And if the Gund family will not speak up, what about these distinguished folk who gathered for Pink Martini [16] to support the Breuer building's rededication to education at CMA with their considerable influence? I recall that Hunter Morrison speaking about the Breuer Tower at a recent CPC meeting likened it to a dry martini as relates to an acquired taste; not a pink martini. But dry or pink, we need Cleveland's leaders who have acquired taste and even those who were born with it to speak out here… How can they feel rosy and pink about efforts for University Circle's Breuer, while ignoring and remaining silent on the proposed demolition of his only skyscraper which was commissioned by the very bank turned foundation whose money funds the Museum today?
If Cleveland is to have an innovation economy, if our designers educated at The Cleveland Institute of Art [17], our architects educated at Kent State University School of Architecture and Environmental Design [18] and our urban planners educated at the Maxine Goodman Levin College of Urban Affairs [19] at Cleveland State University are going to be retained in our region to bring their good ideas to the community, then wouldn't it be forward looking, forward thinking for Cleveland and Gund Foundations to save the community from itself by purchasing the Cleveland Trust complex from the beleaguered county, employing a team of architects to adaptively reuse and green the building as an icon of the history of design, the financial history of Cleveland and the legacy of Goff [3], Gund [20] and Severance [21] and as a beacon for the future of our region both environmentally and economically? They could place their offices there and offer space to the Cleveland Urban Design Center and the District of Design – a place to envision and to connect the investment capabilities of our leading philanthropic and lending institutions to the innovation already available in the educational institutions surrounding the very site? Could they not step back for a moment and consider the synergies that abound in this building and make a gift for the region, leading by example since as foundations they are not just money trees but policy shapers and trend leaders. I am curious as to what the conversations around this issue have been at the board tables within these two powerful institutions.
I am trying to be visionary here and not fall into the standard Cleveland mentality that accepts the idea that the Cuyahoga will be straightened, the Lake squared and the Cleveland Trust Tower deconstructed and its panels dumped somewhere (in the lake?).
Here is the place where these ideas connected in my mind:  
Cleveland Foundation's logo (historically a tree – a symbol of The Forest City [22])
And this
We do not inherit the earth from our ancestors; we borrow it from our children.
~Native American Proverb
Past actions of Cleveland's leaders of industry have produced tremendous wealth, but at the same time have left deep wounds in our natural environment, not only here in the region but worldwide. It is time to heal these wounds for the generations to come, both here and elsewhere, but what better place to begin than at the crossroads of our economic hub?
And this wonderful vision for Cleveland's future innovation economy
The District of Design [23] whose map [24] somehow skirts the Cleveland Trust Complex of buildings.
I suggest a rethinking here. I suggest that this complex is just the spot, the lynchpin in the effort to revive the region's economy bringing it into the 21st century, linking Cleveland's artful iron past and its artful green future. Who better to lead that initiative than our two esteemed foundations?