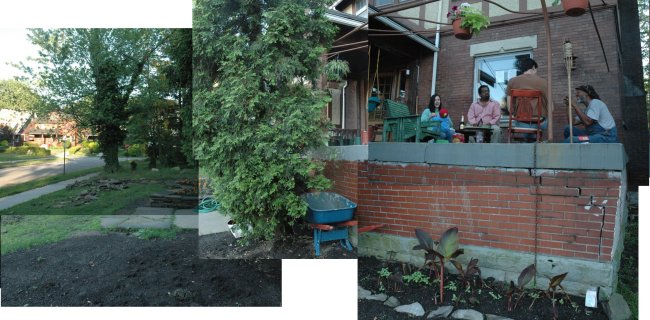 Two weeks ago, City Fresh's Maurice Small met with friends in East Cleveland [1] to discuss City Fresh [2], urban farming, and how we may convert a typical urban convenient store [3], Brown's Market, into a pilot City Fresh local foods market. During our discussions, Maurice mentioned that a dedicated urban farmer may earn more than $30,000 per year from sales of food grown on one typical urban lot (say 1/10th an acre). That being the case, and considering our ever-growing need and realigning demand for locally grown food, and the fact food may be grown locally as cost effectively as elsewhere in the world, it occurred to me that the highest and best use for most of the land now cleared, abandoned, blighted and wasted in our urban neighborhoods is for urban farming. So that is a use we are now planning to be core to redevelopment of the Star Neighborhood. Intrigued? Discuss and plan for this reality with Maurice and friends this Tuesday, from 6-7 PM, at that house on Roxbury, in East Cleveland. Please RSVP if you plan to attend.
The question I want to explore is how an East Cleveland full of farms and farmers would differ from today, in East Cleveland and anywhere else in the world. Through urban farming, the most destroyed, demolished, abandoned neighborhoods would become the most green, healthy and prosperous, and would generate significant property and income taxes for the city. Consider if 100 "lots" in East Cleveland that are currently in their landbank, and 100 other city, county and other government owned lots, and 100 lots to be cleared through foreclosures, and 200 home lots of current East Cleveland residents (like my lot), are optimized for farming and placed in the hands of trained urban farmers. If all farmers are required to live in East Cleveland, 500 lots=500 tax-paying local farmers, where there are now none... creating $15,000,000 per year in new taxable income for 500 households in East Cleveland... making prosperous 5% of the households of East Cleveland. And, East Cleveland will be filled with fresh local food and people who know how to produce and appreciate that for themselves and their community, which is as valuable a life skill as I may imagine.
In collaboration with City Fresh, ways may be found to train these 500 farmers and their families, plan preparation and planting of these 500 lots, insure high quality produce, and commercialize and distribute all the food grown. As a cooperative, accounting may be centralized and one management team may keep track of everything, pay taxes, market, train, distribute, and even operate sales outlets, as City Fresh has done successfully for years.
Think about it... is there a higher and better use for any blighted land in your urban neighborhood? I know if I can't have a nice house and nice neighbor next door to me, I'd like a City Fresh farm full of fresh fruit and vegetables there! Bring your thoughts on this and anything City-Fresh to 1894 Roxbury - RSVP to norm [at] realneo [dot] us - BYOB.
Star Neighborhood Development
1894 Roxbury Road
East Cleveland